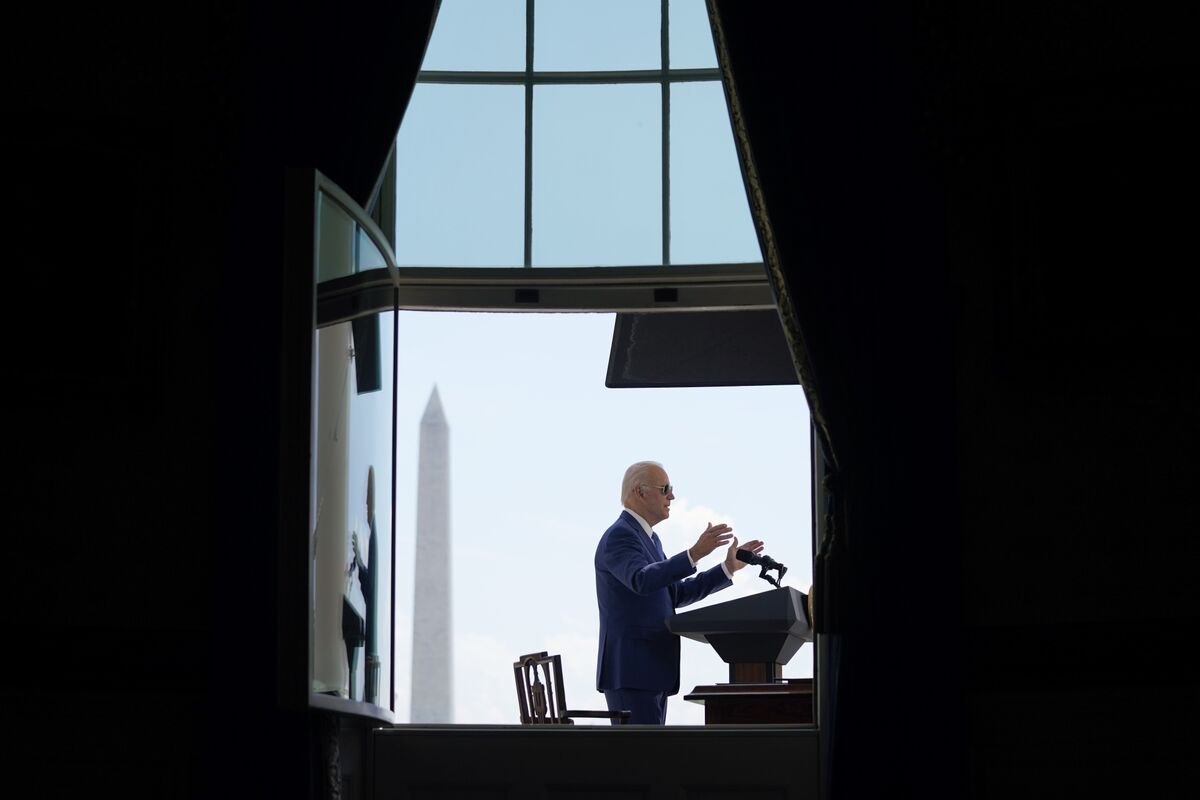 A
blowout government report for July has pegged the US jobless rate at 3.5%. The last time unemployment was
this low, the Apollo moon landings were still in full swing. Employers added more than double the number of jobs forecast, illustrating rock-solid labor demand. Wage growth accelerated, too, which will likely prod the Federal Reserve to keep going with aggressive rate hikes. But that didnt stop President Joe Biden from taking some credit for burning the recession-is-looming chorus in a week already marked by a series of wins for the administration. More people are working than at any point
in American history, he said. Its the result of my economic plan to build the economy from the bottom up and middle out. 
Bloomberg is tracking the coronavirus pandemic and the progress of global vaccination efforts.
Here are todays top stories
The jobs report followed a week in which Senate Democrats agreed to a
slimmed down version of Bidens signature Build Back Better economic agenda, now called the Inflation Reduction Act, marking an
unprecedented effort to slow global warming while including subsidies to lower healthcare costs; gas prices continued to fall, now for
more than a month; and Congress approved a package that included more than $50 billion in subsidies for
domestic semiconductor manufacturing. Not to mention the CIA having killed an Al Qaeda leader second only to Osama Bin Laden. 
The Talibans apparent sheltering of the now-dead Ayman al-Zawahiri, which echoed similar hospitality provided to Bin Laden before 9-11, has dealt a blow to an already faltering effort to free up $3.5 billion in frozen bank funds to alleviate poverty and famine in Afghanistan.
Lockheed Martin still cant get it right. The top US military contractor has delivered more than 800 F-35 fighter jets as part of a program bedeviled by mistakes and problems. Even now, years later, production continues to be marred by
excessive defects and fixes that risk substantial delivery delays and reduced American military readiness, according to the Pentagons Defense Contract Management Agency. Too many quality assurance defects arent found at the initial assembly station, only to be discovered either before or after formal acceptance of the warplanes, the agency said. But its not just Lockheed: F-35 subcontractors 
Northrop Grumman and 
BAE Systems also have had many manufacturing non-compliances, the contracting agency said.Lockheed Martin's headquarters in Bethesda, Maryland 
China continued its most provocative military drills in decades on Friday and cut off defense talks with the US, as relations between the worlds biggest economies deteriorate in the wake of House Speaker Nancy Pelosis trip to Taiwan. A day after firing missiles suspected of having flown over the island of 23 million people, China sent warships across the Taiwan Straits median line. The Chinese army also sent waves of warplanes across the US-defined boundary, the third straight day of such flights.
South Africas parliament will appoint an independent panel that will recommend whether or not to initiate a
process to impeach President Cyril Ramaphosa.
When Group of Seven leaders gathered in the Bavarian Alps in June, they pledged to stand with Ukraine for the long haul. Their Group of 20 counterparts are proving less supportive. Comprising nations that account for some 85% of 
global economic output, the G-20 is supposed to be more sanctions imposed on Russia over
its war on Ukraine. A G-20 Divided
Only half the bloc has imposed penalties on Russia for invading Ukraine
Source: Bloomberg
Note: Mapped data for G-20 members, including the 27 nations of the EU.
If signed into law as written, Bidens $370 billion economic agenda would change the calculus for American households thinking about going solar. The legislation stands to make that transition more affordable while also subsidizing purchases of 
electric cars, heat pumps, high-tech 
water heaters and battery-storage systemsclean-energy upgrades that will spur more household
demand for electricity.  What youll need to know tomorrow
A Nevada metals trader with a side gig on the world poker circuit was accused Friday of manipulating gold and silver markets. The Commodity Futures Trading Commission alleged that Daniel Shak, who also runs a small hedge fund, repeatedly placed orders for gold and silver futures contracts with the intent to cancel the bids or offers before execution. The practice, as you may remember, is called spoofing.