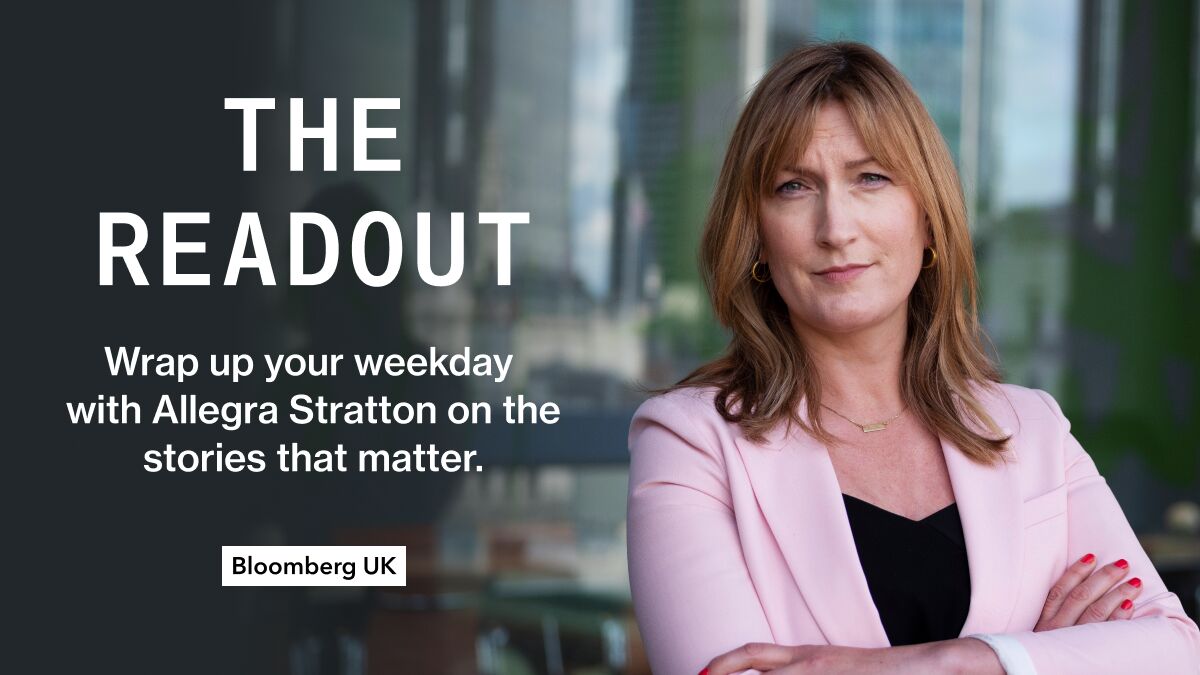 Its been a busy seven weeks since we launchedThe Readout. Already weve seen the resignation of some 60 government ministers; the departure of a prime minister; the first day of 40C temperatures in the UK; the first recorded use of ffs by a serving politician; the first suggestion by a cabinet minister that a coup has taken place on British soil; and the Bank of Englands largest interest-rate hike in 27 years. Weve seen record prices for gas and transport brought to a standstill by strikes. 
We know the next few months will be tough. Rarely can an approaching autumn have been viewed with such trepidation. Before that, were going to pause for breath. We will now take a summer break  Scotland and Cumbria for me  and be back in late August in time for the election of a new prime minister. 
Well have a special edition for you tomorrow, so do watch out for that. And well return in a few weeks with the best Bloomberg analysis and opinion, occasional flashes of levity, and our usual technicolor charts.
See you on the other side.
Hikers at Loughrigg Fell in the Lake District national park, Cumbria.
What just happened
The stories you need to know about this evening
Next seasons story arc is brutal
Liz Truss is leading Rishi Sunak in the leadership race.
It feels like one phase of the Tory leadership election has abruptly come to an end. The Bank of Englands warning on Thursday that the UK is heading for a year-long recession has made it clear whats at stake. Last night, frontrunner Liz Truss hit back, insisting a downturn is not inevitable.
In the Banks bunker yesterday, Governor Andrew Bailey bristled at the idea, advanced by Truss, that the BOEs remit needs looking at. Attorney General Suella Braverman, a key Truss backer, publicly blames the Bank for getting us into this mess  something Bailey pushed back against this morning. Yet Truss is right in one sense leading the country is not first and foremost about making the Bank of England comfortable. 
The facts are key. Bailey smashed a boulder of evidence right into the middle of the leadership contest. Sharp shards of nightmarish projections flew everywhere, including an unprecedented two-year contraction in household real incomes. 
Soaring Unemployment
Bank of England expects jobless rate to climb above 6% in 2025
Source: BOE
NOTE: Forecasts based on market path at the time
Last night, Truss responded at a Sky News debate. She insisted that her policy package, including immediate tax cuts, would stimulate so much economic growth it would avert the recession Bailey forecasts. 
Truss says she will pay for this by using £30 billion of fiscal headroom. But with the economic outlook deteriorating so dramatically, does that headroom still exist? Or are our heads about to start hitting the ceiling?
What, exactly, can be done? 
The Sky hustings also showed that Truss is going to have to say more on what she will actually do for households this autumn. Presenter Kay Burley asked Truss what she would do for a working mum who wont be able to afford monthly energy bills of £300. Trusss answer cut the green levies from bills (£160) isnt enough.
Rishi Sunak my old boss  also has to say more. His campaign suffered another blow this morning. Speaking to Tory members in leafy Tunbridge Wells, he was accused of boasting that he had shifted public funding away from deprived urban areas.
Both would-be prime ministers need to have more to offer the millions dreading their bills this autumn.
We are now half way through the leadership contest. The polls and the bookies suggest Truss is firmly ahead  but still dogged by crucial questions over whether her economic plan will work.
How apt it will be if its the Bank of England that makes this race get real. 
London is teetering toward water rationing
Greenwich Park on August. 3.
Across London and most of England the unprecedented heat this summer has
pushed plant life, infrastructure and residents to the edge. Green leaves are falling ahead of autumn. Dead grass crunches as you walk across the park. At times theres been a desert-like feeling in the air. 
As the drought persists, running low on water is becoming an odd concern for a city and country where drizzly weather used to be as much of an emblem as Big Ben. But outside the capital, water restrictions are being put into effect. Southern Water will enforce the first hosepipe ban in Hampshire and the Isle of Wight on Friday. A similar ban is set to follow in Kent and Sussex.
Read more from Priscila Azevedo Rocha and Irina Anghel
What were reading this weekend
Get ahead of the curve
The silliness is back. Says the man who predicted the 2008 crash.
Can Rio Tinto reform? Workplace misconduct is rife at the mining giant.
No EVs allowed. The best road trips in the US are off-limits to electric cars.
Your good friend, Elizabeth. Venezuela is using letters apparently signed by Queen Elizabeth II to claim more than $1 billion of gold. 
No new taxes for the rich. US Democrats are compromising on a key tax and climate bill as they run out of time before midterm elections.
Rebuilding from rubble. How architects are trying to save Beiruts heritage two years after the citys devastating explosion.
The Lionesses brought football home. What next for the womens game?
What they said
We will get back there. But its going to be a process, which is going to take time reflecting the magnitude of the shocks weve seen.
US IVF patients are trapped in limbo
One key story, every weekday
Dr. Nicole Ulrich MD of Audubon Fertility clinic in New Orleans.
Sitting in an exam room preparing for another round of in vitro fertilization
wasnt where Elizabeth planned to be in June 2022. Shed been looking forward to a relaxing summer filled with family beach trips, a holiday with her girlfriends, and spending time watching her daughters budding personality take shape.
Instead, Elizabeth, 34, had decided with her husband to accelerate their plans for a second child. Their home state of Louisiana had a trigger law that criminalized abortion the moment the Supreme Court overturned Roe v. Wade, ending legal right to abortion in America. And Elizabeth feared IVF could be next. 
Read The Big Take.
Please send thoughts, tips and feedback to [email protected] You can follow Allegra on Twitter. The Readout is edited by
Adam Blenford.
With assistance by Clara Hernanz Lizarraga