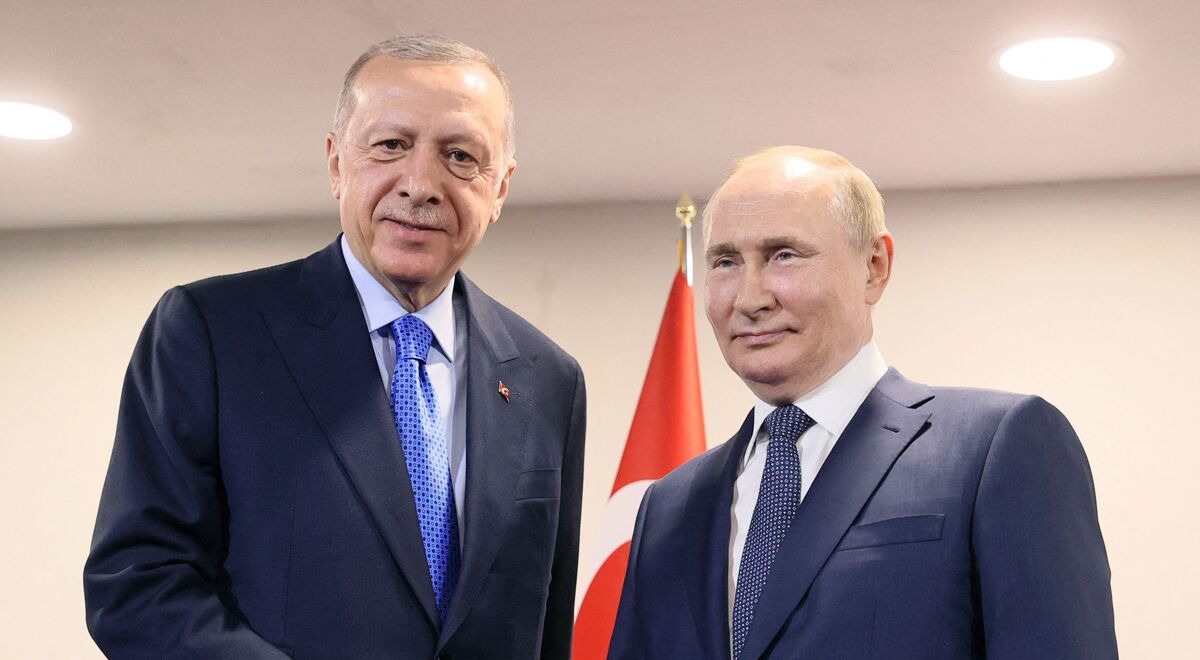 Turkeys attempts to mediate between Russia and Ukraine go beyond a delicate diplomatic balancing act. Its about prestige and strategy for President Recep Tayyip Erdogan.
Erdogan and Russian President Vladimir Putin are meeting for a second time in less than a month in Russias Sochi today to discuss the war in Ukraine. Theyll also hold talks on Turkeys plans for a military incursion into northern Syria, after they failed to reach agreement on the issue last month.
Key reading:
Theyve had a volatile relationship for years. But a shared skepticism and suspicion toward the US and its European allies also allowed them to cultivate ties on trade, energy and even defense that survived a crisis when NATO member Turkeys military downed a Russian fighter jet near the Syrian border in 2015.
The Turkish president has sought to cast himself as a pivotal player in the global arena in conflicts ranging from Syria to Libya and in tensions between Russia, the US and the European Union. This partly explains his efforts to broker agreement between Ukraine and Russia that led to last months deal on grain exports.
Ukraine's Ports, the World's Hunger
Share of grain handling in the 2020-21 season, before the war erupted
Source: UkrAgroConsult
As a major importer of wheat and energy, Turkey has been hit hard by the economic fallout from Russias war in Ukraine, with domestic inflation racing to 80%. While Turkish officials insist the price spikes are temporary, Erdogan is aware the situation threatens his popularity ahead of presidential elections scheduled for June.
Erdogan will press Putin at todays talks to accept a Turkish operation in northern Syria against Kurdish militants. The Russian leader has often held the upper hand at previous discussions on Syria, determined to stall Ankaras ambitions and maintain his own dominance in the country.
With Russia consumed by its war in Ukraine, the outcome may be different this time. 
Ukrainian gunmen fire a US-made howitzer on the front line in the Kharkiv region on Monday.
Click
here for this weeks most compelling political images and share this newsletter with others. They can sign up here.
Global Headlines
Sustained pressure | China sent warships across the Taiwan Straits dividing line today, officials in Taipei said an unusual move signaling its largest drills in decades around the islands will continue. The show of force comes after Beijing broke another precedent by firing four ballistic missiles over Taiwan yesterday, according to the Japanese Defense Ministry.
US Secretary of State Antony Blinken accused China of seeking to change the status quo in the Taiwan Strait following House Speaker Nancy Pelosis visit to the island.
Beijing announced sanctions on Pelosi and her immediate family members and said it would take other measures including halting climate change talks with the US.
Read our exclusive analysis of how the US-led drive to isolate Russia and China is falling short.
A screenshot from a video of missiles fired from land.
Tax deal | US Democrats have agreed on a revised version of their tax and climate bill after Kyrsten Sinema, one of their pivotal lawmakers in the 50-50 Senate, said she would back the plan. Her decision removes one of the last hurdles for legislation carrying core components of President Joe Bidens domestic agenda.
Shrinking Economy
The UK is facing a recession akin to the early 1990s, not the credit crunch
Source: Bloomberg analysis of ONS data, BOE forecasts
Note: 2019 prices
The front-runner to be the UKs next prime minister, Liz Truss, said a recession isnt inevitable hours after Bank of England forecasts posted yesterday showed a deepening economic crisis, with Britain weeks away from a downturn that will last for more than a year.
Donor fatigue | International aid to West Africas Sahel region has slumped, threatening the lives of 900,000 people, a medical association working in the area said. Compounding the situation, Russias invasion of Ukraine has distracted world attention from the crisis, halted supplies of grain and vegetable oil and created a worldwide fertilizer shortage, according to the Alliance for International Medical Action.
Best of Bloomberg Opinion
Fitting in | Hungarian Prime Minister Viktor Orban is used to being pigeonholed as a pariah in Europe. But in Texas yesterday, before an audience of die-hard supporters of former President Donald Trump at the Conservative Political Action Conference, his spiel against progressives, immigrants and the media was warmly embraced.
Explainers you can use
Dwindling hopes | EU diplomats say the gulf between Iran and the US has widened since the last round of talks in Vienna as negotiations resume to revive the 2015 agreement on the Persian Gulf nations nuclear activities. As Jonathan Tirone reports, their downbeat outlook suggests theres limited prospect for a deal that could ease the global energy crunch by lifting sanctions on Iranian exports.
Iran's 20% Enriched Uranium Stockpile
Volume of material has steadily climbed since U.S. left JCPOA
Source: IAEA data compiled by Bloomberg
Bloomberg TV and Radio air Balance of Power with David Westin weekdays from 12 to 1 p.m. ET, with a second hour on Bloomberg Radio from 1 to 2 p.m. ET. You can watch and listen on Bloomberg channels and online here or check out prior episodes and guest clips here.
News to Note
The Talibans apparent sheltering of al-Qaeda leader Ayman al-Zawahiri, killed in a US drone strike in Kabul, dealt a blow to an already politically fraught attempt to free up $3.5 billion in frozen bank funds to alleviate poverty and famine in Afghanistan.
Rwanda is equipping and fighting alongside a rebel group in the Democratic Republic of Congo, a report by a United Nations group of experts on Congo showed.
Brazils Luiz Inacio Lula da Silva received the backing of a trucker leader who withdrew from the presidential race, potentially allowing the leftist front-runner to make forays into a key support base for incumbent Jair Bolsonaro in the election.
Pop quiz (no cheating!) Which nations leader decided not to interrupt his vacation to meet Pelosi during her visit to his country? Send your answers to [email protected]
And finally … US basketball star Brittney Griners nine-year drug sentence imposed by a Russian court is heightening pressure on Biden to quickly seal a prisoner swap with the Kremlin to free her. Washington is currently offering to exchange two Russians for Griner and former US Marine Paul Whelan, sources say. Whelan was convicted by a Moscow court in 2020 on espionage charges that he denies.
Griner inside a defendants cage before a court hearing yesterday. 
With assistance by Rosalind Mathieson, Muneeza Naqvi, and Michael Winfrey