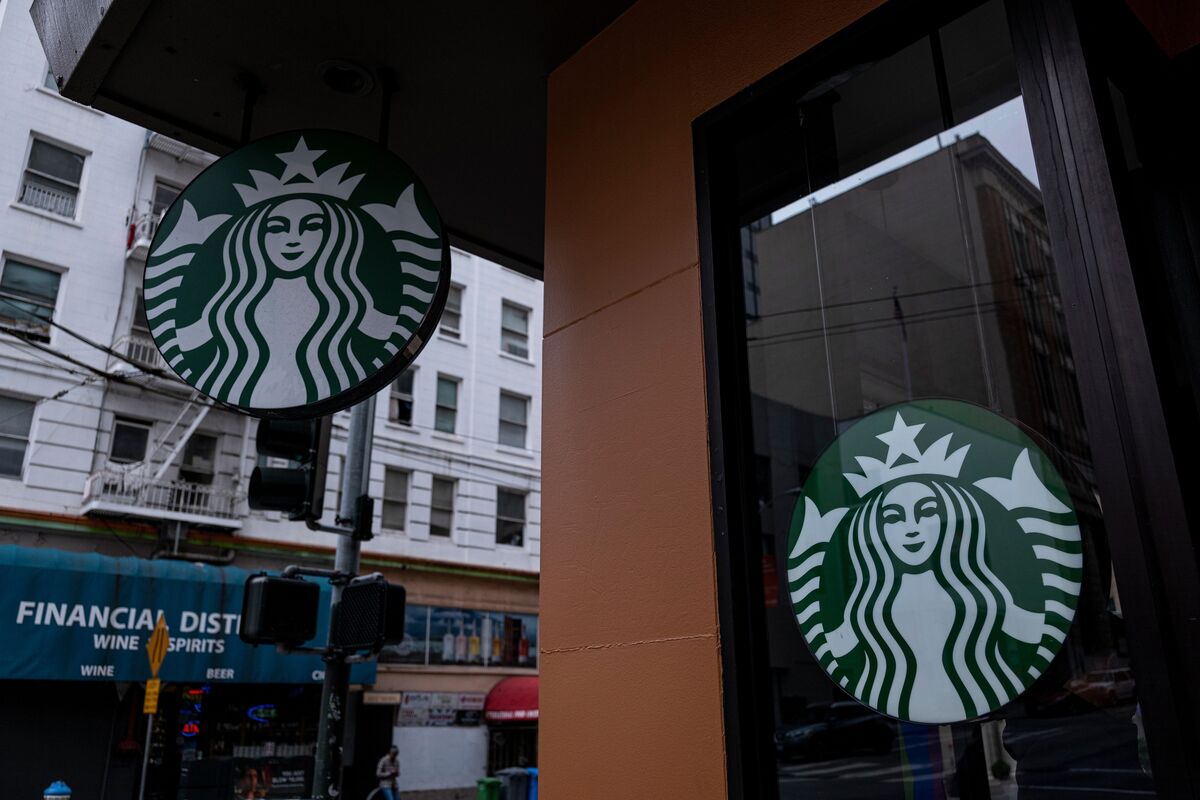 Hello. Today we look at the outlook for the US consumer as savings retreat, what big-name economists are worried about, and why China may not be to blame for all the surge in emerging-market debts.
Consumption Conundrum
The most recent economy-wide figures show US consumers have this year finally started reining in the spending spree stoked by pent-up demand and unprecedented levels of government income support during the pandemic.
That was clear last week in June
personal-spending data and second-quarter output. 
Yet a number of corporate-earnings reports this week show a still-vibrant consumer.
Airbnb CEO Brian Chesky said this week his company is poised for its

best quarter yet

Starbuckss Howard Schultz said on his firms earnings call, we are not currently seeing any measurable reduction in customer spending or any evidence of customers trading down
Caesars Entertainment CEO Thomas Reeg said that forward bookings at the resort and casino firm show occupancy rates above 90% beyond September; The consumer continues to hold up quite well for us
Part of the explanation is a shift from buying goods to buying services  experiences that were shunned during lockdowns.
Another reason is the big pool of excess savings from not spending back in 2020 and leftover cash from pandemic-relief packages.
But evidence is growing that that stockpile has disappeared for many Americans, especially those at the lower-end of the income scale.
Savings Swoon
Checkable deposits and currency are declining for poorest US quintile
Source: Federal Reserve
Note: Aggregate data, each quintile represents about 26 million households
The stockpile for the lower half by wealth of the population is probably depleted or close to depleted, says
Anna Wong, chief US economist at Bloomberg Economics. The top half likely still have some excess savings. Thats why we are seeing still-strong demand for leisure/travel, categories that the relatively wealthy folks tend to consume more of.
Underscoring the diminishing firepower among households hit by decades-high inflation, the personal saving rate declined to 5.1% in June, the lowest since 2009. 
There is little room for the savings rate to fall further without entering negative territory  which has not happened since the depths of the Great Depression, says Gavekal Researchs Tan Kai Xian, a specialist in quantitative finance.
That in turn means that its up to wage gains and employment rolls to power spending growth going forward.
Fresh readings on both are due Friday morning in Washington, with the July jobs report. Economists predict a 250,000 rise for payrolls, a marked slowdown from the average of over half a million seen over the past year, but still historically high. Earnings are seen up 4.9%, which is also healthy.
Any major signs of deterioration would undercut the outlook for spending and bear watching.
Chris Anstey
The Economic Scene
What are the smartest minds in economics and policy making worried about?
Thats the question Bloomberg Markets put to a dozen of them in its latest Economics edition.
Nobel laureate Paul Krugman is worried about the Federal Reserve hiking interest rates too fast and too far, Agustin Carstens of the Bank for International Settlements frets about an oil shock and World Trade Organization Director General Ngozi Okonjo-Iweala sees the continuation of the war in Ukraine as the greatest risk.
Read more
here.
Todays Must Reads
The doomsayers | Meet the five economists who reckon the US economy will contract again in the current quarter. The majority of forecasters see an expansion. 

US taxes | Democrats agreed on a revised version of their tax and climate bill, dropping a provision that would have narrowed a tax break for carried interest, altering a 15% minimum tax on corporations and adding a new 1% excise tax on stock buybacks.

Economic storm | Bank of England Governor Andrew Bailey denied allowing inflation to get out of control by acting too slowly, saying rate hikes a year ago would have damaged the recovery from the pandemic.
Pressure easing | Global food prices fell the most since 2008 after concerns over supplies of grains and vegetable oils eased as Ukraine moved toward restarting exports.

Cooling semiconductors | World chip sales growth has decelerated for six straight months yet another sign the global economy is straining under the weight of rising rates and mounting geopolitical risks.

Past peak | Elon Musk, chief executive officer of Tesla and the worlds richest person, sees signs the global economy is past peak inflation.

Going for gold | Venezuelas government has produced letters apparently signed by Queen Elizabeth II to bolster its claim to more than $1 billion of gold stored in the Bank of England. 

Hawkish stance | Indias central bank returned borrowing costs to pre-pandemic levels and pledged to do whatever it takes to bring inflation back to target.
Need-to-Know Research
Bond Burden
China university report says bonds are the cause of debt woes in low and middle-income countries
Source: Tsinghua University
China often cops the blame for causing high indebtedness in emerging markets, with critics calling its loans a debt trap for those who take them.
A new paper from Chinas Tsinghua University pushes back against that argument, pointing to data that suggest a surge in bonds mainly sold in euros and dollars over the years has exposed developing countries to more currency and financial risks.
The stock of global sovereign bonds sold by all low and middle-income countries more than tripled to $1.74 trillion in 2020 from 2009 as foreign investors chased high-yield assets, researchers led by Professor Tang Xiaoyang wrote in the report.
The bonds made up more than half of government-guaranteed external debt in 2020 and consumed 63% of total interest payments, they estimated.
International attention has largely focused on non-Western emerging lenders, for instance China, and has put forward factually ungrounded arguments like debt trap, while seriously underestimating the impact of international bonds on sovereign debt, the researchers wrote.
On #EconTwitter
Read more reactions on Twitter
Enjoy reading the New Economy Daily?
Click here for more economic stories
Tune into the Stephanomics podcast
Subscribe here for our daily Supply Lines newsletter, here for our weekly Beyond Brexit newsletter
Follow us @economics
With assistance by Craig Torres