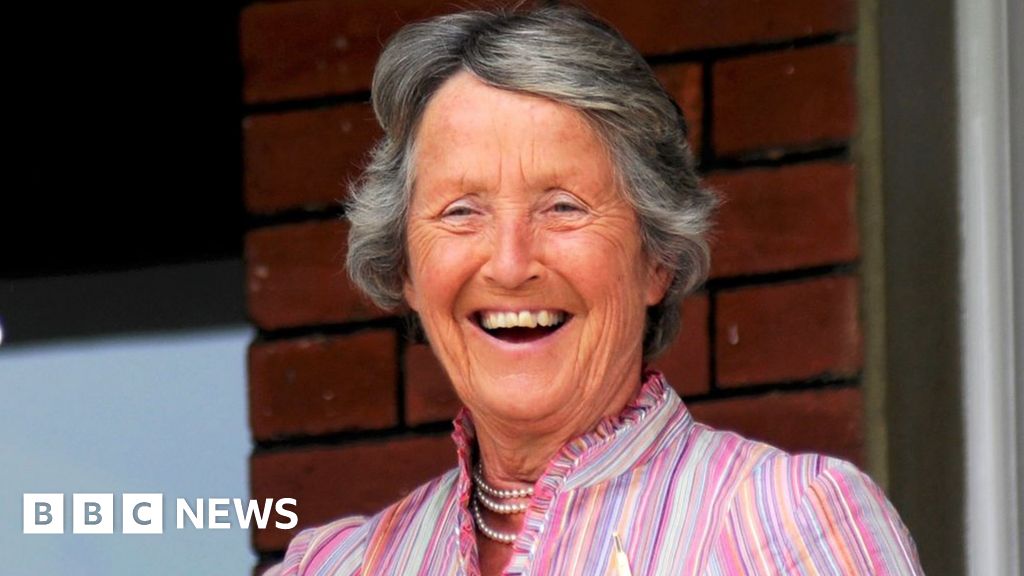 image sourceSarah Williams
image captionRachael Heyhoe Flint was "pivotal" in the campaign to allow women to become members of the MCC, the organisation said
Rachael Heyhoe Flint, the former England women's cricket captain, will have gates named after her at Lord's cricket ground.
The Marylebone Cricket Club (MCC) said they would replace the current North Gate and will be unveiled in 2022.
Baroness Heyhoe Flint, who died in 2017, was "a pioneer of women's cricket", the MCC said.
Her son Ben said the new gates would be "the honour of all possible honours".
As well as captaining England between 1966 and 1978, Heyhoe Flint played in the first ever women's match at Lord's, against Australia, in 1976.
image captionBaroness Heyhoe Flint OBE captained England between 1966 and 1978
The MCC said she was "pivotal" in the campaign to allow women to become members of the organisation and was among the first inductees in 1999.
She was inducted into the ICC Hall of Fame in 2010 and also became vice-president of Wolverhampton Wanderers Football Club.
The new Heyhoe Flint Gate will be commissioned and unveiled in summer 2022 and feature a permanent memorial to the former England captain, the MCC said.
Chief executive Guy Lavender said they wanted to recognise her "enduring impact on the game" and her "crucial role" in women's cricket.
Her son Ben said it would be "a perfect memorial to match Mum's beliefs as a champion of access and equality".
He added: "I am just wondering if I will need to bow when I next go through it!"
Follow BBC West Midlands on Facebook, Twitter and Instagram. Send your story ideas to: [email protected]
The BBC is not responsible for the content of external sites.