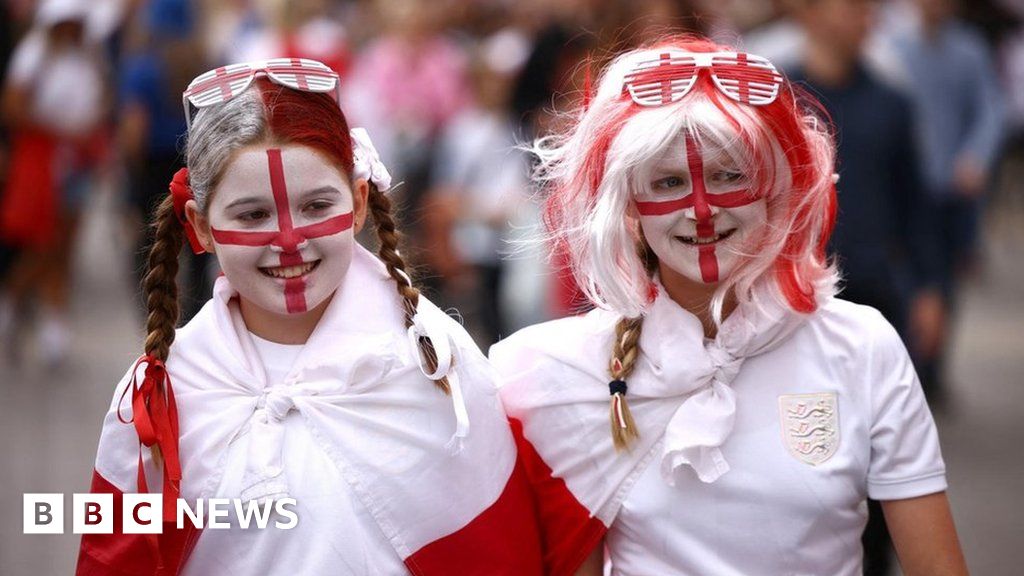 Thousands of football fans are arriving at Wembley Stadium, ready to roar the Women's England football team to victory.
About 90,000 people are expected to fill the stadium to see them take on Germany, who have already claimed the Euros crown eight times.
BBC Sport's Emma Sanders said the area around the stadium was packed with fans draped in England flags.
"TV cameras are floating about, while Uefa volunteers are taking pictures of families in front of the Wembley arch," she said.
"There are plenty of former Lionesses too – ex-goalkeepers Siobhan Chamberlain and Karen Bardsley and former winger Sue Smith are among those speaking with fans.
"My hotel was also packed with supporters all wearing their England shirts to breakfast. I spotted a young German fan last night too."
If the Lionesses win, it will be the first major tournament title for an England team since 1966.
They have won only two of 27 matches against Germany but triumphed in their most recent meeting, claiming a 3-1 victory in February.
Emma Hayes, Chelsea women manager, told BBC Radio 5 Live the fans will have a huge impact on the players.
"Imagine being Georgia Stanway and thinking 'where am I going to get my energy from?'
"Well, there's 90,000 people to hep you with that. That's the biggest single difference."
Kick-off is at 17:00, and you can watch it live on BBC One and BBC iPlayer.