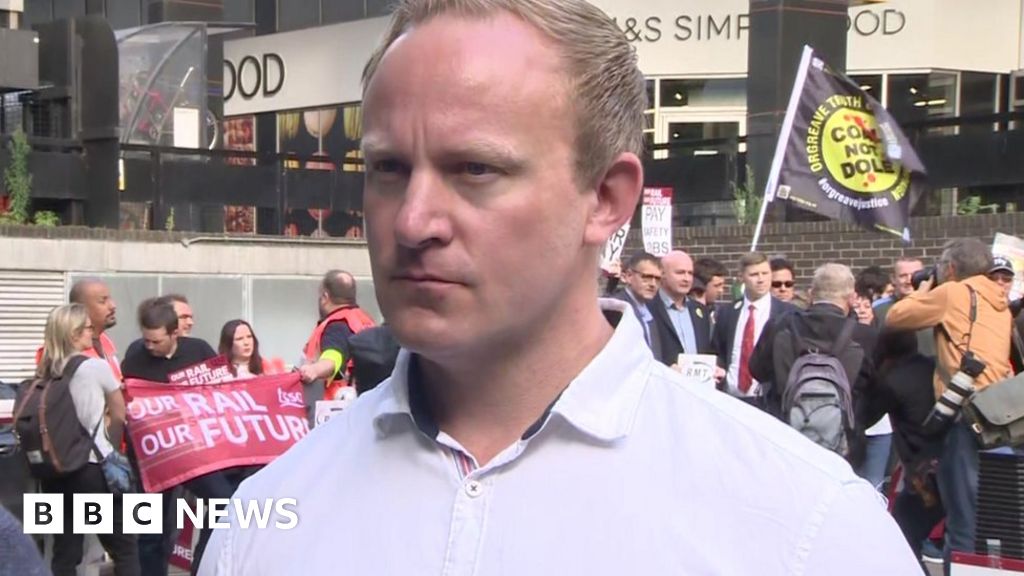 Labour's shadow transport minister has defied orders from leader Sir Keir Starmer and joined striking rail workers on the picket line.
Sam Tarry told the BBC he was "backing transport workers who are on strike" and "the travelling public".
He added that "any Labour MP, any Labour member, will have absolute solidarity with striking workers".
During the last round of strikes in June, Sir Keir told his frontbench MPs not to attend picket lines.
However, the handful of frontbenchers who defied the Labour leader's orders in June were not sacked from their jobs.
Sir Keir will now face questions over whether he will sack Mr Tarry, who is a supporter of former Labour leader Jeremy Corbyn, from his junior shadow ministerial role.
The strikes have been called after negotiations between the RMT and Network Rail over pay, pensions and conditions failed to find a compromise.
About 40,000 RMT union members are walking out meaning only 20% of train journeys are expected to go ahead on Wednesday, with knock-on effects likely to roll on to Thursday.
Speaking to reporters at London's Euston station, Mr Tarry said he was "here as a shadow transport minister backing transport workers who are on strike".
The Ilford South MP added that under a Labour government "this dispute would not be happening" because a "fair pay deal would have been in place".
Labour have not officially shown support for the strikes, and instead focused their attacks on the government, accusing ministers of not trying to resolve the situation.
The party's shadow transport secretary Louise Haigh said Transport Secretary Grant Shapps had spent "more time on his doomed 48-hour leadership bid" than on resolving the strikes.
Mr Shapps has called the strikes "completely wrong" but insisted "only the employer" can sort the dispute.