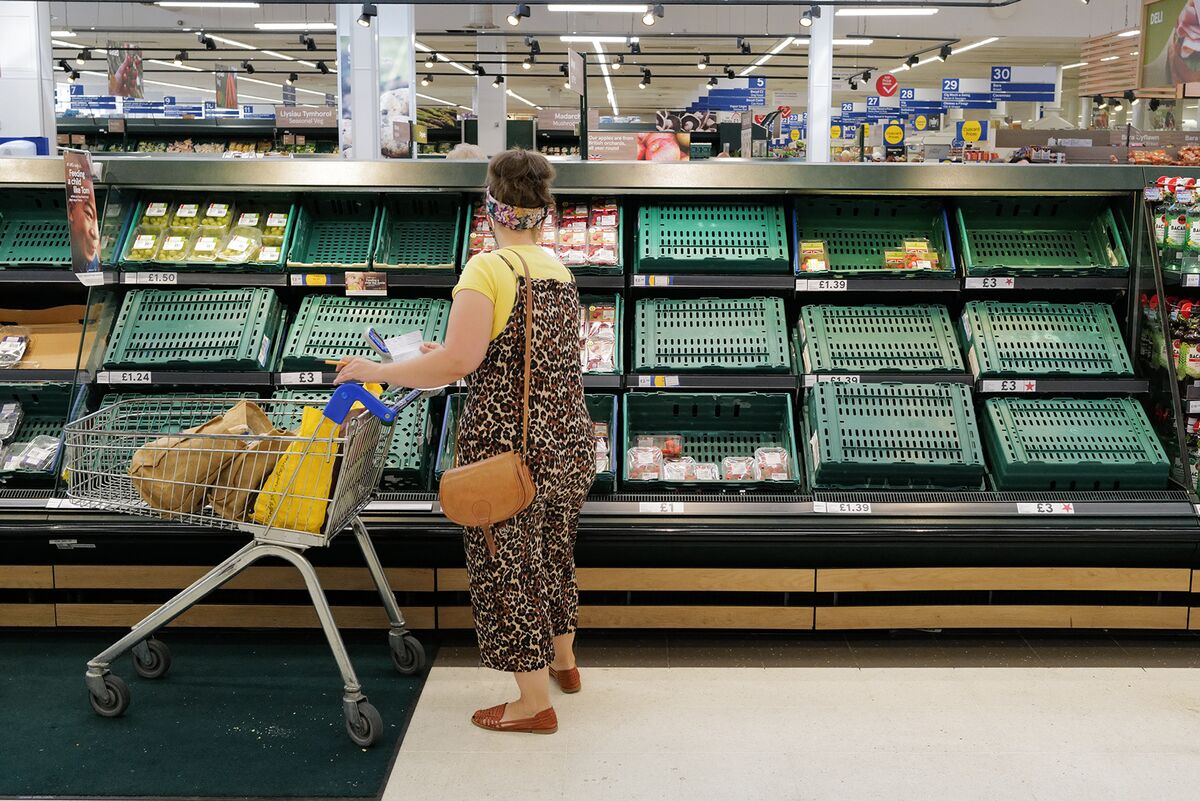 British food producers, retailers and transport companies descended into panic mode over the weekend as a surge in workers being forced to self-isolate hits suppliers across the country.
Workplaces have seen a rush of
absences after 1.7 million people were pinged as of last week by a National Health Service app that tells them theyve been in contact with a Covid-positive person. As the U.K. sustains another wave of infections, the alerts urged recipients to avoid people for 10 days.
Thats hard to do when you work at restaurants or grocery stores. The crisis prompted
authorities to commit last week to daily testing rather than self-isolation for some employees in the food supply chain.
The disruptions echo some of the chaos Britain saw during its first national lockdown in March 2020 tabloid stories and nightly newscasts showing bare store shelves.
Whats different this time is the effort to arm the public with a track-and-trace app has backfired, causing flash labor shortages just as the nations last remaining Covid restrictions were lifted.
Helen Dickinson, chief executive of the British Retail Consortium, says the new program must be rolled out as fast as possible to combat the so-called pingdemic.
Hefty Losses
At stake: The British economy could 
lose more than 4.6 billion pounds ($6.3 billion) in just four weeks if rules on self-isolation arent relaxed, according to data from Centre for Economics and Business Research.
This month, 22% of all staff absences were due to positive Covid cases or the need to isolate, according to data from wellbeing and productivity firm FirstCare.
Supermarket chain Iceland is hoping to hire 2,000 temporary workers to tackle others being told to
stay at home.
British Growers, which represents the fruit and vegetable industry, said fulfilling supermarket slots has been tough.
Everything has just conspired to make life a lot more difficult, said Jack Ward, head of the industry group. However, Environment Secretary George Eustice sought to cool shortage fears, insisting that people can shop normally.
Damian Shepherd in London
Charted Territory
Global goods trade remains a bright spot for a world where more economies are battling an abrupt revival of Covid cases, deaths and movement restrictions. South Korea and Taiwan each just added to a streak of double-digit year-on-year export gains. Koreas 33% increase in the first 20 days of July is a particularly reassuring sign, given that the bellwether for global trade is seeing a spike in Covid cases that threatens to set back economic recovery. Most indicators on the Bloomberg
Trade Tracker remain above their long-run averages, with almost half in the above normal range on the dashboard.
Todays Must Reads
Just ship it | Some of the worlds biggest footwear and garment companies are seeing production pinched as factories in Southeast Asia struggle to keep the lights on amid one of the worlds deadliest Covid-19 resurgences.

European vacation | An urgent global effort to rebalance the inequity between rich, vaccinated nations and poor nations sliding further into pandemic misery is colliding with an immovable calendar conflict: the European summer holiday.

Mounting pressure | Companies across Europe are stepping up price hikes to cope with mounting cost pressure and business disruption, adding to the alarm bells about an inflation spike that could spell trouble for the economy.

Cyber shutdown | Transnet, South Africas state-owned ports and freight-rail company, is manually processing container shipments in the continents biggest port after an alleged cyber attack crippled its computer systems.

Chip investment | The Biden administration is laying the groundwork to spend roughly $52 billion on semiconductor research and manufacturing even as its awaiting congressional approval of the funding. Meanwhile,  TSMC is

considering a new chipmaking plant in Germany.

Locked up | A Nigerian court convicted 10 men of piracy under a new law designed to thwart maritime crime in the Gulf of Guinea, with a federal judge in Lagos handing down 12-year prison sentences to the perpetrators.

The next shortage | Rising demand from electric vehicles and challenges in securing raw materials will deliver a battery supply crunch for automakers already grappling with a chip crisis, according to a key Chinese manufacturer.
On the Bloomberg Terminal
Central banks | The Federal Reserve will hold a steady course with respect to both policy levers and communications at its meeting on Wednesday, says Bloomberg Economics. The central banks of Nigeria and Colombia also meet  this week.

Tracking 2021 | Union Pacifics embrace of precision-scheduled railroading, coupled with a recovering economy, put it on a path to reach a 55% operating ratio over the longer term as management laid out a more bullish scenario for 2021, according to Bloomberg Intelligence.

Use the AHOY function to track global commodities trade flows.
Click HERE for automated stories about supply chains.
See BNEF for BloombergNEFs analysis of clean energy, advanced transport, digital industry, innovative materials, and commodities.
Click VRUS on the terminal for news and data on the coronavirus and here for maps and charts.
Like Supply Lines?
Dont keep it to yourself. Colleagues and friends can sign up here. We also publish the
New Economy Daily, a briefing on the latest in global economics.
For even more: Follow @economics on Twitter and subscribe to Bloomberg.com for unlimited access to trusted, data-driven journalism and gain expert analysis from exclusive subscriber-only newsletters.
How are we doing? We want to hear what you think about this newsletter. Let our trade tsar know.
With assistance by Deirdre Hipwell