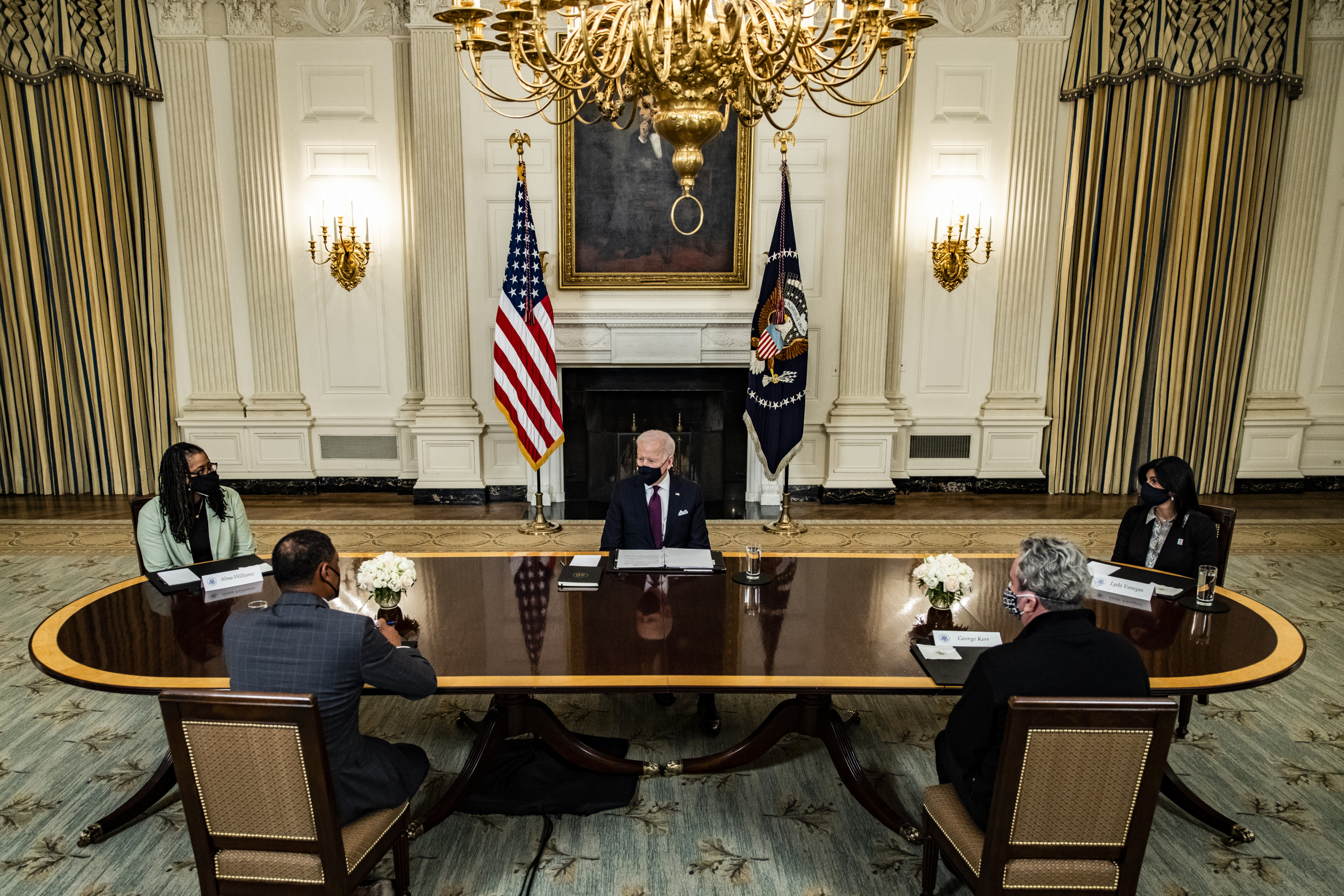 Despite President Joe Biden's recent warning of short-term inflation, an ongoing petition for monthly stimulus checks of $2,000 has continued to gather signatures over the past week amid a spike in COVID-19 cases.
Denver restaurant owner Stephanie Bonin created the Change.org petition last year, which calls for the U.S. House of Representatives and Senate to pass legislation that would provide families with a "$2,000 payment for adults and a $1,000 payment for kids immediately, and continuing regular checks for the duration of the crisis."
The petition has drawn more than 2,695,300 signatures, with about 65,000 new supporters in the past week. It will become one of Change.org's most signed petitions if it hits its goal of 3 million signatures. Bonin is confident that it will, telling Newsweek that people sign because "we're still in uncertain times."
President Joe Biden holds a roundtable meeting with Americans who will benefit from the COVID-19 pandemic relief checks that are a part of the American Rescue Plan on March 5, 2021 in Washington, DC. Samuel Corum/Getty Images
Support for the petition has ramped up over the past month, with about 250,000 new signatures in July, as the Delta variant continues to surge. The variant is now responsible for 83.2 percent of coronavirus infections in the U.S., according to the Centers for Disease Control and Prevention (CDC).
The petition has been routinely updated since it was launched during the first wave of the pandemic under the administration of former President Donald Trump.
After Biden signed the $1.9 trillion American Rescue Plan into law earlier this year, which included the third check of $1,400, Bonin said "our country is still deeply struggling. The recovery hasn't reached many Americans." She added, "We need immediate checks and recurring payments so that we can keep our heads above water."
Governments and central banks around the world have injected record amounts of money into their economies to confront the recession set off by the pandemic, including the U.S. which has passed trillions of dollars in stimulus funding.
While government spending during a recession will usually help economic recovery, government spending during an economic expansion tends to drive up inflation. Supply shortages created by the pandemic and labor shortages have also been blamed for rising inflation risks.
Biden warned of "near-term inflation" during a CNN town hall in Cincinnati Wednesday, adding that Wall Street experts suggest it is not likely to be long term inflation.
"It's rational when you think about it. The cost of an automobile is kind of back to what it was before the pandemic," he said. "They're up there because, in fact, there was not much call, for example, for automobiles. All of a sudden now it's coming back."