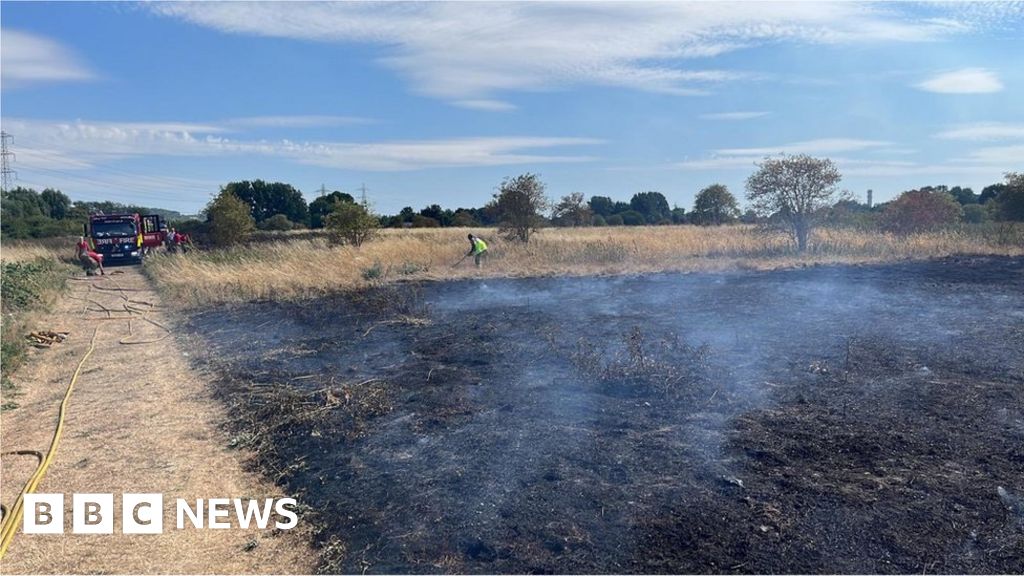 Fire crews are trying to put out grass alight in Rammey Marsh, Enfield.
The London Fire Brigade (LFB) said 15 fire engines and about 100 fire crew are at the 20-hectare site, about the size of four football pitches.
Emergency services were called at about 11:30 BST on Sunday. It follows a previous fire in Enfield on Saturday afternoon.
Another fire has broken out at Cranford Park in Hayes, where 40 personnel are dealing with five acres of shrubland.
There are no reports of injuries but local residents in both areas are being advised to close their windows against the smoke.
These latest fires come after record temperatures across the country earlier this week saw 15 regions declare a major incident.
LFB commissioner Andrew Roe said his crews dealt with 1,146 incidents on Tuesday, and crews were stretched to the greatest extent "since World War Two".
Media caption, Wennington fire
Two of the largest wildfires broke out in Upminster and the village of Wennington, both in east London, where black smoke billowed into the air and flames destroyed buildings and left nearby fields charred.
A fundraising campaign for people who lost their homes and belongings has raised more than £27,000 since 20 July.
The causes of the Ramney Marsh and Cranford Park fires are not yet known.
A brigade spokesperson urged people not to have barbecues, not to drop cigarette ends and not to drop litter, especially glass.
Follow BBC London on Facebook, Twitter and Instagram. Send your story ideas to [email protected]
The BBC is not responsible for the content of external sites.