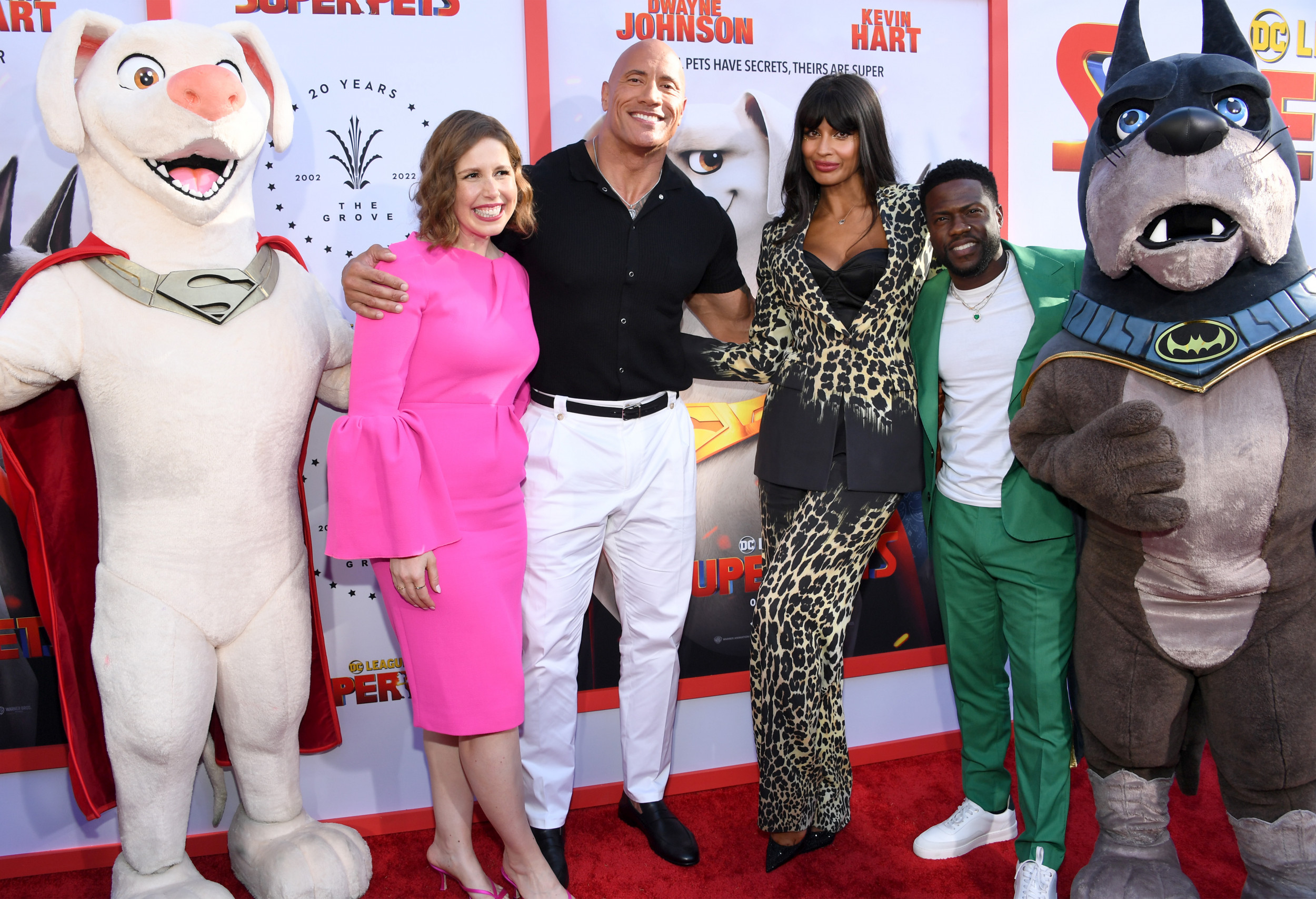 Kevin Hart and Dwayne "The Rock" Johnson show off four utterly adorable "super puppies" in a new viral Instagram clip.
The video, set to the Tom Tom Club classic "Genius of Love," shows the two actors sitting down with four cute pups, Quail, Sparrow, Stork and Dove. They joke with each other and speculate on which dog has what superpower.
Quail, a sweet chocolate-brown dog, immediately drew Johnson's notice with his expressive eyes. The former wrestler knew right off that Quail's super power was heat-vision. On the other hand, Hart could tell what the blonde pup Sparrow's power was: mind reading.
"What am I thinking?" the Rock asked Sparrow.
"I think it's more about what he's thinking," Hart replied, giving voice to Sparrow's thoughts: "That's an unattractive man!"
Stork, a black puppy, was deemed to have stealth by Hart, causing the dog to disappear from the Rock's hands—albeit with the help of movie magic. The final dog, Dove, a tan pup with little white socks, didn't get a super power—but doesn't need one as Johnson named Dove his favorite.
The puppies were all from the Best Friends Animal Society. At the end of the clip, Hart and Johnson urge viewers in love with the dogs to leave a comment about why they'd be the best home for any of the pups.
"Kevin and I just might make that dream come true," Johnson said.
Dwayne "The Rock" Johnson and Kevin Hart pose with fellow "DC League of Super-Pets" stars Vanessa Bayer and Jameela Jamil at a special screening of the film on July 13.Jon Kopaloff/Getty
Best Friends Animal Society is devoted to stopping shelters from killing dogs and cats. The founders were upset at the idea of shelters having to put down "unadoptable" animals, and worked together to form a sanctuary where these "unadoptables" could either be fostered and find new homes, or, in the case of some animals that faced extreme abuse, to provide them a forever home where they can be safe.
The Best Friends Sanctuary has approximately 1,600 animals at any given time, according to the organization's site, and it's not just dogs and cats—though they do make up the majority of the sanctuary's residents. But there are also pigs, horses, rabbits, birds and more.
Best Friends also took in 22 of the dogs from NFL player Michael Vick's dogfighting ring, calling them the "Vicktory dogs."
"Helping dogs who had been so abused and mistreated was a long, slow process and took a great deal of time and patience," Francis Battista, co-founder of Best Friends Animal Society told Newsweek. "Eventually most of the Vicktory dogs were adopted into amazing families, often into homes with other dogs, cats and children… They overcame unimaginable abuse, and, with grace and courage, triumphed."
Hart and Johnson were also promoting their upcoming film DC League of Super-Pets. In the film, Krypto, Superman's dog, and Ace the Bat-Hound team up with other super critters to save their super-owners from a kidnapping plot. The film is coming to theaters on July 29.
As part of the promotional blitz for the film, Hart and Johnson also filmed themselves taking part in the viral fad, the "Tortilla Slap Challenge."
In that clip, Hart says he was able to "live out my dream and smack the living s**t out of The Rock."
Newsweek reached out to Best Friends Animal Society for comment.