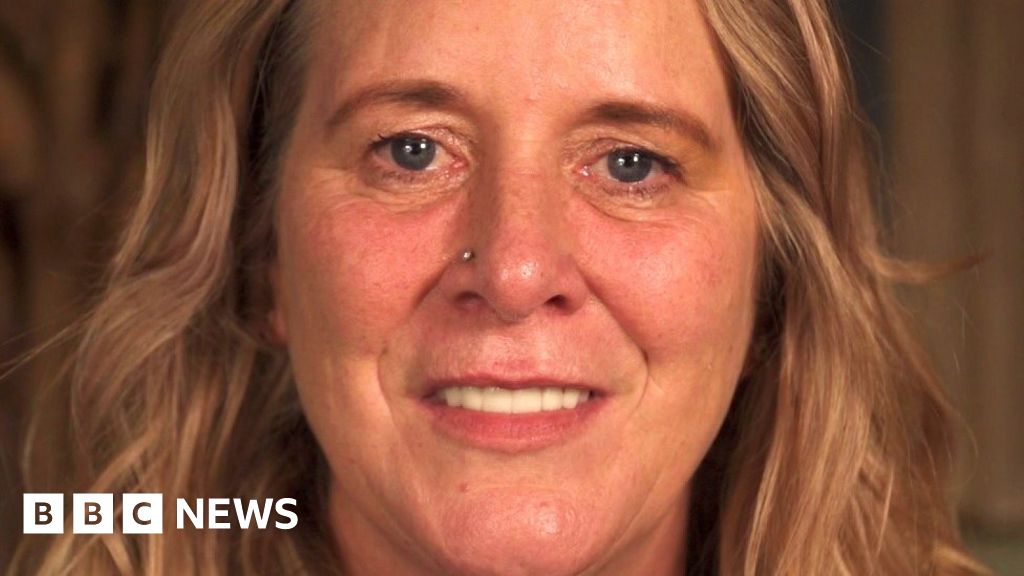 By Ashni Lakhani and Rob BrownBBC News
Hundreds of British dentists have treated patients with serious complications after they travelled abroad to get cut-price crowns, a BBC documentary has learned. The latest cosmetic look, seen on ITV's Love Island and via the hashtag #Turkeyteeth, has given some people their dream smile but left others asking the NHS to pick up the pieces.
Lisa Martyn never expected she would contemplate getting dentures at the age of 48. But after travelling abroad for an invasive cosmetic dental procedure, she believes there are few other options.
"My teeth are gone. They're filed down so much," she says. "They never said your teeth can die, that you can get an abscess."
Last year, Lisa flew to Turkey for 26 veneers, usually thin shells placed around teeth that are minimally shaved down, hoping to achieve a perfect smile for her son's wedding.
Months later she discovered she had actually been given crowns. These involve 60% – 70% of the natural tooth being filed down to fangs or stubs, before a tooth cap is glued on top. Patients can choose the shape, material and colour of these caps, often opting for a bright, white, symmetrical smile.
The trend of travelling to countries like Turkey for dental treatment has been dubbed "Turkey teeth". It is popular on social media, where a TikTok hashtag has reached more than 130 million views, and with several reality TV influencers.
Turkey Teeth: Bargain Smiles or Big Mistake
The BBC explores the TikTok trend in which young people are travelling to Turkey to get a brand new smile.
Watch now on BBC iPlayer (UK Only)
But 10 months on, Lisa, from Ireland, has been plagued by ongoing nerve sensitivity and excruciating pain. She has lost more than two stone (12.7kg) as she is unable to eat properly and has spent months relying on painkillers.
The pain culminated in an infection and abscess which Lisa says nearly paralysed half of her face. Her original procedure in Turkey cost her 3,500 euro (£3,000) but her private remedial treatment, which includes two rounds of root canal surgery, will cost her more than 2,000 euro.
She has been told the only long-term treatment available is implants or dentures.
"Financially it's going to cripple me, but that's just the price I have to pay after going to Turkey and filing all my teeth down," she says.
The BBC contacted Lisa's clinic in Turkey, but did not receive a response.
We spoke to some UK dentists who say they'd be concerned their regulatory bodies would not allow them to conduct such work. Dr MJ Rowland-Warmann, director of a dental clinic in Liverpool, emphasised crowns can cause major complications.
"If I did 20 crowns on a 21-year-old for the purposes of improving the colour, I would have my licence revoked, I would be struck off," she says.
An exclusive survey for BBC News of 1,000 dentists, by trade union the British Dental Association (BDA), found 597 respondents said they had treated both patients with crown complications and seen patients who visited Turkey for their dental treatment.
Nearly one in five of those surveyed said the repair costs exceeded £5,000. Three-hundred-and-forty-six dentists said some of this remedial treatment was provided by the NHS.
It is not known how many people from the UK have had such treatment abroad.
Studies also suggest on average, a quarter of crowns have to be extracted after 15 years. Crowns also increase the risk of having root canal treatments, extractions and dentures in future.
One of the first to sport the trend was ex-Love Island winner Jack Fincham, who travelled to Turkey for 10 crowns before entering the villa in 2018.
"My mum used to be a dental nurse, so I know how expensive it is to get your teeth done. I knew it would be about £10,000 – £15,000 easily in England. So I thought I'd rather just go to Turkey get a bit of sun, have a laugh."
Image caption, Jack Fincham during and after treatment
The week Jack appeared on the reality show and spoke about his teeth, Google searches for "Turkey Teeth" spiked.
But he admits, "I didn't really know what a crown was. And I didn't know it was quite as invasive as it was."
Not all patients return with complications.
Tilly, 22, has had no regrets since travelling to Turkey for 16 crowns in January.
"Ever since a young age, I was bullied for my teeth," she explains. "I was called things like Bugs Bunny and told how pretty I'd be if I didn't have the teeth I had."
She says the treatment has significantly changed her life.
Image caption, Tilly booked her treatment by messaging the clinic on Instagram
"I'm smiling a lot more, I'm laughing. I'm not hiding my mouth which I did constantly," she says. "I'm just more and more myself, it's given me my confidence back."
Like many others travelling to Turkey for crown procedures, Tilly booked her treatment by messaging her clinic via Instagram. The clinic then asked her to send some photographs of her teeth, before providing her with a treatment plan.
The BBC contacted 150 dental clinics in Turkey and 50 cosmetic dental clinics in the UK via Instagram with a picture of our documentary presenter's teeth with the following message: "Hi, hoping to come to Turkey to get my teeth done for my 26th birthday. I'm not happy with my bottom teeth and want them more in line with the rest of my mouth. What do you recommend, how much would it cost in pounds and how long will it last? Here are some pictures of my mouth."
Seventy of the 120 Turkish clinics that responded offered treatment that involved shaving down the natural teeth, such as crowns or veneers.
None of the 34 UK clinics that responded offered a treatment plan of veneers or crowns, although some did suggest less invasive treatments such as aligners or composite bonding.
Eddie Crouch, chairman of the BDA, warns: "Patients need to provide informed consent for any treatment they have and be wary of a hard sell, as the reality is rarely as simple as it appears on Instagram. Sadly, many UK dentists are now picking up the pieces when things go wrong.
"We strongly advise people considering this to check a dentist's qualifications and experience and whether they are insured if things go wrong."