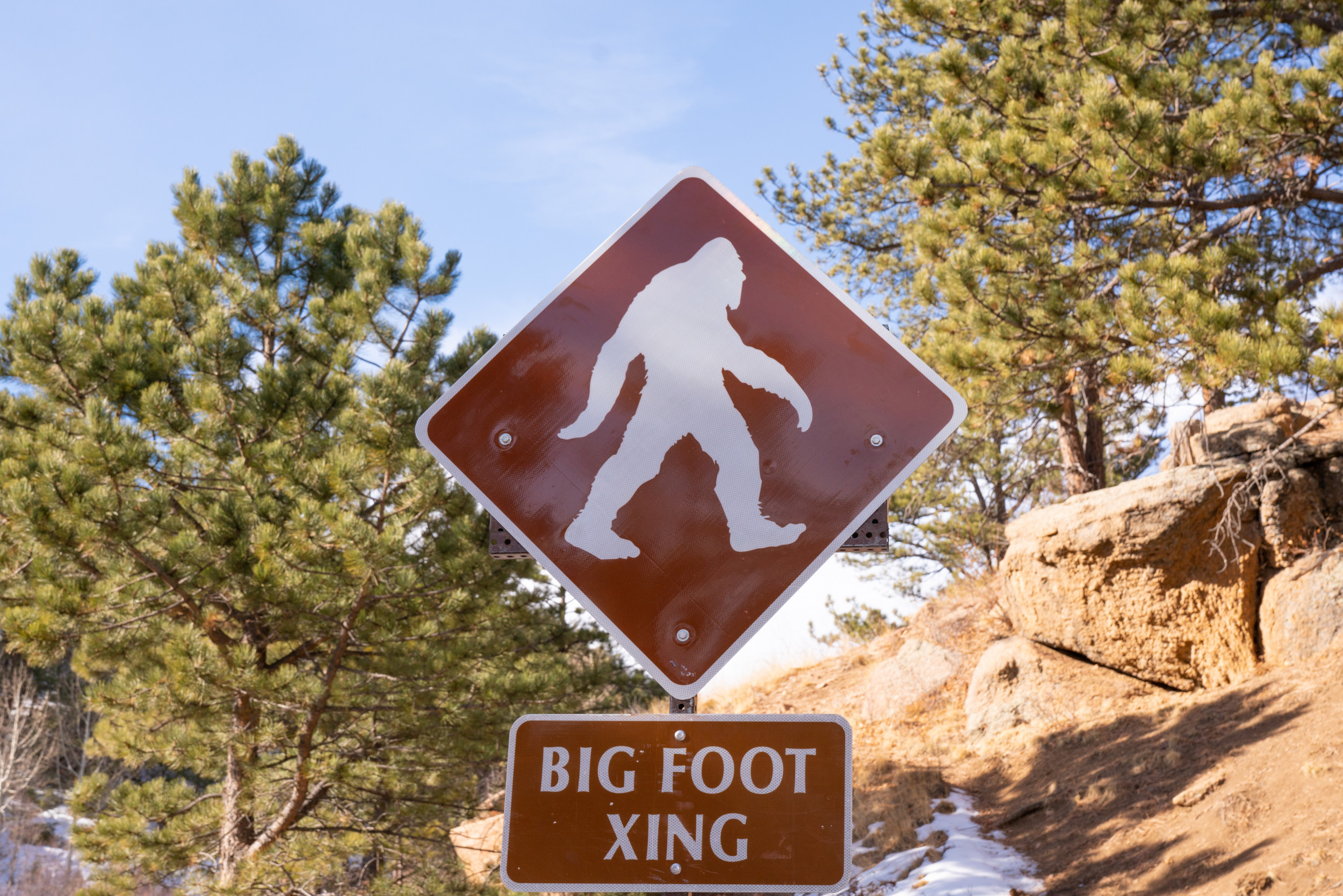 A man accused of killing his friend in Ada, Oklahoma, on Saturday said he did so because he believes his friend summoned Bigfoot to kill him.
Pontotoc County Sheriff John Christian told Newsweek that Larry Sanders, 53, may face the consequences of first-degree murder if he is found guilty of Jimmy Knighten's death.
"First-degree murder is one of the most serious crimes listed in Oklahoma's criminal code and may be punished by death," read an article published by FindLaw, a legal information website.
A man has been accused of killing his friend because he believed the friend had sent Bigfoot to kill him. Above, a picture of a Bigfoot Crossing sign in the wilderness of Colorado. Getty Images
FindLaw also reported that first-degree murder is generally associated with "malice aforethought," meaning a killing is typically completed deliberately and with the intent to kill the victim.
"However, in Oklahoma a killing done without malice aforethought may also qualify as first-degree murder if the killing took place under certain specific circumstances," the organization said.
Christian said Sanders told a family member he killed Knighten while they were out noodling—fishing using bare hands—by the South Canadian River. That family member told another family member who reported it to the police.
When officers interviewed Sanders, Christian said it appeared he was under the influence of methamphetamine based on his behavior, however, a blood test was not taken.
During the interview, Sanders reportedly told officers the same story he told his family member, including the detail about killing Knighten because he believed Knighten called on Bigfoot to kill him.
Officials began searching for Knighten Saturday evening but were unable to locate his body until Sunday afternoon.
"The area is very wooded, there's a lot of small brush and large trees," Christian said. "It was a difficult search to conduct and a large area to search."
Sanders reportedly told officials that he strangled Knighten, but Christian said the body has been sent to the medical examiner to determine an official cause of death.
An arrest warrant was already out on Sanders due to unpaid fines, and Christian said officials executed the warrant after interviewing him.
The Oklahoma State Bureau of Investigation stepped in to investigate, and agents with that agency ultimately arrested Sanders for murder in the first degree, per a press release.
Newsweek reached out to the Oklahoma State Bureau of Investigation for further comment.
Other arrests have recently been made as it relates to murder.
Authorities used DNA evidence that led them to believe they solved a 30-year murder investigation.
A woman was arrested when her 3-year-old granddaughter was found dead in a trash can with signs of trauma.
One man was accused of murder after he allegedly returned to the scene of the crime.
A man has been arrested for allegedly killing his friend after he said his friend summoned Bigfoot to kill him. Above, a stock image of police tape.Stock Depot/iStock