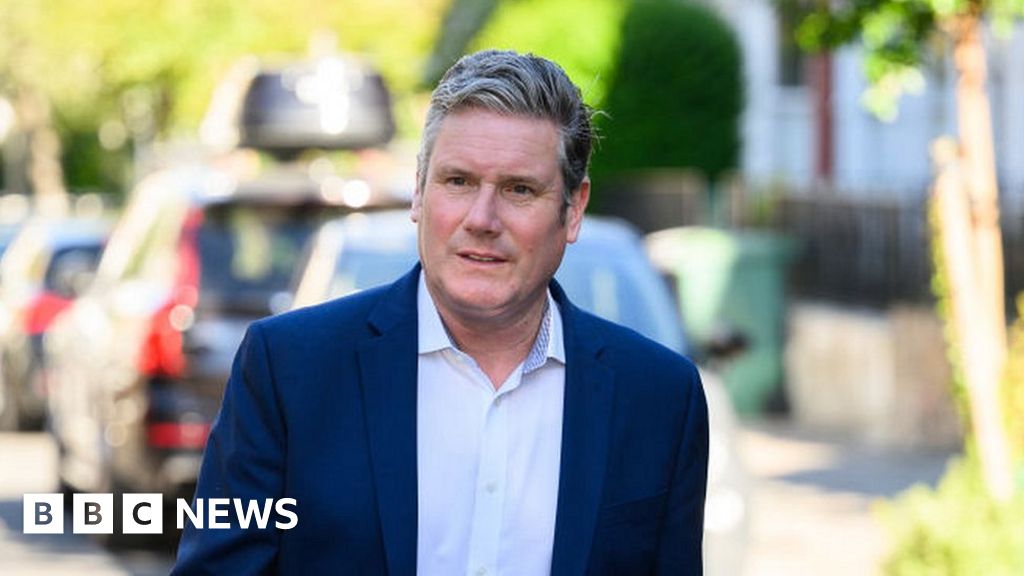 Sir Keir Starmer is set to attack the government's record on Brexit, vowing Labour would do a better job of taking the UK out of the EU.
In a speech later, the Labour leader will recommit to keeping Britain out of the union's single market, customs union and free movement rules.
But he will accuse the Tories of failing to use the "opportunities" of Brexit to boost the economy.
And he will promise a new approach to border issues in Northern Ireland.
The address marks an attempt to regain control over an issue that has been a dividing line between the party's MPs and members and some of its voters.
Sir Keir, who as Jeremy Corbyn's shadow Brexit secretary said the party should advocate staying in the EU in any second referendum, has largely avoided talking about Brexit during his time as leader.
He has not made set-piece speech on the issue since the UK cut legal ties with the EU, and mentioned it just five times in a 11,500 word essay ahead of Labour's annual conference last year.
With official forecasters continuing to say Brexit has damaged the UK's economy, he has faced pressure within Labour – including from London mayor Sadiq Khan – to push for Britain to rejoin the bloc's single market.
But in a speech at pro-EU think tank the Centre for European Reform, he will reject that approach, arguing it would be a "recipe for more division".
He will add: "There are some who say, 'We don't need to make Brexit work. We need to reverse it'.
"I couldn't disagree more, because you cannot move forward or grow the country or deliver change or win back the trust of those who have lost faith in politics if you're constantly focused on the arguments of the past."
What Sir Keir Starmer is doing today, in black and white, is making peace with Brexit.
He will say explicitly that a Labour government would not return to the single market, customs union or freedom of movement.
He has said these things before – but saying them all together is quite something.
Unlike the Conservatives, Labour MPs and party members were not split down the middle on Brexit. The vast majority of them absolutely hated the idea.
So today, the Labour leader is saying that argument is closed and he is turning a political leaf.
He will hope by doing that, criticism can't come back the other way accusing his party of secretly wanting to take the UK back in.
He will also hope it creates space to criticise the Tories' Brexit deal, not least on the Northern Ireland issue.
Sir Keir will also repeat his promise not to re-establish the EU's free movement rules in the UK, arguing instead he would seek new flexibilities for short work trips and touring musicians.
As part of a plan to "make Brexit work", the Labour leader will promise to:
strike a new UK-wide agreement the EU on veterinary standards in a bid to cut red tape for British food exporters
restore the mutual recognition of professional qualifications and rules for testing products across "specified sectors"
negotiate a "new security pact" with the EU to enable the sharing of more policing data and intelligence
He will also promise a new approach to post-Brexit border arrangements for Northern Ireland, which have proved highly unpopular among unionists.
The government argues the provisions, which it signed up to as part of the 2019 withdrawal deal, are causing economic disruption and must be changed.
After failing to secure the changes it wants during talks with the EU, it recently tabled legislation enabling it to go back on parts of the deal it doesn't like.
Image caption, Border checks on goods moving from Britain to Northern Ireland are opposed by many unionists
In his speech, Sir Keir will accuse minsters of "lashing out," and pledge to continue talks over the arrangements, known as the Northern Ireland protocol.
"The solutions are there, the desire is there. What is lacking is trust," he will say. "Labour will change that. We will be the honest broker our countries need."
He will also attack the government's approach to regulating the economy outside the EU, accusing them of cutting rules and then "gawping at the power of the market".
"The government have missed Brexit opportunities time and time again. It beggars belief that during a cost of living crisis that they still haven't cut VAT on energy bills," he will add.
"Labour will be sharper than this. We will use our flexibility outside of the EU to ensure British regulation is adapted to suit British needs."