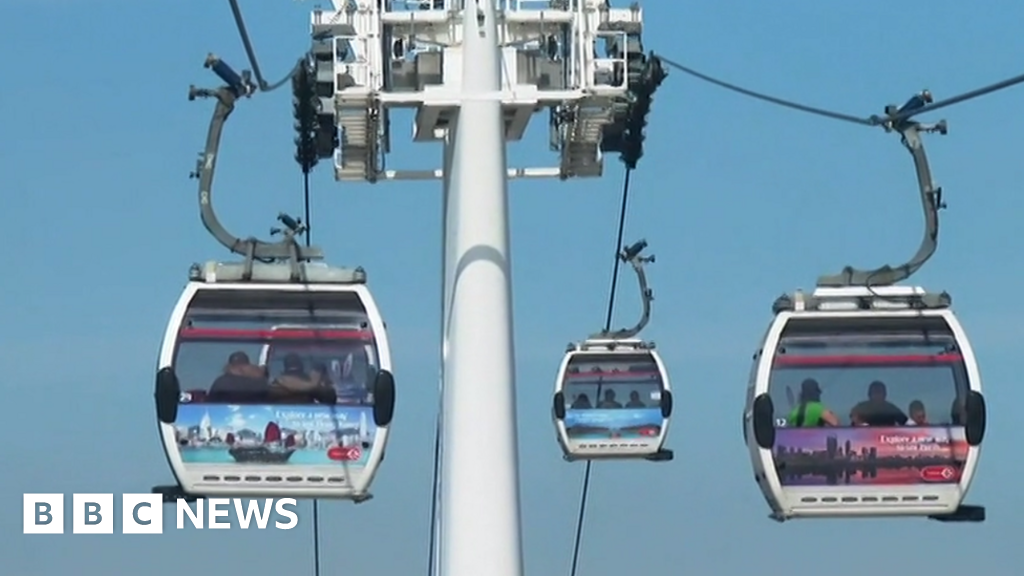 Transport for London's (TfL) multi-million pound contract with global airline Emirates for it's east London cable car has ended.
It opened in time for the 2012 Olympics in London and saw a ten-year branding sponsorship contract worth £36m
A new "future commercial partner" is expected to be announced later in the summer, TfL's Josh Compton said.
However, until then TfL will have to bear the cost of the cable car as it continues in operation.
The total cost of the project was £60m and the cable car provides a direct link between the 02 Arena in Greenwich to the ExCeL Exhibition Centre in east London.
Emirates' £36m offset some of the funding through its sponsorship.
In a statement the airline said: "Emirates is proud to have helped establish what has become an iconic part of the London skyline and to have contributed to the regeneration of the local area in the process.
"We have thoroughly enjoyed a great 10-year partnership, but it is now time to pass the baton onto a new partner."
Earlier this year, TfL turned its hopes to TikTok and Instagram in order to influence a new sponsorship deal for its cable car.
It claimed on its website the cable car was "one of the most Instagrammable spots in London".
Image source, Getty Images
Image caption, Since opening, the cable car has been visited by famous faces including Arnold Schwarzenegger, Novak Djokovic and boxer David Haye
But, TfL's passenger figures show challenges for the cable car over the years.
Since 2012, the service has struggled to attract regular commuters and between its launch year and 2019 passenger numbers dropped from 1.73m to 1.2m.
Fares for an adult are now priced at £5 which is up from £3.20 when the cable car first came into operation.
Demand tends to be very seasonal and last August bank holiday TfL recorded one of its busiest ever weeks due to viral videos on TikTok.
Despite the fare increases over the years figures show that passenger numbers have improved at the start of 2022 compared to the beginning of 2021.
Any new deal will exclude a number of companies due to TfL's advertising policy.
It means brands involved in tobacco, arms and food or drink which promotes products containing high fat, salt and sugar will not be permitted to sponsor.
Follow BBC London on Facebook, Twitter and Instagram. Send your story ideas to [email protected]
The BBC is not responsible for the content of external sites.