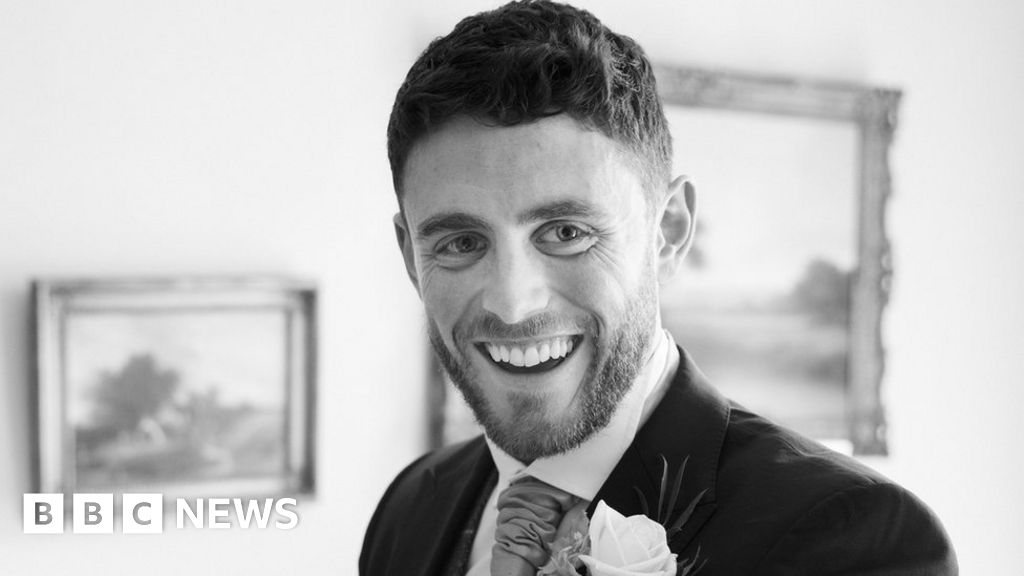 The widow of police officer Andrew Harper said she believes he is "smiling down with pride" as the law named after him comes into force.
Lissie Harper successfully campaigned for 'Harper's Law' to give mandatory life sentences to the killers of emergency service workers.
Her husband, a Thames Valley Police officer, was dragged to his death by a getaway car in August 2019.
Three teenagers were jailed for manslaughter.
Image caption, Lissie Harper, pictured in front of the National Police Memorial in central London, hopes to "retire" from public life
Mrs Harper said her quest to change the law came "in the midst of grief and incomprehensible loss", and was backed by the likes of Home Secretary Priti Patel and Justice Secretary Dominic Raab.
The 31-year-old said she was "outraged" by the prison sentences handed to the three teenagers responsible for killing her husband and felt compelled to lobby the government.
Image caption, Henry Long, Albert Bowers and Jessie Cole were cleared of murder but convicted of manslaughter
Henry Long, 19, admitted manslaughter and was sentenced to 16 years. Jessie Cole and Albert Bowers, both 18, were convicted of manslaughter after a trial at the Old Bailey and sentenced to 13 years in custody.
PC Harper was dragged for more than a mile along country lanes in Berkshire after he and a colleague responded to reports of a quad bike theft.
The 28-year-old newlywed became "lassoed" to the back of a Seat Toledo after he "unwittingly" stepped with both feet into the loop of a tow rope as he tried to apprehend one of the defendants.
PC Harper's shift had been due to end four hours before the call and he was about to begin his honeymoon.
Mrs Harper said: "I will never be rid of the hollowness that the burden of grief inflicts, but I know without hesitation that my husband Andrew would be immensely proud of this achievement in his name.
"Andrew believed in fairness and peace – he had the strongest moral compass of anyone I ever met.
"That is why I know, without a shadow of a doubt, that he is smiling down at me with pride and love as Harper's Law, his legacy, is now achieved."
Image source, FamilyHandout
Image caption, PC Andrew Harper married his childhood sweetheart, Lissie, four weeks before he was killed
'Harper's Law' will not be retrospective, meaning PC Harper's killers cannot have their sentences extended.
Mrs Harper said: "No longer will a family have to endure the pain of injustice in court as I did those many months ago – and that is a significantly powerful outcome.
"Throughout this journey I have met so many incredible people, fellow widows and widowers who know this unique pain I feel. I hope that this will help not only me, but all of those who have experienced these cruel atrocities."
Mrs Harper previously said she hoped to "move forwards" and retire from public life once Harper's Law came into effect.
Follow BBC South on Facebook, Twitter, or Instagram. Send your story ideas to [email protected]
The BBC is not responsible for the content of external sites.