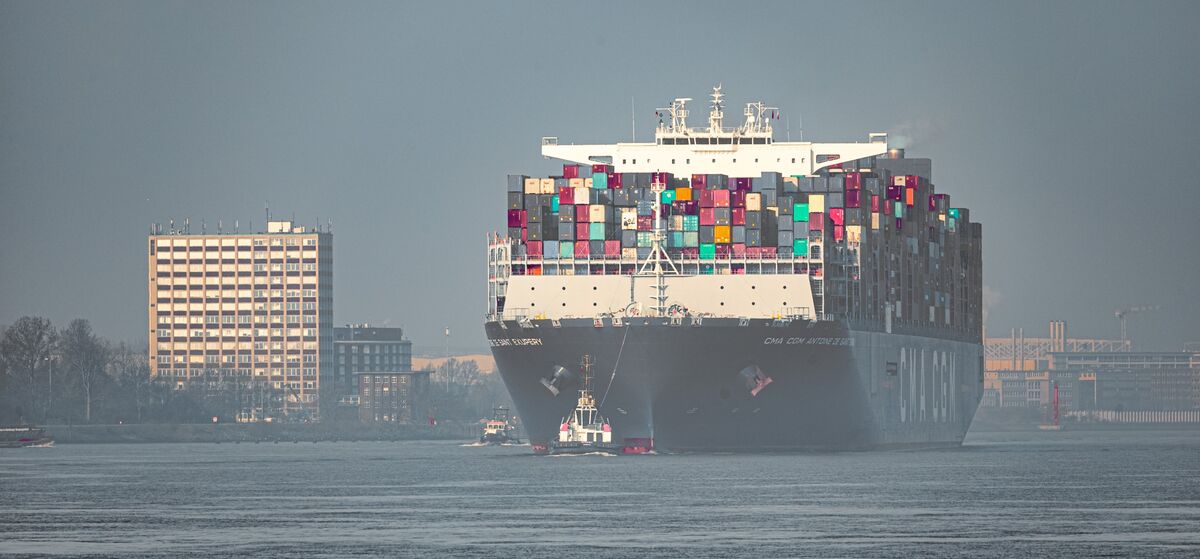 Five years ago this week, Maersk said a cyber attack crippled its computer network, affecting its port terminal operations from India to the Netherlands, rippling across to nearly 60 countries and eventually causing as much as $300 million in damages.
It was, as Andy Jones refers to it in the parlance of cyber security experts, an extinction event.
Jones is the former chief information security officer at Maersk Line, and he has 
a podcast that recounts the event that unfolded and is worth listening to for advice on how to deal with hacking threats and actual intrusions.
The NotPetya attack in 2017 that hit Maersk and other global businesses seems so long ago given the bust-to-boom wave the shipping industry has ridden since then. Imagine if something that widespread happened today, as ports still struggle with economic imbalances caused by the pandemic.
Read More: Maersk Shuts Down Systems to Help Contain Cyber Attack
Cyber threats are nothing new to maritime shipping and logistics more broadly. Every month seems to bring another event. Last week, UK delivery giant Yodel said its systems were compromised, though a spokesman said Monday the delivery network and customer service functions were fully operational.
Warning Flare
Now some experts, including a top US Coast Guard official, are sounding the alarm again about the rising risks not just on land, but on ships themselves. Such potential breaches of operational technology could do huge economic damage at a time when global supply chains are already frayed. (Click
here for the full story today.)
Shipping is using much of its windfall profits from the pandemic era to
upgrade technology, creating more digital linkages from land to water that are both a welcome step in a paper-laden business and a worry unless cyber precautions are taken.
Ships and their systems were never designed to be connected in this manner and even a modern ship is a patchwork of different systems from different manufacturers who have all taken cyber security in various degrees of seriousness," Jones said via email. Some operators have taken this seriously, but with substantial fleets and ships that are probably over 30 years old, it is a very tall order.
Across industry and government, theres agreement that there needs to be more unified approach and more information sharing.
Everybody needs to be all-in in this game and understand when there are vulnerabilities getting that information out quickly is going to be thing that continues the help use close doors, US Coast Guard Real Admiral Wayne Arguin told Bloomberg.
Brendan Murray in London
Charted Territory
Plenty of Shelf Space
At 1.17, US retail inventory/sales ratio well shy of long-term average
Source: Bureau of Economic Analysis
Note: Ratios are inflation adjusted
Surveying Stockpiles | A pileup of unsold goods at big-name US retailers Target and Walmart stirred concerns about an economy at risk from an inventory overhang. But, for now, solid demand is helping soothe some of that anxiety. Inventories rose an annualized $343 billion in the last two quarters, the biggest back-to-back build in government data back to 1999. Yet stockpiles are less concerning when compared with the total value of sales. (Full story
here.)
Todays Must Reads
Demand cuts | The European Union is seeking ways to reduce natural-gas demand to avoid splintering energy markets as dwindling supplies from Russia test the blocs unity in response to the war in Ukraine.

Disruption roundup | Public attention has waned two years into the crisis that disrupted global supply chains, giving the impression that everything is back to normal. On the ground, the USs busiest ports are still battling bottlenecks across the board.

Track shoes | Nike said more than 60% of its business in China was affected by Covid disruptions across more than 100 cities, and its central logistics center took three weeks to return to 100% capacity.

Texas chip hub | GlobalWafers plans to build a $5 billion semiconductor silicon-wafer facility that will be the biggest of its kind on American soil, as the country contends with the fallout from a global shortage of chips.

Road map | Senior US and Taiwanese officials held inaugural talks about developing an ambitious roadmap for negotiations to deepen economic and trade ties, a move likely to exacerbate tensions between Washington and Beijing.

Energy diplomacy | The European Union is seeking ways to reduce natural-gas demand to avoid splintering energy markets as dwindling supplies from Russia test the blocs unity in response to the war in Ukraine.

Relief seen | Runaway food inflation may be tamed soon  at least temporarily  as farm commodities tumble after a surge that pushed up prices of everything from bread to chicken wings.

Yacht seizure | After a stopover in Hawaii, the $325 million superyacht thats tied to Russian billionaire Suleiman Kerimov and that was seized by US authorities in Fiji has sailed into a port in Southern California.
On the Bloomberg Terminal
Both hurt | If the US decides to step up bilateral tension by undermining Chinas access to the dollar, like targeting Hong Kongs dollar peg, then this could end up hurting the dollars own credibility as the leading reserve currency, Bloomberg Intelligence says.

Volatility ahead | Recession fears, soaring fuel costs and challenging comparisons have weighed on spot demand for trucking in North America, says Bloomberg Intelligence, which expect to see increased levels of volatility on the supply side through July 4, as some truckers return home for the holiday.

Use the AHOY function to track global commodities trade flows.
Click HERE for automated stories about supply chains.
See BNEF for BloombergNEFs analysis of clean energy, advanced transport, digital industry, innovative materials, and commodities.
Click VRUS on the terminal for news and data on the coronavirus and here for maps and charts.
Like Supply Lines?
Dont keep it to yourself. Colleagues and friends can sign up here. We also publish the
New Economy Daily, a briefing on the latest in global economics.
For even more: Follow @economics on Twitter and subscribe to Bloomberg.com for unlimited access to trusted, data-driven journalism and gain expert analysis from exclusive subscriber-only newsletters.
How are we doing? We want to hear what you think about this newsletter. Let our trade tsar know.