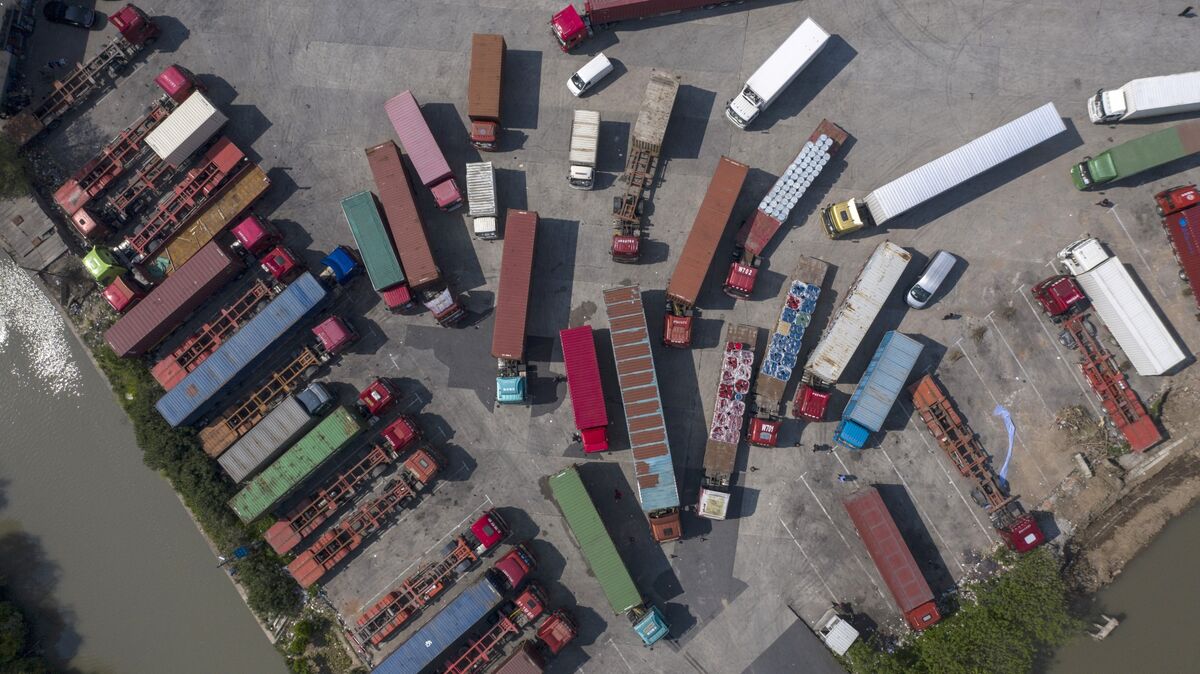 Goldman Sachs sees the worlds supply disruptions and the inflation theyre causing as temporary, with things heading back toward normal in 2022.
In a research note this week focused largely on the U.S. economy, the banks economists looks at the causes of the supply issues and their effect on prices of
consumer goods. It concludes that were in the midst of a one-time inationary blip that will eventually become a one-off disinationary drag not the signals seen in an overheating economy thats hitting maximum speed.
The global goods sector is best thought of as facing a number of serious disruptions and challenges as the world economy recovers from the pandemic, not as having been pushed to its productive limits by the current level of demand, they wrote. Both U.S. and foreign goods producers have room to raise utilization rates further.
Read More: Shipping Data Show Why You Should Christmas Shop Early
The shortage of semiconductors, affecting the automobile and electronics industries, should begin to improve later this year, the report says. For other industries like furniture, the path back to normal is more varied and supply should gradually catch up to demand, the note said.
Heres how Goldman Sachs breaks down its expectations for the moderation in price gains in several categories:
Consumer electronics: We assume prices will rise further above trend this year due to the chip shortage, but revert one-third of the way to trend by end-2022.
Furniture, appliances, and sports equipment: We assume only slight reversion to trend this year because of order backlogs for furniture and further effects of chip shortages on appliances, and then roughly one-third reversion by end-2022.
New cars: We expect only slight reversion to trend this year and one-third reversion by end-2022 because some of the price increases so far appear to reect persistent cost increases.
Used and rental cars: We assume one-quarter reversion by end-2021 and two-thirds reversion by end-2022.
Overall,
supply-constrained industries have added 105 basis points to year-over-year PCE inflation, but that should fall back to 35 points by year end and be a negative 55 points by the end of 2022, according to the note.
A big question is whether there will be enough workers in the U.S. to help address the supply-demand imbalances. We think these worker shortages will diminish in coming months, primarily because we expect the expiration of federal unemployment benets to substantially increase labor supply, the economists wrote in the note.
Brendan Murray in London
Charted Territory
Turkish President Recep Tayyip Erdogan held a ground-breaking ceremony for a bridge planned as part of a $15 billion 
canal project near Istanbul thats been criticized by environmentalists. Sazlidere Bridge is planned as one of six to span the canal. Transport Minister Adil Karaismailoglu said in May that the bridges would cost about $1.4 billion. The 45-kilometer (28-mile)
Kanal Istanbul, which will link the Black Sea with the Sea of Marmara, was dubbed by Erdogan as his crazy project when he first announced it a decade ago.
Todays Must Reads
Big rebound | South Korea raised its economic forecast for this year by a wide margin on expectations for record exports and a rebound in consumption as vaccination levels rise.

Driver shortages | The U.K. food sector is facing a massive challenge keeping grocery shelves stocked and restaurants well-supplied this summer: There arent enough workers.

Stockpiling chips | Suzuki warned that supply of semiconductors and batteries may be tight into the foreseeable future as automakers shift toward electric vehicles, and is planning to increase its stockpiles as a result. Meanwhile, Intel CEO Pat Gelsinger predicted the chip

shortage will bottom out in the second half of this year before starting to improve.

Anti-China alliance | President Joe Bidens picks to be deputies to the U.S. Trade Representative pledged to work with American allies to compete with China and to find solutions to longstanding disputes with Canada over lumber.

Goods trade | The U.S. merchandise-trade deficit widened more than forecast in May as the value of imports rose to near-record levels and exports declined.

Port politics | Tanzanian President Samia Suluhu Hassan said her government has resumed talks on a planned $10 billion port project backed by China, which was suspended by her predecessor in a disagreement over terms.
On the Bloomberg Terminal
Not delivering | When the market gives you robust volume growth and pricing power, the expectations are for a large beat, which explains weakness in FedEx shares after the company's earnings release, according to Bloomberg Intelligence.

Losing an edge | The coronavirus has exposed U.S. supply chain vulnerability. But what is driving that vulnerability, and what can be done to rebuild resiliency at a national level in the short and long term? 

Use the AHOY function to track global commodities trade flows.
Click HERE for automated stories about supply chains.
See BNEF for BloombergNEFs analysis of clean energy, advanced transport, digital industry, innovative materials, and commodities.
Click VRUS on the terminal for news and data on the coronavirus and here for maps and charts.
Like Supply Lines?
Dont keep it to yourself. Colleagues and friends can sign up here. We also publish the
New Economy Daily, a briefing on the latest in global economics.
For even more: Follow @economics on Twitter and subscribe to Bloomberg.com for unlimited access to trusted, data-driven journalism and gain expert analysis from exclusive subscriber-only newsletters.
How are we doing? We want to hear what you think about this newsletter. Let our trade tsar know.