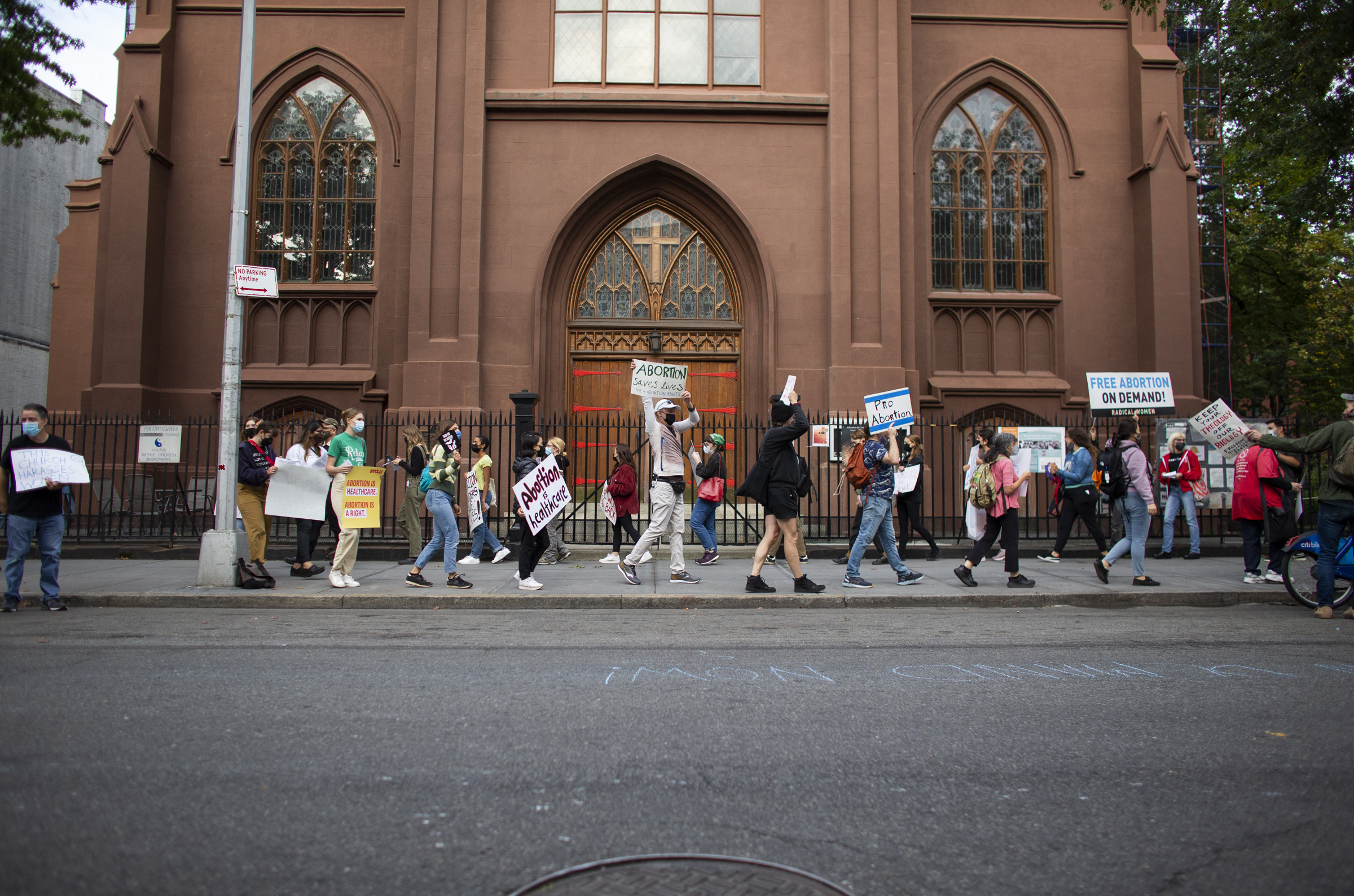 The Catholic Church is heeding federal law enforcement's warning that a radical group is "calling for extreme violence" against churches nationwide in response to the Supreme Court's expected reversal of abortion rights.
An internal document obtained by Newsweek outlines intelligence shared by the Department of Homeland Security with the Catholic Church of a planned "Night of Rage," targeting churches and pregnancy centers over their opposition to abortion rights. The document sheds light on how law enforcement and the church are bracing for backlash after a leaked opinion showed the Supreme Court preparing to rescind federal abortion rights.
Labeled an "urgent memo," the document is from the Diocese of Stockton, California, and is directed to all clergy, as well as parish and pastoral staff. The memo states that Jesse Rangel, a DHS agent, told the diocese that federal law enforcement has discovered a manifesto from an "extremist group" calling for attacks on churches beginning at 8 p.m. the evening the court issues it opinion.
The memo does not describe the specific threats facing churches, but states that Rangel told the diocese that "large groups with cells nationwide have already been discovered 'casing' parishes, including here in California." The diocese's leadership has issued a "critical notice" for clergy, parishes and pastoral center staff to "develop a plan should you see or hear anything suspicious."
The Catholic Church has recently been warned of attacks by an "extremist group" over the Supreme Court's expected decision to overturn abortion rights. An abortion-rights demonstration is seen outside Saint Paul's Roman Catholic Church in Brooklyn, New York City, on October 9, 2021.KENA BETANCUR/Getty Images
"Make sure you have ushers and or security available during your services and perhaps identify who among your volunteers and parishioners are law enforcement," the memo continues. "Suspicious activity would include someone asking out of place questions (Largest Mass times? Doors always open? Do you have security?), looking around church property, protestors, and general disturbances."
The memo does not name the group reportedly preparing for the attacks; however, a group calling itself "Jane's Revenge" has posted to its website about a Night of Rage in response to the demise of federal abortion rights.
The post expressed dismay at the failure of feminist organizations, nonprofits and the Democratic Party to uphold abortion rights. It said a more confrontational approach was now justified.
"We have agonized over this apparent absence of indignation," reads the post. "Why is it that we are so afraid to unleash hell upon those who are destroying us? Fear of state repression is valid, but this goes deeper than that."
In anticipation of the Court's opinion, pregnancy crisis centers in Texas, New York, North Carolina and elsewhere have been targeted with graffiti, reports The Guardian.
The graffiti scrawled on the centers—controversial organizations that try to dissuade women from abortions—have included "Jane was here" and, more ominously, "If abortions aren't safe then you aren't either," the paper reports.
Robert Evans, a journalist with investigative outlet Bellingcat, reported last month that Jane's Revenge had claimed responsibility for the fire-bombing of an anti-abortion organization in Wisconsin.
Newsweek reached out to the Catholic Church and the Department of Homeland Security for comment.