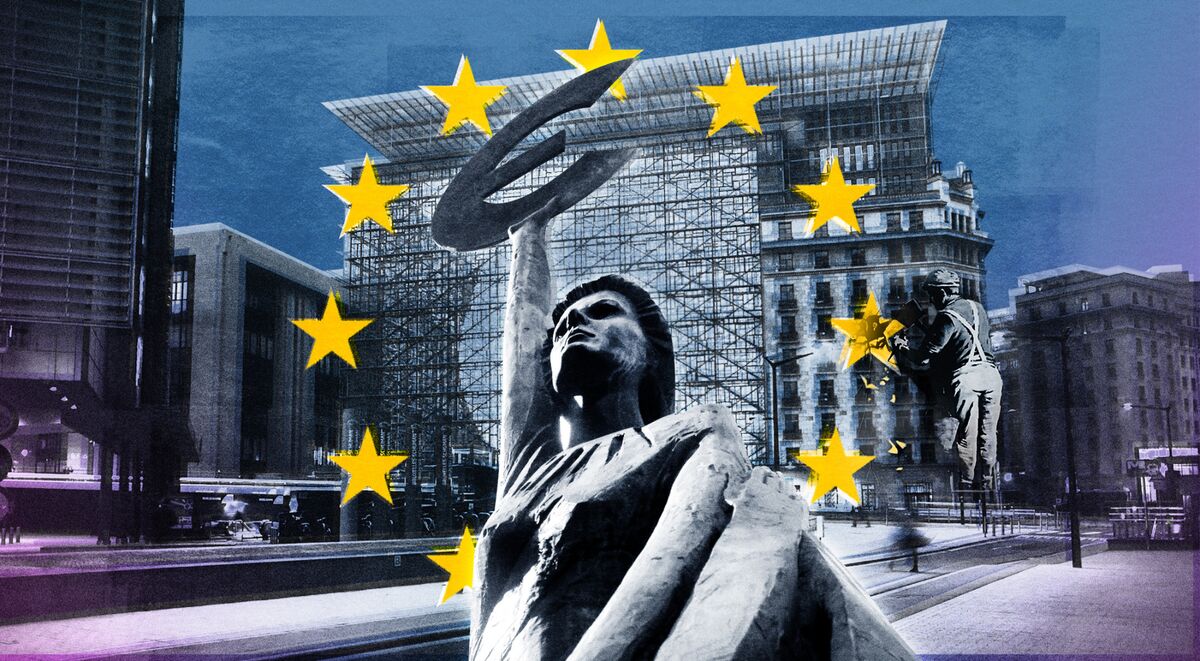 Welcome to the Brussels Edition, Bloombergs daily briefing on what matters most in the heart of the European Union.
The worsening food crisis threatens to dominate a gathering of EU foreign ministers in Luxembourg today, with the war in Ukraine depleting grain exports and the worst drought in Italys Po valley region in 70 years threatening rice production. Ministers will also meet their counterpart from Egypt, one of the countries hardest hit by soaring wheat prices. EU officials are struggling to counter the Russian narrative that unduly blames western sanctions for problems with grain shipments. Ahead of an EU leaders summit later in the week, ministers may also discuss Russian gas cutoffs and the commissions recommendation that
Ukraine and Moldova get candidate status to join the bloc.
Kevin Whitelaw and
Natalia Drozdiak
Whats Happening
Resurgent Right | The leaders of France and Spain were both weakened by swelling support for right-wing parties. Emmanuel Macron is projected to have lost his outright majority in the French parliament after an unexpected surge in votes for the far right. In Spain, the main opposition Popular Party 
won a landslide election victory in the countrys most populous region, Andalusia, adding to the challenge Prime Minister Pedro Sanchez faces to win re-election next year. One
symbolic bright spot for Macron last night was that Clement Beaune, his minister for EU affairs, won a tight race for a seat in parliament.
Gas Alert | With Russia slashing gas supplies in apparent retaliation over Europes support for Kyiv, rationing in the region is now a real prospect. Utilities are being forced to tap reserves intended to cover needs for the winter, which means government controls of gas distribution may start within months. German Economy Minister Robert Habeck said hes taking measures to
bolster gas storage levels and that the country will have to restart some coal-fired plants.
Supply Gaps | A shortage of seemingly random food items from popcorn to sriracha is hitting restaurants and grocery shelves this summer, a sign that supply chains are still under pressure. Products that have been hit 
include German beer bottles. The causes are many, from adverse weather to the pandemic to geopolitical tensions and rebounding demand. 
Farm Relief | The fertilizer shortage that threw the agricultural sector into disarray and pushed food costs higher globally may be fading. Supplies are piling up and
wholesale prices are starting to decline. Russian fertilizer sales are exempt from EU and US sanctions, and some shipments are continuing. 
In Case You Missed It
Preventing Panic | The ECB intends to ensure that its monetary policy is transmitted equally across the euro zones 19 member states by
preventing undue turbulence on government bond markets, according to Governing Council member Olli Rehn. The announcement of a new instrument to combat potential unwarranted deviations has calmed markets a bit, but investors are eager to hear details. 
Russia Rebels | Some 116 companies from EU countries continue to operate in Russia nearly four months after the invasion of Ukraine sparked a range of international sanctions. Those firms make up
nearly half of the 247 multinationals still doing business in the country, according to research from the Yale Chief Executive Leadership Institute.
Costly Borrowing | Prices are likely to rise for corporate loan borrowers in the near future, says Carlo Fontana, head of global syndicate at UniCredit. European firms may find it hard to bargain for the kinder interest rates that the relationship-driven corporate loan market typically offers, as inflation and tighter monetary policy begin to bite into their funders pockets. 
Chart of the Day
Electricity prices in France are jumping, adding to Europes energy woes, as depressed nuclear output squeezes the market. Frances reactors are operating at less than half their capacity and last week produced the least power at this time of year since at least 2008, according to data we compiled. The country is importing electricity from neighboring countries like the UK, which historically has taken French power.
Todays Agenda
All times CET
3:00 p.m. ECB President Christine Lagarde speaks before European Parliament's economy panel
4:30 p.m. EU foreign ministers hold news conference after meeting in Luxembourg
European Commission President Ursula von der Leyen to meet NATO chief Jens Stoltenberg
Vice President Valdis Dombrovskis and several European leaders speak at the

Three Seas Summit and Business Forum in Riga
Like the Brussels Edition?
Dont keep it to yourself. Colleagues and friends can sign up here.
How are we doing? We want to hear what you think about this newsletter.  Let our Brussels bureau chief know.