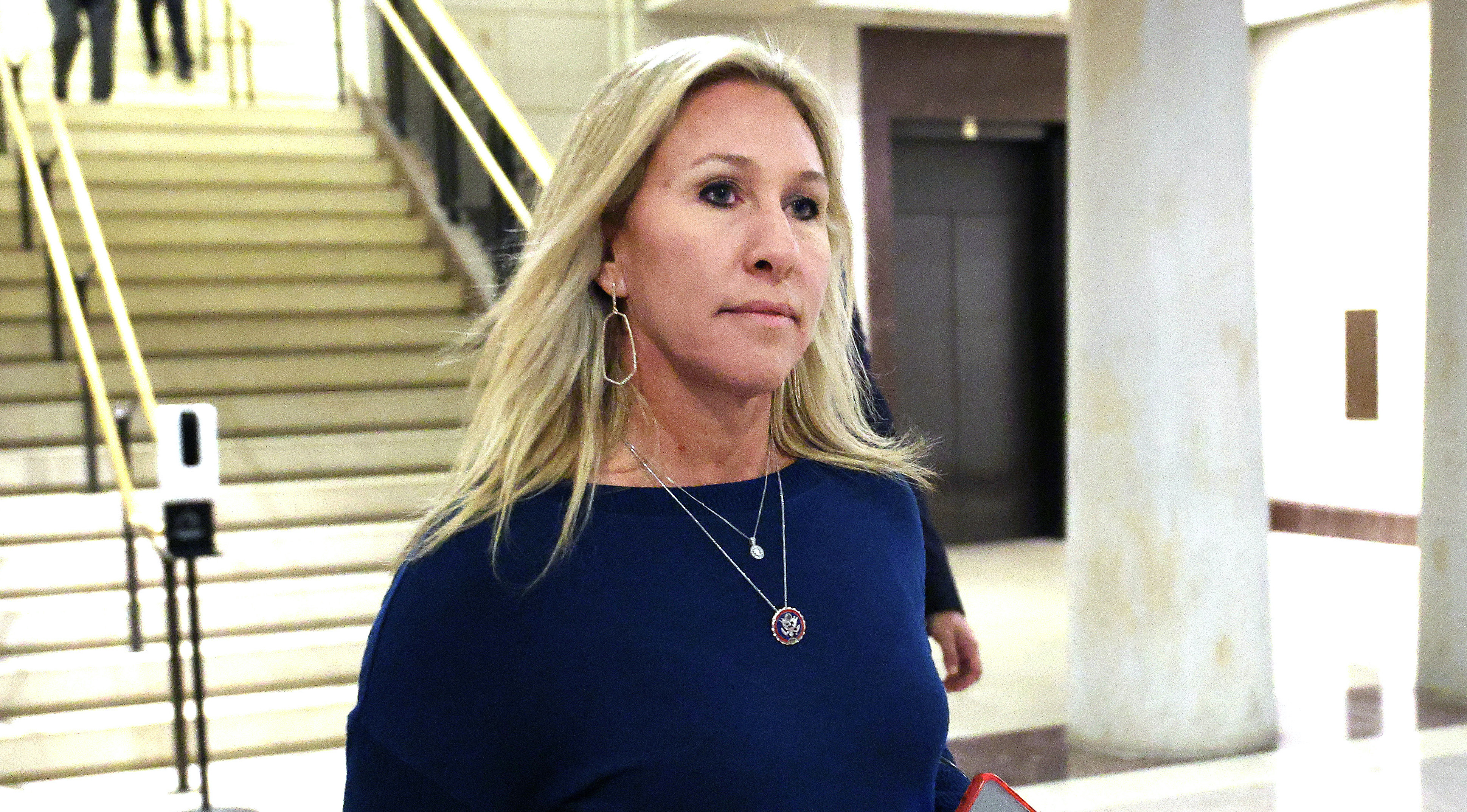 A video of Rep. Marjorie Taylor Greene apologizing for her remarks about the Holocaust has been viewed on social media nearly 3 million times. The Georgia congresswoman was responding to widespread condemnation after she made comparisons between COVID-19 social restrictions and the mass genocide of the Jewish people by the Nazis.
After visiting the U.S. Holocaust Memorial Museum in Washington, D.C., Greene held a press conference outside Congress, where she apologized for the remarks.
After noting that her father passed away in April, and he taught her to own up to her mistakes, she added that she was "a very normal person."
"I've made a mistake, and it's really bothered me for a couple of weeks now, so I definitely want to own it," Greene said outside of Congress on Monday morning.
"This afternoon, I visited the [U.S.] Holocaust [Memorial] museum. The Holocaust is…there's nothing comparable to it. It happened and over 6 million Jewish people were murdered. More than that — not just Jewish people, black people, Christians, all kinds of children, people that the Nazis didn't believe they were good enough or perfect enough.
Marjorie Taylor Greene: I have made a mistake this afternoon I visited the Holocaust Museum. The Holocaust is- theres nothing comparable to it. pic.twitter.com/skrF6YyC3u
— Andrew Solender (@AndrewSolender) June 14, 2021
"And the horrors of the Holocaust are something that some people don't even believe happened, some people deny it, but there is no comparison to the Holocaust. And there are words I've said, remarks I've said, that I know have been offensive and for that I want to apologize.
"And I am just fine and very glad to be able to come out there and do that because I believe it's important. If we're going to lead, we need be able to lead in a way, that if we've messed up, it's very important for us to say we're sorry."
She added that she had visited the Auschwitz concentration camp in Poland when she was a teenager. Greene has vowed not to draw those comparisons again.
On May 29, the U.S. Holocaust Museum published an open letter signed by 50 Holocaust survivors urging politicians to stop making comparisons between modern social conditions and the mass genocide.
Greene first made her comparison earlier that month, when criticizing possible plans to separate unvaccinated and maskless House members from their vaccinated colleagues.
"You know, we can look back in a time in history where people were told to wear a gold star and they were definitely treated as second-class citizens, so much so that they were put in trains and taken to gas chambers in Nazi Germany," Greene said. She made her comments on The Water Cooler, a show on Real America's Voice, a right-leaning media network.
Republican Georgia Rep. Marjorie Taylor Greene said she was "very sorry" for comparing non-lethal COVID-19 mask mandates to the Holocaust which killed over 6 million Jews. In this photo, Greene arrives for a House Republican caucus candidate forum to replace outgoing conference chair, Rep. Liz Cheney (R-WY) at the Capitol on May 13, 2021 in Washington, DC. Kevin Dietsch/Getty
Jewish groups and other lawmakers condemned her comments, but Greene did not initially apologize for them, even after being criticized by her own party leaders. Instead, she compared the Democratic Party to the Nazi Party.
Rep. Brad Schneider (D-Ill) said last month that he was drafting a censure resolution aimed at the Georgia lawmaker's controversial comments. Schneider, who is Jewish, said Greene's statements were anti-Semitic.
Nazis killed six million European Jews during the Holocaust between 1941 to 1945. Mask mandates have not yet been linked to any deaths, according to Politifact.com, a fact-checking website.
Newsweek contacted Greene's office for comment.
Greene has been accused of anti-Semitism on other occasions. In January, Jewish groups urged her to be ejected from Congress, after she shared a wide-ranging conspiracy theory tinged with anti-Semitic tropes on Facebook.