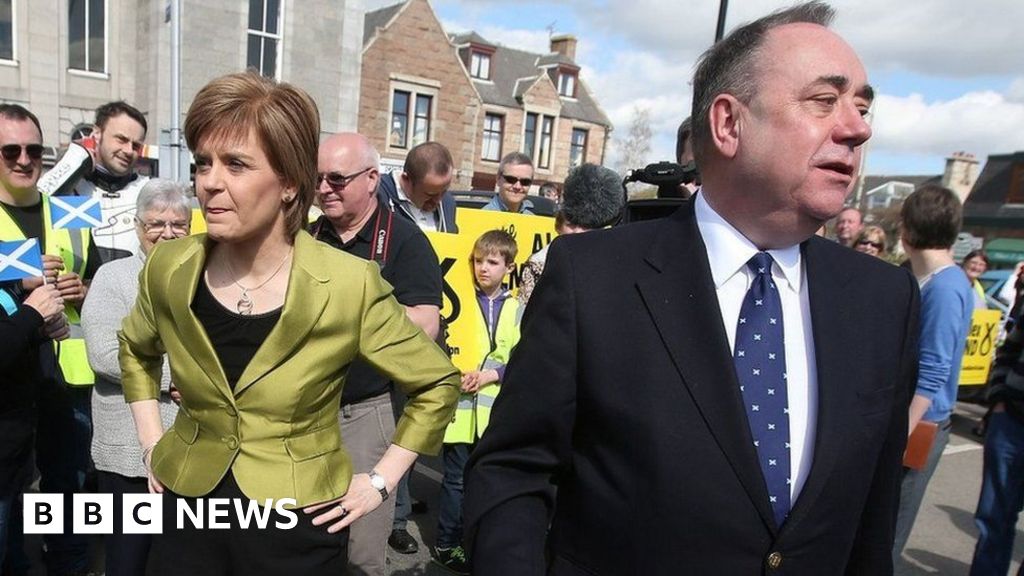 Nicola Sturgeon "must fire the starting gun" in a bid to secure another independence referendum, former first minister Alex Salmond has said.
The Scottish government is preparing to publish the first in a series of documents outlining its next steps towards indyref2.
The established route is through a Section 30 order – asking PM Boris Johnson to grant Holyrood the power to hold a referendum.
That request has so far not been made.
The first minister has consistently said that last year's Scottish election result gave the Scottish government a mandate for another referendum.
Ms Sturgeon said she would set out more detail "in substance and process" in the period ahead and that "anyone who has any respect for democracy will understand the importance of honouring that mandate".
Mr Salmond told BBC Scotland's The Sunday Show programme that if Ms Sturgeon and the Scottish government were serious about winning a referendum next year, they must start campaigning for it now.
The former first minister – who led the SNP into the 2014 independence referendum – said: "If you know he [Mr Johnson] is going to say no, then you have to let him say no and then you can do something about it.
"It's not really a strategy by just not asking the question.
"You have to ask the question if you are to mobilise a campaign – a political campaign, a legal campaign, a diplomatic campaign – to change his mind."
Last week, the Scottish government published details of legal advice it was given on holding a new independence referendum before the end of 2023.
The papers show ministers were told they could work on policies preparing for a vote, and to test a question with the Electoral Commission.
But there was no reference as to whether Holyrood would have the power to legislate for indyref2 without the UK government's backing.
Image source, Getty Images
Image caption, Nicola Sturgeon has consistently said the SNP has a mandate for a second referendum
Constitutional experts have been split over the question, and there has been speculation that any attempt by First Minister Nicola Sturgeon to press on with her plan to hold a referendum next year could result in a court battle between the governments in London and Edinburgh.
That is because the UK government has shown no sign that it would be willing to give the formal consent that ensured the legality of the 2014 independence referendum, in which voters backed remaining in the UK by 55% to 45%.
Opposition parties have argued that it would be a waste of public money for the government to press on with its plan for another referendum if it has already been told by its own lawyers that it does not have the powers to hold one.
Mr Salmond told BBC Scotland that with only 18 months left until the end of next year, it was imperative to "start pressing Westminster to accept the will of the Scottish people".
He said: "I would have thought this is rather a good time to put pressure on a Westminster government.
"Boris Johnson's difficulties are Scotland's opportunities."