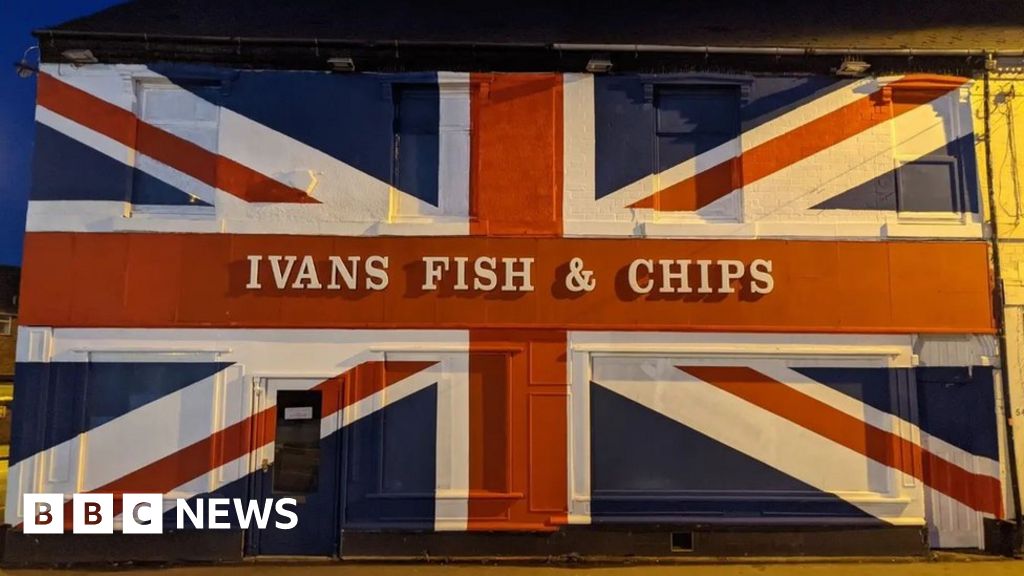 Image source, Warren Rudge
Image caption, The flag took two 14-hour days to paint on the front of Ivan's Fish & Chips
A giant union flag has been painted on a three-generation chip shop to mark the Platinum Jubilee Bank Holiday.
The flag on Ivan's Fish & Chip shop, in Cradley Heath, Sandwell, measures 11.4m by 5.7m.
The business, started by Ivan and Christine Rudge in 1957, is now run by their son Warren Rudge alongside his wife Jenny and son James.
Mr Rudge said they wanted to celebrate this "once-in-a-lifetime event".
"As well as the Queen being on the throne for 70 years, the chip shop has been running for 65 years so we wanted to do something special," he added.
Mr Rudge and his son took two days to paint the flag, toiling for 14 hours on both days, using 300m of masking tape.
"I like how mathematical the flag is, it's all in proportion," Mr Rudge said.
Mr Rudge has worked at the chip shop since he was nine years old.
"We have used the same oil, fish and recipe since 1957," he said.
Although the flag was only intended to celebrate the Platinum Jubilee, Mr Rudge said they would be keeping some of the creation for the foreseeable future, as "everyone is loving it".
Follow BBC West Midlands on Facebook, Twitter and Instagram. Send your story ideas to: [email protected]
The BBC is not responsible for the content of external sites.