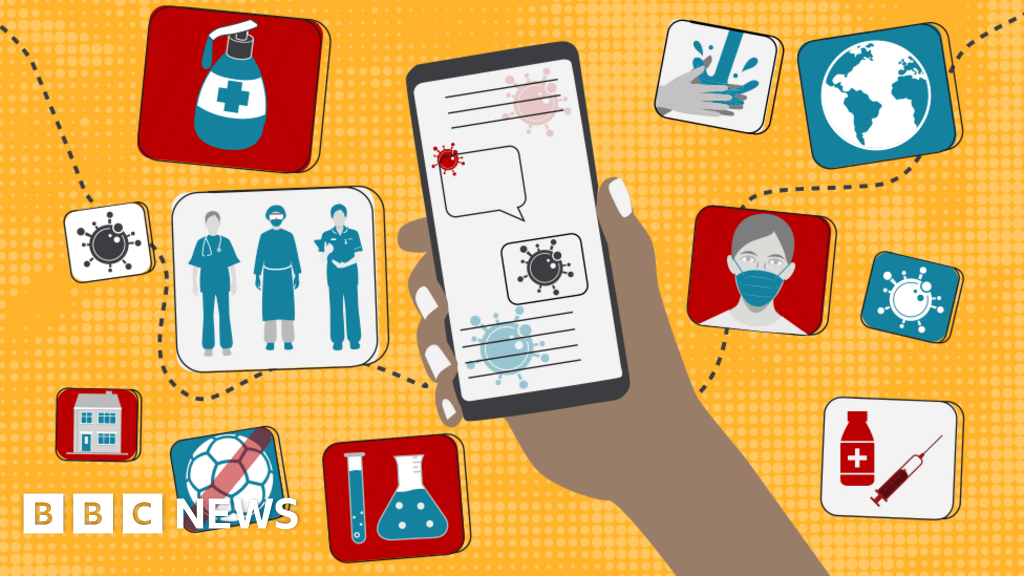 Here are five things you need to know about the coronavirus pandemic this Tuesday evening. We'll have another update for you tomorrow morning.
For the first time since March 2020, the UK government did not announce any new coronavirus deaths today. The UK's daily death rate has been falling since the peak reached in January. While it is certainly a moment in the course of the pandemic in the UK, it's worth noting that the figures are often lower at the start of the week because less counting takes place while statisticians are off – and adding in bank holidays will make this figure less certain still. Read more: how significant is a day without Covid deaths?
image captionAny deaths that happen on Tuesday will be reported in days to come
It's a big day for Scotland, which has revealed whether its next step of lockdown easing will go ahead. The original plan had been for all of Scotland to move down to level one next week – but First Minister Nicola Sturgeon said that's been put on pause. While many areas in the north and south will still move to level one on Saturday, much of Scotland's central belt – including Edinburgh, Dundee and Stirling – will see no change. Good news for Glasgow, though, which has been in lockdown for nearly nine months – it's now allowed to ease rules. More on lockdown rules across the UK here and here's a guide to Scotland's levels.
image captionThirteen Scottish council areas will stay in level two while local case numbers are high
UK house prices soared 10.9% in the year to May – the highest level in seven years – according to the Nationwide. A year ago in the wake of the first lockdown, house market activity collapsed but the building society says there's been a turnaround in the past 12 months. It says the momentum is being driven by buyers who are now seeking more space such as larger homes or places with gardens. "The majority of people are looking to move to less urban areas," Nationwide's chief economist says.
image captionTax breaks introduced to boost the housing market have also had an effect
Peru has been badly hit by the virus, with hospitals struggling to cope and cemeteries overrun, and many Peruvians suspected the country's death statistics weren't showing the true picture. Now, the government has revised its official death figures and says 180,000 people are now known to have died – more than double what was previously thought. It means Peru now has the world's highest death rate per capita – higher even than Brazil. More about Covid around the world here.
image captionVaccinations have been slow in Peru, as in many parts of South America
Elsewhere in South America, there's good news coming out of one town in Brazil. Serrano – which has a population of 45,000 – vaccinated nearly all its adults for an experiment about how mass vaccination stops the virus. It's now seen a 95% drop in coronavirus deaths and the findings suggest the virus can be controlled after 75% of people are fully dosed.
media captionIn February the BBC looked at how the whole town of Serrana would be vaccinated
Get a longer daily news briefing from the BBC in your inbox, each weekday morning, by signing up here.
Foreign holidays are no longer banned, but they're not straightforward. Here's what you need to know about travelling abroad to Spain, Portugal, France and other holiday spots.
You can find more information, advice and guides on our coronavirus page.
What questions do you have about coronavirus?
In some cases, your question will be published, displaying your name, age and location as you provide it, unless you state otherwise. Your contact details will never be published. Please ensure you have read our terms & conditions and privacy policy.
Use this form to ask your question:
If you are reading this page and can't see the form you will need to visit the mobile version of the BBC website to submit your question or send them via email to [email protected] Please include your name, age and location with any question you send in.