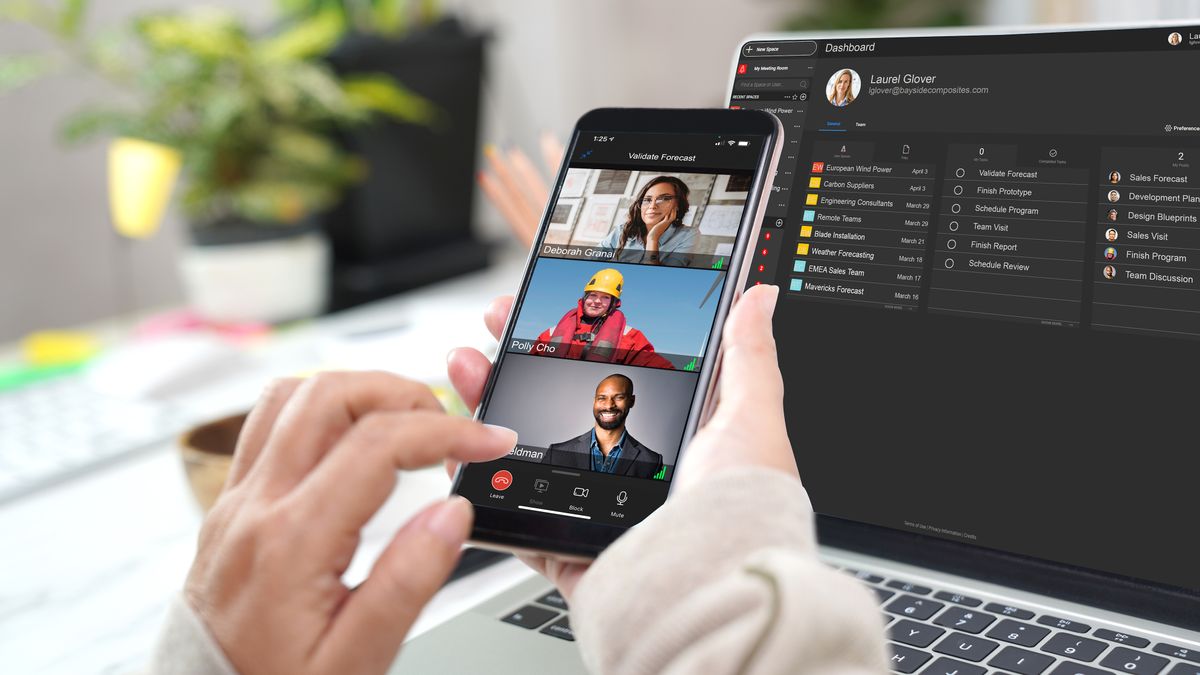 The way users collaborate has changed drastically over the past year. Were now buried between video calls, long team chats, and files being shared and worked on from different locations.
Against that background come new challenges for security and privacy – important for any organization which is why Avaya Spaces, the workstream collaboration app for the digital workplace, handles it as a top priority.
By ensuring that everything remains secure yet easy to access, administrators dont have to worry about files being sent to the wrong individuals, or people accessing things that theyre not supposed to. This streamlines the entire collaboration experience, as you dont have to wrestle with multiple permission requests or remotely trying to set things up for users.
For the average user, its exhausting to keep track of where your data is and which app youre constantly having to switch to. But for the IT administrators and those who are supporting this complex network of apps and programs, those challenges are much more pressing.  
Minimize conflicting applications
Chat, file sharing, video conferencing, task management it seems like theres an app for everything, and for administrators this brings with it a unique set of headaches. You have to ensure that all of these applications are firstly secured, not to mention managing credentials and licenses for all of them. If users want to use them on multiple devices or even their own laptops or smartphones, you have to ensure that the installation can be performed without any issues, and that once again the data is safe.
Theres also the issue of compatibility and limits per application. Chat logs may only be limited to a certain amount of text per license tier, or file sharing applications may impose storage limits or file expiry after a certain time. All of these are difficult to manage easily, and end up causing more confusion than they should.
With Avaya Spaces, you have the best collaboration tools in one place, so theres no need to remember multiple login details or worry about information being lost in any way. Avaya Spaces lets users easily communicate via team chats, or seamlessly switch to video conferencing to share ideas. They can then easily share screens as well with just one click, and collaborate easily on files hosted, thats right, within Avaya Spaces. Users can even invite and collaborate with people outside of their organization, all while keeping your companys information secure.
And after the meeting is over, you can assign tasks to attendees, and keep track of everything in one place, rather than launching multiple apps and browser windows to try and track down information. This reduces the amount of time spent logging in to different apps you just need to log in to Avaya Spaces to have all of your collaboration tools at the ready. And theres less work for IT administrators, with fewer applications and logins to manage, making for a much more streamlined collaboration environment.
A truly private space
One of Avaya Spaces key advantages is the ability to create private spaces for collaboration. The biggest problem with most meeting applications is that anyone with the meeting invite or password can join in theres no way to authenticate if a participant is genuinely supposed to be in a meeting or not, other than manually verifying the invite list against the people in attendance.
For small meetings with less than ten people, this might be an easy way for gatekeeping participants, but when you have as many as forty or even a hundred people showing up (and you can invite up to 1,000 to an Avaya Spaces meeting), its impossible to manually go through and verify all of the attendees.
Very often when people get a meeting invite, its easy to forward the invite email on to other people and have them join, which risks confidential information being shared with the wrong parties. Avaya Spaces ensures that only the people you originally invited can attend your meeting. In addition to password-protected meetings, Avaya Spaces can track if an email invite has been forwarded on to another recipient, and prevent that recipient from accessing the meeting. This ensures that only the people youve invited are able to attend, which cuts down on administration time immensely.
Want to get started for free? Click here for a 60-day, no-commitment trial and see how Avaya Spaces can change the way you host your meetings.
TechRadar Middle East has created this content as part of a paid partnership with Avaya.