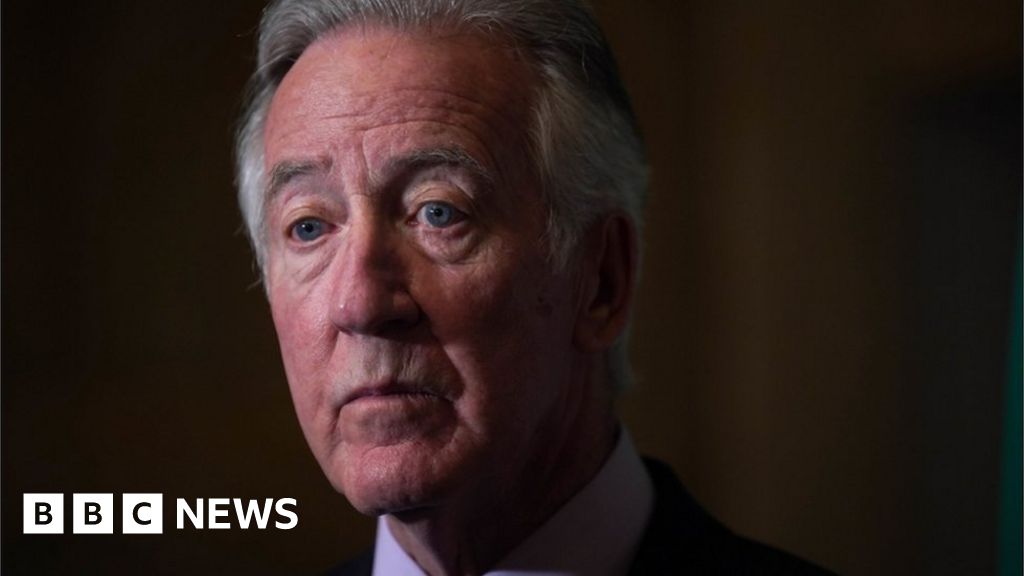 By Gareth GordonBBC News NI Political Correspondent
Image caption, Congressman Richard Neal has led a delegation of US politicians to Ireland
A US delegation, led by Congressman Richard Neal, is to meet Stormont's five main parties at the end of a controversial trip to Ireland on Thursday.
The delegation has held a number of meetings about the row surrounding the Northern Ireland Protocol.
Democratic Unionist Party (DUP) leader Sir Jeffrey Donaldson has accused Mr Neal of being "one-sided".
On Tuesday, the congressman said the protocol dispute was "manufactured".
Unionist politicians have been protesting against the protocol, which was part of the UK government's Brexit deal with the EU.
Designed to ensure free trade could continue across Ireland's land border post-Brexit, it has also resulted in additional checks being placed on some goods entering Northern Ireland from Great Britain.
Sir Jeffrey has previously described this as undermining Northern Ireland's position in the UK.
The DUP has blocked the establishment of the Northern Ireland Assembly and Executive following the assembly election on 5 May.
The Northern Ireland Protocol is part of the Brexit deal: it means lorries don't face checkpoints when they go from Northern Ireland (in the UK) to the Republic of Ireland (in the EU)
Instead, when goods arrive in Northern Ireland from the rest of the UK (England, Scotland and Wales), they are checked against EU rules
The UK and the EU chose this arrangement because the Irish border is a sensitive issue due to Northern Ireland's troubled political history
Read more: Guide to the Brexit border problem
On Wednesday night, the American delegation was hosted by NI Secretary Brandon Lewis, who said the UK and the US were united in their shared commitment to the Good Friday Agreement.
Image caption, DUP Mayor of Derry Graham Warke asked if the US visitors "could be careful with their words"
Meanwhile, Sir Jeffrey has written to the Ways and Means committee of the US Congress, which Mr Neal chairs, calling his comment about the protocol row being manufactured "outrageous".
Ulster Unionist Party (UUP) leader Doug Beattie said the remark has made the road ahead harder, while he also took exception to the use of the word "planter" by Mr Neal as derogatory to unionists.
Image caption, Foreign Secretary Liz Truss said the UK wanted to fix rather than scrap the protocol
The congressman, who also used the term "Gael" during a visit to Londonderry, said he was using a "historic reference".
Speaking about the protocol, Mr Neal said people in Northern Ireland had taken up "much more severe challenges".
"We believe that based on the conversations that we had in Brussels, in London, this is an issue for the European Union and for the UK government to sift and sort," he added.
On Wednesday, the UK Foreign Secretary Liz Truss, on a visit to County Antrim, said issues with the protocol are "soluble" but cannot be allowed to drift.