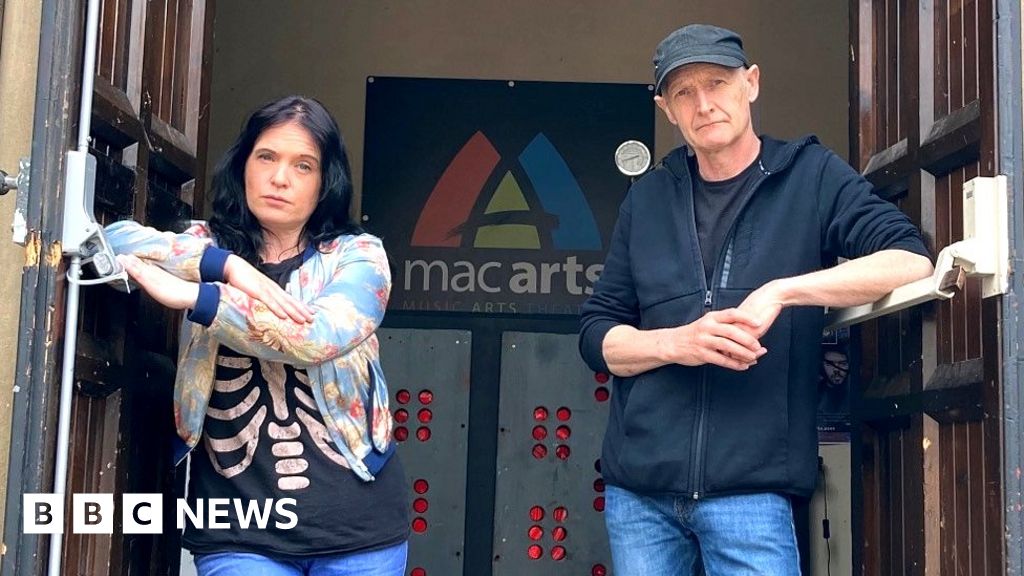 By David KnoxBBC Scotland Selkirk
Image caption, MacArts managers Chris Wemyss and Kate Mos-Jones say concert-goers are cancelling tickets
A Borders music venue has described a scaled-back train timetable as "absolutely disastrous" for business.
A reduced ScotRail service was rolled out on Monday amid a dispute over driver pay.
Staff at MacArts in Galashiels said it was a major blow to their recovery after the Covid pandemic.
They said they had already been contacted by concert-goers seeking refunds as the last train home leaves before the headline acts begin.
The revised timetable sees almost 700 fewer train services a day with the last train on many routes departing much earlier than usual.
In Galashiels, the new schedule sees the final departure before 20:30.
MacArts venue manager Chris Wemyss said the changes could not have come at a worse time for them with gigs by The Rezillos, The Skids, and Goodbye Mr Mackenzie coming up.
"This is absolutely disastrous for us," he said. "This has just been sprung on us at the last minute.
"We have sold a considerable number of tickets to people in Edinburgh, Glasgow and around the central belt, who all travel down here by train.
"We're already getting contacted for refunds and I'm expecting many more as this temporary timetable continues."
He said ticket sales were already down due to the cost-of-living crisis and concerns about Covid so the new timetable was a "disaster".
"We know as much as anyone else about how long this temporary timetable is going to last," he said.
"I will be contacting ScotRail directly to see if they can provide any indication of how long this will last, as we have a lot of gigs – some of them close to being sold out – coming up.
"We are a responsible venue and will contact our customers to let them know there is a chance that there won't be any trains leaving Galashiels after the gigs."
Further talks are taking place between ScotRail and the train drivers' union Aslef in the dispute over pay.
The RMT union, whose members include other railway workers who have been balloted over strike action, will also be part of the talks.