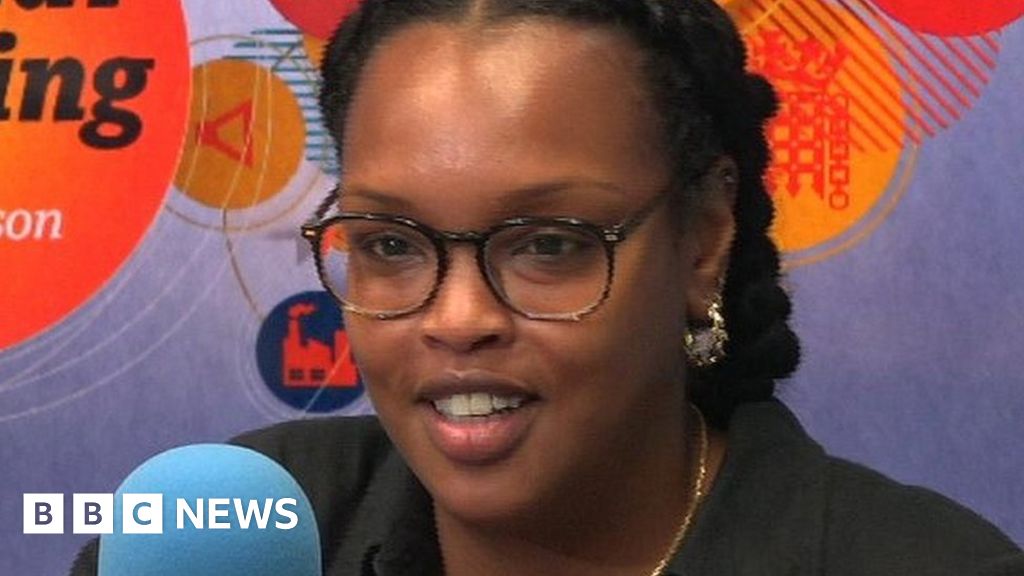 Media caption, Nimco Ali: Street harassment should be a crime
The government's independent adviser on tackling violence against women and girls has suggested her calls for street harassment to be made a crime are being blocked.
Nimco Ali, a close friend of Boris and Carrie Johnson, told the BBC's Political Thinking with Nick Robinson that her plan had endured "pushback".
She also hinted the prime minister had not fully supported it.
But the government said tackling violence against women was a priority.
A survey by pollsters YouGov, published in March, suggested two-thirds of women did not feel safe walking alone at night, at least some of the time.
The murder of Sarah Everard, who was abducted while walking home in south London last year, has also increased concerns over women's safety and attitudes towards women.
Ms Ali, who was appointed by Home Secretary Priti Patel in 2020, is pushing for street harassment – such as wolf-whistling, catcalling, staring persistently or telling a stranger to smile – to be made a crime, with on-the-spot fines for offenders.
She said Ms Patel was "very much behind" her campaign but "then you meet other people saying no".
"It's been frustrating and it's been disappointing," she added, claiming she had received "pushback" from other parts of government.
Asked if this had come from the prime minister's advisers, she replied that the source had been "a lot closer than that", adding people would be able to interpret "my silence".
Ms Ali said failing to make street harassment a crime meant "that we are actually corroding society and we are allowing young women to be subjected to lived experiences which are going to have a massive detriment to their health on a day-to-day basis".
Ms Ali also said the UK government was "falling behind on being a global leader" on women's rights.
When she was appointed as an adviser, Ms Ali said more needed to be done to curb violence against women.
She helped Ms Patel draw up a strategy, published in July 2021, to "ensure women and girls are safe everywhere".
Nick Robinson asked Ms Ali was whether the "energy" to defend women and girls had dissipated.
"No, it hasn't gone," she said. "Just because it's not in the mainstream media at the moment, it doesn't mean that the home secretary and also the minister for women's safety, Rachel Maclean, are not committed to this."
A government spokesperson said tackling violence against women and girls remained one of its "top priorities".
"Since July we have delivered on our commitments, including the first ever national police lead for violence against women and girls, implementing the landmark Domestic Abuse Act and the pilot Safety of Women at Night Fund, along with a further £25m for Safer Streets projects.
"In March the prime minister launched a new £20m business partnership to continue to improve girls' access to education in developing countries, and the UK has been clear it supports women's reproductive rights globally, including the right to access safe and legal abortion."