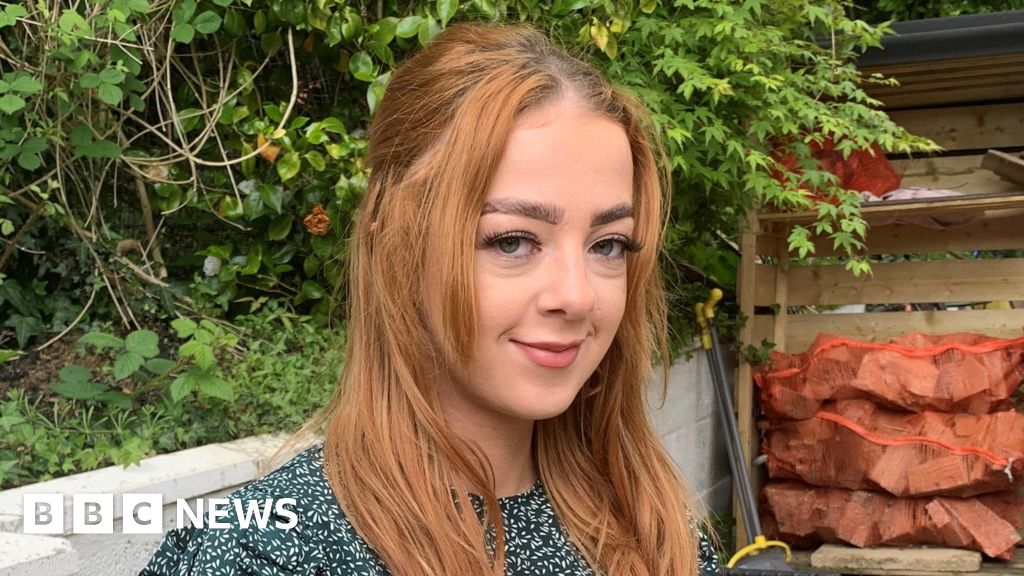 Image caption, Megan Abbott said mental health issues have had a "massive strain" on her life
Urgent changes are needed to improve the system and support when young people move from child to adult mental health services, a charity has warned.
Mind Cymru said young people often felt unheard or ignored about during the transition.
One woman said her mental health got worse when she started to receive adult services and never felt understood.
The Welsh government said it was prioritising investment in mental health services.
Megan Abbott, 21, from Gorslas near Cross Hands, Carmarthenshire, has borderline personality disorder and said she struggles to regulate her emotions.
She was 14 and living in Bridgend when she started suffering with her mental and physical health.
Following spates of non-epileptic seizures she was referred to the specialist child and adolescent mental health services.
At the time she had hour-long appointments, where she had a "chance to vent and offload when needed".
But things changed when Megan was transferred to adult services in 2019.
"I was offered 10-minute appointments with a consultant and began my medication journey," she said.
"I'm often told 'you're an adult, it's your responsibility and down to you to keep yourself safe'."
Megan feels "a middle ground" is needed with a service to provide a more gradual transition process and better prepare young people for adult services.
"Yes at 18 we legally turn adults, but the reality is, we don't become adults in ourselves overnight," she added.
"Many 18-year-olds are still in school and often go through this transition during their final school year which then adds additional unneeded stress in all aspects of their lives.
"We need services to listen to us and meet our needs rather than expecting us to meet theirs."
As a result of the switch from children to adult services, Megan said her mental health suffered.
"I never felt fully understood by professionals," she said.
Image caption, Nia Evans, from Mind Cymru, said the Welsh government's own guidance is not being followed
She wants more communication between both services, adding: "The system is difficult when it doesn't need to be.
"People tend to think 'oh they are young, this will pass', so they wait for it to pass, rather than stepping in to make sure it doesn't reach the high point when a lot of support is desperately needed."
Mental health charity Mind Cymru called on the Welsh government to urgently improve the system.
Nia Evans, Mind's children and young people manager, said: "Young people have told us that their needs, thoughts, and feelings about moving to adult services are often unheard, or ignored.
"Often [the] Welsh government's own guidance isn't being followed, which is leaving young people without the support they are entitled to."
A Welsh government spokesman said: "We are currently undertaking work directly with young people to help identify their needs and how services can improve transition support.
"We continue to prioritise investment in mental health services with an extra £50m committed in 2022/23."