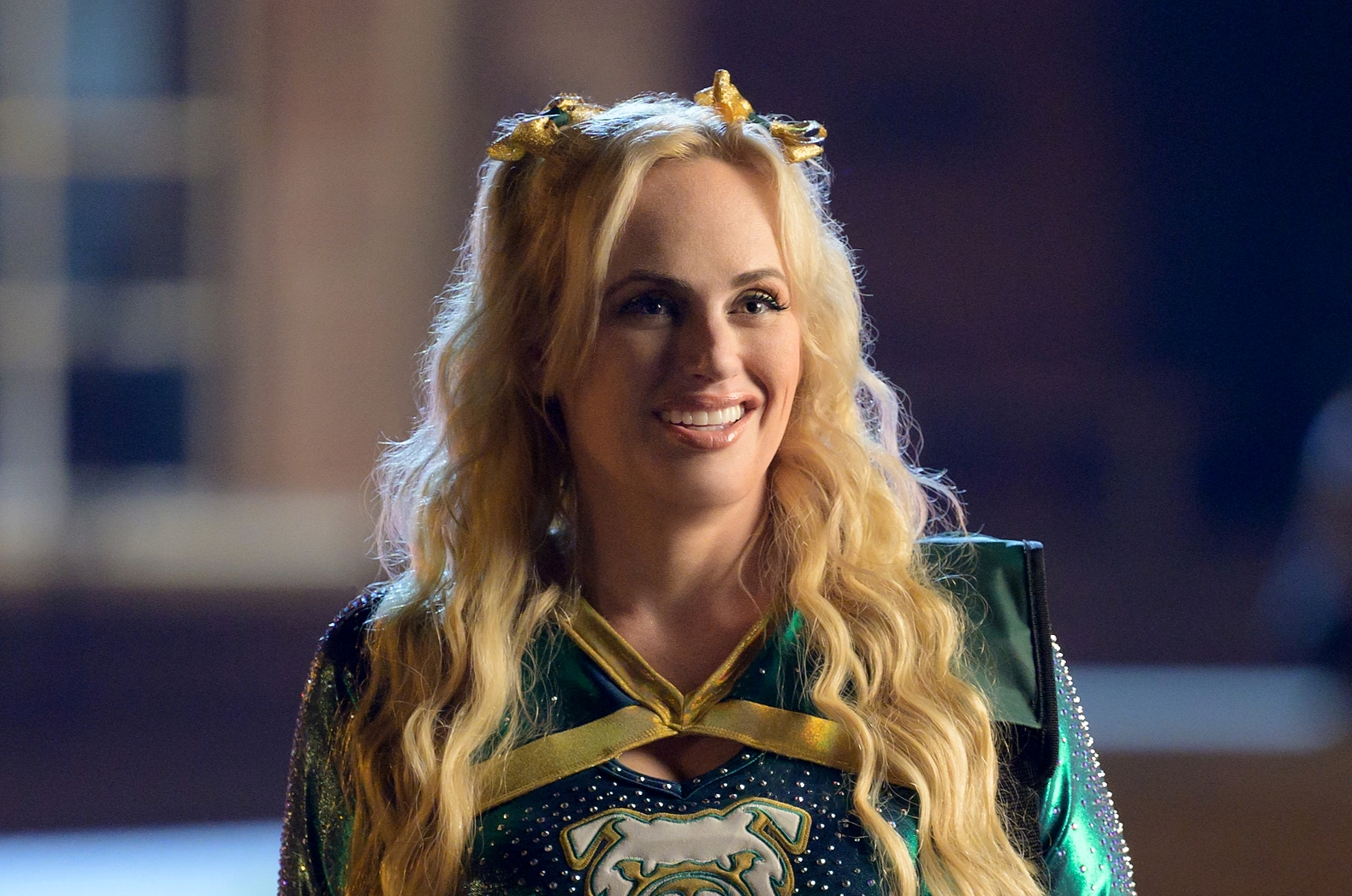 Rebel Wilson suffered a back injury while rehearsing a dance scene for her new Netflix film Senior Year which left her "unable to walk" for two days, the actor told Newsweek.
Wilson plays Stephanie Conway in the film, a cheerleader who ends up in a coma for 20 years after a stunt goes wrong and who, upon awakening, decides to return to High School aged 37 to fulfill her dream of being named Prom Queen.
The Pitch Perfect star explained that because she stars in the lead role, and was also a producer on the film, she had to continue working on the project despite the injury.
"Being the lead actress and also being one of the producers on the film there was a lot to do, so sometimes I'd have to do dance rehearsals on a Sunday, which is supposed to be a day to rest, and one day I just pushed it too far," Wilson said.
"We [were] rehearsing for the graduation number [at the end of the film] and my back went out and I couldn't walk for like two days. But I still had to film, being in pretty much every scene apart from the 2002 flashback stuff. I had to film [while] not being able to walk."
Rebel Wilson as Stephanie Conway in "Senior Year."Boris Martin/Netflix
Rebel Wilson on the Back Injury She Got While Preparing for 'Senior Year'
Explaining how she got the injury, Wilson said: "I wasn't really trying to do a backflip, I was trying to do the move coming out of a backflip to look like when my stunt double came in and actually did the backflips, because I just humanly can't. [I was trying] to look like I've come out of the backflips in the edit.
"Just literally leaning quite far back and bending my back in that way… my back just couldn't handle it."
Given her character's role as Cheer Captain when she was 17, where the character is played by Angourie Rice, Wilson takes part in several dance routines throughout the film, including a raunchy cheerleading routine teaching teens about consent.
While she "mostly" did the dancing herself, Wilson also relied on her stunt doubles Meredith Richardson and Brooke Bowe, who stepped in for certain moves she just couldn't have done, even if she'd had training before filming began.
"I did have my stunt double Meredith come in and [she] did the flips, which was like really cool because I don't think she has a gymnastics background," Wilson said. "And I just don't think, even if I trained for a couple of months, I would have been able able to do that.
"I remember in Pitch Perfect I trained for like five weeks to do this aerial stunt sequence on silks and that kind of worked, but in this instance I was like 'oh my god it's much easier [to have a stunt double]' because could you imagine like trying to do a backflip and then actually landing on your head? I don't want to get injured like my character does in the film.
"So I let her do the flips, and I also can't do the splits. So, in the kind of slutty consent routine that's not me either. It's mostly me but there's a couple of moves that aren't."
Rebel Wilson and Justin Hartley on the Film's Concept
Wilson and her co-star Justin Hartley, who portrays Stephanie's former flame Blaine, also spoke to Newsweek about the film's fun concept, and how they feel they might fare if they were in her character's shoes and had to return to high school two decades later.
The Hustle star said she connected with her character quite a lot and so she felt she'd probably do the same thing as her if faced with the prospect of going back to school.
"There's a lot of Stephanie that I relate to, like how she does the vision boards and she has a strategy for becoming popular, that was also me," Wilson said. "That's what I did and I was successful, and I went on to become very popular.
"So, although it would be terrible to be in a coma for 20 years, and physically you probably couldn't recover and get up out of bed as quickly as my character does in the film… I think I would go well in high school.
"I always think if I ever went to prison I would [do] well… I think the same [about] high school. Like, if for some reason I had to go back to high school I feel like I would adapt pretty well."
Hartley felt much the same as his co-star, saying: "Sometimes I feel like it's just a younger version of adulthood, a time when you're kind of confused and I think it would probably be fine.
"I might get a little bored, I tend to like to roam around quite a bit and travel… but hopefully I'd be fine. Hopefully I can still relate to people outside of that."
He added: "Put it this way, I'm glad I don't have to go back to high school! I've got a daughter who is graduating this year actually, she graduates in a couple of weeks [from] high school, and so I get the skinny on what's going on with high school kids and all that kind of stuff, [I'm] kind of in the loop."
Senior Year is out on Neflix now.
Angourie Rice, center, as Stephanie Conway, aged 17, in "Senior Year."Boris Martin/Netflix