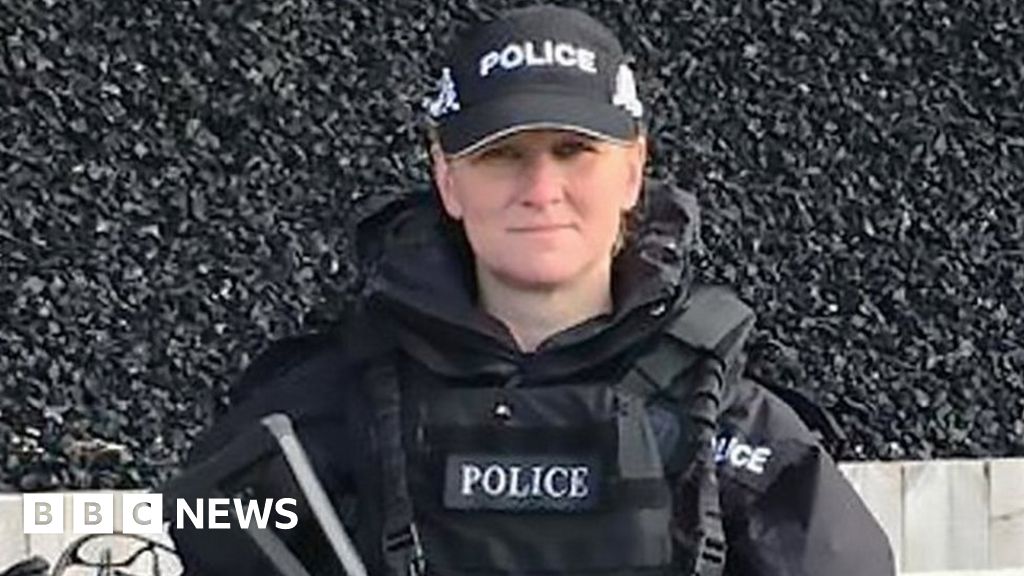 Image caption, Ms Malone won an employment tribunal case against Police Scotland
A former firearms officer awarded £1m from Police Scotland says no amount of compensation will "ever make up for the pain and sacrifices" she made.
Rhona Malone was victimised while working for the force, an employment tribunal ruled last year.
It found evidence of a sexist culture in her armed policing unit.
Ms Malone said she was failed by Police Scotland and the Scottish Police Federation, which represents rank-and-file officers.
She said she was still trying to seek "accountability" from other organisations, including the Scottish Police Authority.
Chief Constable Iain Livingstone has personally apologised to Ms Malone.
The Scottish Police Federation has previously refused to comment on the case as elements were ongoing but it said it had a "long and proud history" of assisting members in discrimination cases.
In a statement published a day after her £947,909.07 compensation deal was confirmed, Ms Malone said the last few years had been "excruciating and torturous".
But she said she hoped her experience of winning a victimisation claim against the force at an employment tribunal would "benefit many women now and in the future".
Ms Malone began her action against Police Scotland after a senior police officer said he did not want to see two female armed officers deployed together when there were sufficient male staff on duty.
The tribunal accepted evidence that there was an "absolute boys' club" culture within the armed response vehicle team in the east of Scotland.
In its judgment last October, the employment tribunal upheld Ms Malone's claims of victimisation. However, her claim of direct discrimination was dismissed.
Ms Malone's statement went on to criticise the actions of both Police Scotland and the Scottish Police Federation for their conduct.
"Both organisations failed me and grossly underestimated my determination for acknowledgment and accountability," she said.
Ms Malone said the federation withdrew legal support for her case in 2019 when she refused to sign a non-disclosure agreement (NDA) and accept a "derisory" financial settlement.
As a result she was left with costs running into six figures.
"At a time when I was at my most vulnerable and reliant on their support financially and mentally, I was abandoned, ignored, and discarded," she said.
"I should not have been put in this position as a fully paid-up member of the federation," Ms Malone added. "Sadly, I know from other female police officers who have reached out to me that my experiences with the federation are not unique."
The former firearms officer said she was grateful for the options and opportunities open to her following the pay-out from Police Scotland.
But she said they came at a "great cost" to herself, her family and her career.
"I would like it to be known that no amount of compensation would ever make up for the pain or sacrifices I made to hold Police Scotland to account but it will enable me to continue with my quest for holding them and others answerable for their actions," she said.
Image caption, Rhona Malone was a police firearms officer
Chief Constable Iain Livingston has personally apologised to Ms Malone for issues highlighted in the tribunal, according to a joint statement issued by Police Scotland and their former employee on Friday.
It said the chief constable was committed to "leading change" in policing in Scotland to improve the experiences of women.
Meanwhile the Police Service of Northern Ireland is carrying out a review of the employment tribunal decision, and it is in its final stages.
The Scottish Police Federation has previously said it had "countless examples over many years" of helping members in cases of discrimination.
BBC Scotland has approached the federation and the Scottish Police Authority for their response to Ms Malone's statement.