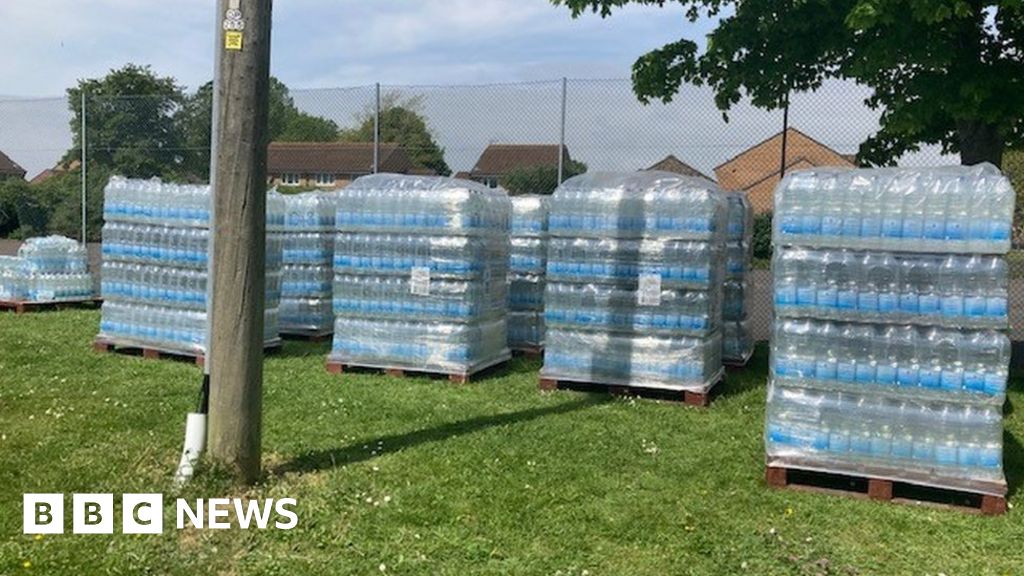 Image caption, Mr Cook said residents were queueing for hours for it
Residents say they feel they have been left "completely in the dark" after being told not to use their mains water supply due to contamination.
Bottled water has been delivered to an estate in St Athan, Vale of Glamorgan, following a warning letter from water company Ancala on Thursday.
The firm has not made clear how long the problem could continue but said the risk of illness was low.
But a councillor has said residents want more answers.
"We're completely in the dark," St Athan councillor Steve Haines told BBC Radio Wales Breakfast.
"There's only two questions we really want answered is what the contamination is and a rough estimate of how long it will take to solve the problem."
He added residents were "frustrated" at not knowing what was happening.
One of those is Holly Darch, who said she knew a lot of people who had been drinking the water until the letters arrived.
"Everyone was quite worried, not knowing what was in the water," she said. "No-one could tell us any answers."
Householders have been warned not to give the water to pets or use the water for cooking or cleaning teeth.
In a letter to Vale of Glamorgan MP Alun Cairns, which was published on social media, Ancala's chief executive Mike Howarth apologised for the problem.
He added: "Technicians are on the ground carrying out further investigations and we have arranged for ample bottled water to be delivered throughout today and into the weekend until normal supplies are re-instated.
"As a result of our investigations, further water quality sampling has been undertaken and is being expedited through accredited water industry laboratories to enable us to re-instate the supply as soon as possible."