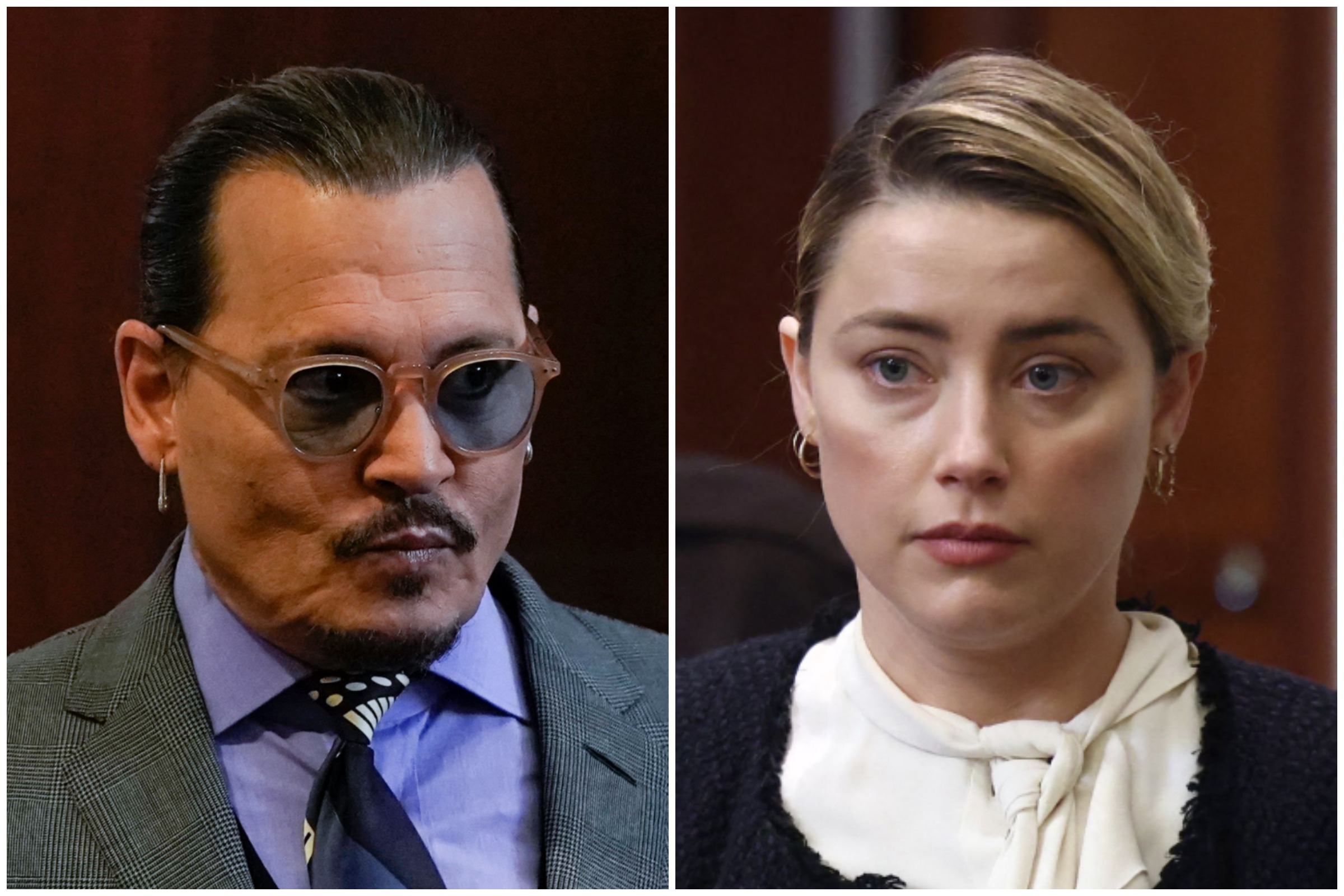 In the weeks since Johnny Depp and Amber Heard's high profile defamation trial started, it's been clear that the court proceedings have dominated the social media landscape.
From blink-and-you'll-miss-it moments in the courtroom inspiring viral videos, to everything each party has said, drawn or refused to look at becoming talking points across all platforms. Even makeup has become a controversial topic.
It has also led to a boom in Instagram accounts offering by-the-hour updates on why Pirates of the Caribbean star Depp is the wronged party in the eyes of fans.
Johnny Depp's (L) defamation trial against ex-wife Amber Heard (R) has inspired a strong wave of support on Instagram. Depp is suing Heard for libel after she wrote an op-ed piece in "The Washington Post" in 2018 referring to herself as a public figure representing domestic abuse.ELIZABETH FRANTZ/POOL/AFP via Getty Images;/JIM LO SCALZO/POOL/AFP via Getty Images
Depp, 58, has sued ex-wife Heard, 36, accusing her of defaming him in an op-ed published by The Washington Post, in which she said she was a domestic abuse survivor.
Though Depp wasn't named in the article, his lawyers have argued that it was clear Heard was referring to him. While Depp is suing Heard for $50 million, the Aquaman star has countersued for $100 million for nuisance.
The high-profile trial, which is taking place at Virginia's Fairfax County Circuit Courthouse, has seen both parties accuse one another of domestic abuse, as well as both denying the allegations.
While there are journalists regularly updating their followers on the details surrounding the trial, a host of social media users have become have-a-go sleuths, digging through court details and the past of both stars to present purported evidence supporting their stance.
Support for Depp
It has become a challenge to navigate between the accounts that share such outlandish theories as Heard lifting her testimony from the script of The Talented Mr. Ripley to find the ones that may point toward facts that may have been overlooked during proceedings.
One Instagram account, going by the name @jd_sweetprince, has just shy of 18,000 followers and shares a plethora of posts that condemn Heard.
According to the account's profile, it is dedicated to the trial, with a bio reading: "This page is dedicated to seek Justice for Johnny [Depp] from day one.. An inspiration for me & many others, someone who deserves the best."
Also included is a link to a change.org petition calling for Heard to be fired from Aquaman 2. The petition's signature count is hovering near the 4 million mark.
Johnny Depp's severed finger, an injury he incurred while he and Amber Heard were in Australia in 2015, is seen on the screen as he testifies during his defamation trial against Heard at the Fairfax County Circuit Courthouse in Fairfax, Virginia, April 20, 2022.EVELYN HOCKSTEIN/POOL/AFP via Getty Images
Posts on the account include everything from courtroom clips of Depp and Heard, to video footage of witnesses and commentators. Each post is peppered with hashtags, with "JusticeForJohnnyDepp" being among the most commonly occurring.
With a follower count well north of 20,000, @depp.diary63 has mixed its courtroom coverage with a selection of photos showing Depp in happier times.
Not getting any love is Heard, who is the subject of devoted sections bearing such titles as "Cancel AH" and "Amber Turd," in reference to Depp's testimony that his ex-wife had deliberately defecated on his bed.
Inside Track Claims
One of the most popular accounts standing firm in its backing of Depp is @houseinhabit, which boasts almost 1 million followers and is run by California-based blogger Jessica Reed Kraus.
In between heartwarming family snapshots are posts about Ghislaine Maxwell's child sex trafficking trial and, now, Depp's latest courtroom stint.
Unlike many of the other accounts, Kraus claims to have an inside track when it comes to the information she shares on her account, with sources, many unnamed, having been cited in some explosive allegations shared in recent days.
In a post shared last week, Kraus addressed questions as to why sources have shared their allegations with her, writing next to a throwback photo of Depp: "These people sense that I'm not motivated by landing my face on TV, or my voice on a podcast, or my name on a magazine.
"They come because they aren't afraid of falling into some twisting version of the truth by speaking to me. And, because we're having fun again! Which mainstream has also forgotten how to do.
"Remember how—on that first day he took the stand—Depp was asked why he was there, and he answered 'I am obsessed with the truth.' In that reply he echoed all of us. We are Obsessed, determined, steadfast, and unapologetic. With the aid of music, memes & dark humor to keep us good company along the way.
"It's not a fancy formula anyone is working here, it's literally just opening space to let the good stories and the voices of real people shape the tale."
"Passion on Both Sides"
While it would seem as though we're in times like no other when it comes to the public's interest in this high-profile trial, Robert Thompson, a Trustee Professor at Syracuse University's Newhouse School of Public Communication and founding director at Bleier Center for Television and Popular Culture, says the biggest change has come through the forums where court proceedings are discussed.
"There are lots of precedents in trials and legal proceedings past: the Lindbergh trial covered by radio and newsreels, and the TV coverage of the Army-McCarthy hearings, the Watergate hearings, and the trials of the Menendez brothers, O.J. Simpson, Casey Anthony, and others," Thompson told Newsweek.
"There was passion on both sides in those cases too, but that passion was expressed at bars and barbershops and watercoolers in local and physical spaces," said Thompson.
"Social media has allowed that nearly infinite number of opinions to be distributed internationally by way of the internet for everyone to see, giving us the illusion that more passion and opinions exist now than ever before, when in fact the big change has been a technological one that has now made these passions visible."
Evidence showing pictures of Amber Heard appear on a screen during a defamation trial at the Fairfax County Circuit Courthouse in Fairfax, Virginia, on May 5, 2022.JIM LO SCALZO/POOL/AFP via Getty Images
With such social media technology being the primary forum through which many fans are sharing their takes on the news of the day, it has also meant that opinions are often accepted as fact if an account making the assertion is large enough.
But, says Thompson, while potential misinformation is a spiraling problem, the platforms offering fact-based information have also seen growth.
"There is greater susceptibility to misinformation because there are so many more places for that misinformation to be distributed (just as there are more venues for 'correct' information)," he told Newsweek.
Despite Depp's popularity outside of the courtroom, his career was affected when he famously lost his 2020 libel case against British tabloid The Sun, which had called the Pirates of the Caribbean star a "wife-beater," in reference to Heard's allegations.
Heard accused Depp of domestic abuse during their divorce proceedings in 2016.
While Depp had repeatedly denied ever having been violent to Heard during the three-week trial in London, a judge found that The Sun's claims that the Kentucky-born actor was abusive to Heard were "substantially true."
Heard's Testimony Mocked
The wave of support now shown for Depp has seen a number of social media users target and mock Heard for her emotional testimony, in which she alleged that she had been abused and sexually assaulted by her former husband.
This has led to backlash, with taking a broader look at the reactions, Law360's legal affairs reporter Lucia Osborne-Crowley tweeted on Monday: "Johnny Depp won't see your posts turning Amber Heard's graphic rape allegations into a humiliating meme, but your friends who have survived sexual violence will."
Johnny Depp wont see your posts turning Amber Heards graphic rape allegations into a humiliating meme, but your friends who have survived sexual violence will. #DeppVsHeard
— Lucia Osborne-Crowley (@LuciaOC_) May 9, 2022
Osborne-Crowley's Instagram and Twitter updates on the trial have proved hugely popular over the past several weeks. In a recent interview with British Vogue, she said that Heard "deserves to be taken seriously and it's very obvious that the court of public opinion has already dismissed her without hearing her evidence."
In an Instagram Stories post on Thursday, Kraus addressed questions over whether Osborne-Crowley was "against" her with her opposing posts.
Noting that they "respect one another as writers and obviously get along great as people," Kraus said that she found Osborne-Crowley's trial coverage to be "overlooking a lot, but it doesn't anger me. It's up to each of us to probe and support what we believe to be the truth here. So that's what all of us are striving for.
She said: "Lucia approaches things from a very legal and analytical angle, where I am always drawn to emotion and nuance."
Impact on Depp's Image
Evan Nierman, CEO of international crisis PR agency Red Banyan, explains that while there are social media accounts backing Depp whose veracity may be questionable, it is unlikely to lead to a crackdown.
"Cracking down on online misinformation is a thorny and complex issue, and I think it's unrealistic to expect TikTok or Instagram to somehow immediately morph into the truth police while this trial is underway," Nierman told Newsweek. "No matter what their official policies may say about placing fake news off-limits, false information is a massive and systemic problem baked into social media.
"Add to the mix questions about the rights of people to express their opinions and you are left with a challenging set of circumstances that will take years to properly address."
It is also unlikely, Nierman said, that Depp will see his image negatively impacted by the influx of accounts working to discredit Heard.
"Johnny Depp's image likely will continue to be impacted in a positive manner during the short- and long-term by his supporters," Nierman, author of Crisis Averted, said. "Their outpouring of backing for him should bolster Depp's career prospects by emboldening those in Hollywood who might be more inclined today and tomorrow to cast him than before the trial got underway.
"Despite the many tawdry revelations about his substance abuse and the shocking toxicity of his relationship with his ex-wife, Depp is likely to feel some sense of vindication with many people declaring themselves to be part of 'Team Johnny.'
"Generations of people around the world knew his name before the trial, whereas Heard was a relatively obscure actress who now will forever be associated with this trial more than any film resume she could compile."
With court proceedings resuming on May 16 following a weeklong break, Thompson told Newsweek that the interest in the case was always inevitable.
"Trials are, by definition, theatrical—leading 'actors' (the attorneys and the judge) perform in a stage-like space to an 'audience' of jurors and observers—and the 'star' of this one is a well-known celebrity with a lot of peculiarities talking about intimate and alarming acts and details. And it's all available to watch," said Thompson.
Johnny Depp and Amber Heard's divorce was finalized at the start of 2017. Depp and Heard are pictured attending the premiere Of Focus Features' "The Danish Girl" on November 21, 2015 in Westwood, California.Todd Williamson/Getty Images