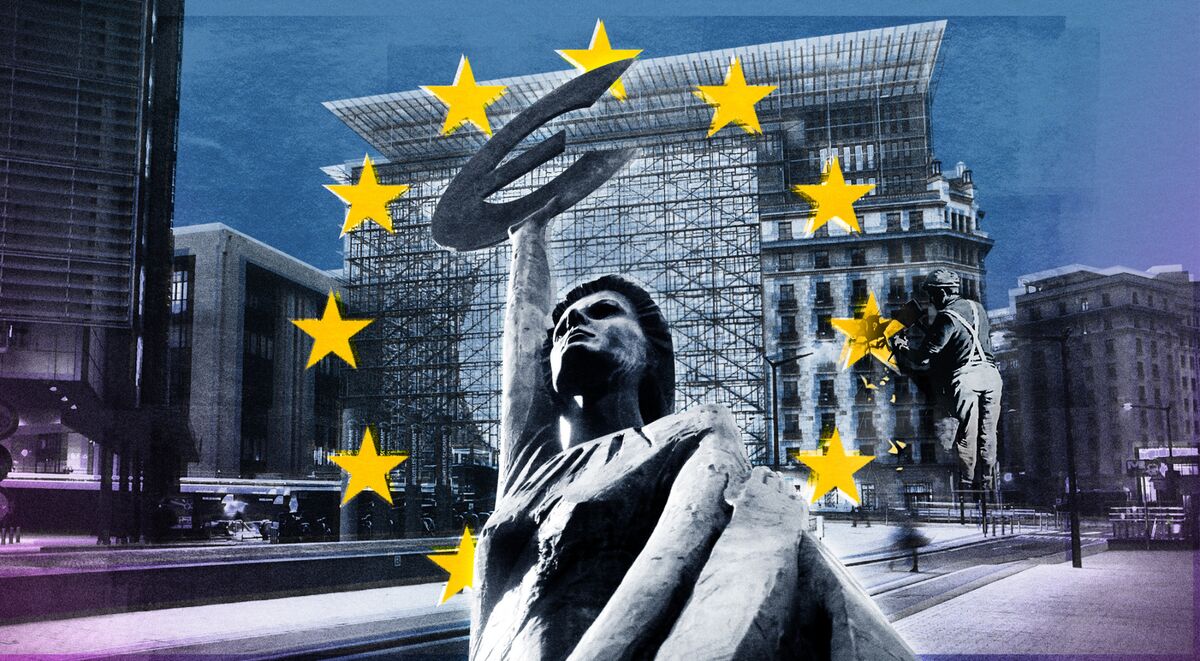 Welcome to the Brussels Edition, Bloombergs daily briefing on what matters most in the heart of the European Union.
Russia is showing the EU its not afraid to threaten the blocs gas supplies in retaliation for international sanctions. Germany yesterday accused Russia of using
gas as a weapon after it reduced deliveries. The move was largely symbolic amounting to only 3% of Germanys Russian gas imports but demonstrated that Moscow is willing to squeeze its largest market. Russia also
banned flows of gas through the Polish section of the Yamal pipeline, which was seen as a potential alternative route in case transit stops via Ukraine. Moscows threats come as Europe struggles to work out how to pay for the crucial fuel. Italys energy giant Eni is set to pay Gazprom for supplies in May even if the initial euro transfer is converted to rubles, were told. The commission continues to stress that paying in the Russian currency is a breach of sanctions. The issue will likely be discussed when EU foreign ministers gather Monday in Brussels.
Jillian Deutsch
Whats Happening
Oil Embargo | Some EU nations are saying it may be time to consider
delaying a push to ban Russian oil so they can proceed with the rest of a proposed sanctions package if the bloc cant persuade Hungary to back the embargo. Governments are still aiming for a deal on the full package, including a phased-in oil ban, by Monday, according to EU diplomats.
Frozen Friendship | The steady friendship between Hungary and Poland, who for years gave each other cover as they defied the EU over the rule of law,
has frozen over since Russias invasion of Ukraine. The rift risks weakening Hungarian Prime Minister Viktor Orban, who has waged a bitter fight with EU leaders over the Russian oil embargo, the erosion of independent judiciaries and media freedoms.
Brexit Standoff | Prime Minister Boris Johnson is
still deciding whether to follow through on the UKs threat to rip up part of the Brexit deal, even as the move threatens to start a trade war with the EU. Rishi Sunak, the chancellor of the exchequer,
told us that the Brexit settlement is causing economic and political harm, and called on the EU to be flexible.
EU Futures | The EU
wants to create bond futures and repurchase agreements to make the market more liquid, an official told us. It would mark another milestone for the debt issuance program that broke a number of long-held taboos for member states in response to the Covid-19 pandemic.
Rate Hike | The European Central Bank is increasingly likely to  to Return Previous Next Send Actions Translate News: News Story 101) ECB Rates Likely Positive by Early Next Year, Makhlouf Says BN 13:12 102) *MAKHLOUF: CURRENT LEVEL OF INFLATION IS CONCERNING BN 12:36 103) *MAKHLOUF: ECB RATE HIKE SOON AFTER BOND BUYS END IS REALISTIC BN 12:35 05/12/2022 13:12:25[BN]  ECB Rates Likely Positive by Early Next Year, Makhlouf Says Irish official joins growing group backing summer hike Slovakias Kazimir earlier signaled support for July move By Alexander Weber (Bloomberg) — The European Central Bank will probably raise interest rates back above zero by early 2023 to combat record euro-area inflation, according to Governing Council member Gabriel Makhlouf. The Irish official joined a growing group on the ECBs Governing Council in suggesting that net bond-buying should end next month or in July — a step that would pave the way for a first rate hike in more than a decade.   It is realistic to expect that the first move in the ECBs interest rates will happen soon after net asset purchases end and that rates are likely to be in positive territory by early next year, Makhlouf said Thursday in a speech. ">raise interest rates at its meeting in July, with two more Governing Council members signaling their support yesterday. Slovakias Peter Kazimir tweeted ready to hike in July, while Irish official Gabriel Makhlouf suggested net bond-buying should end next month or in July.
Arms Financing | Josep Borrell, the EUs foreign policy chief, is pushing member states to boost financing for weapons for Ukraine by 500 million euros, bringing the total to 2 billion euros,
were told. Germany has been the main holdout this week, but only because the government cant immediately sign off on the new funding.
In Case You Missed It
NATO Applicants | Finland and Sweden are
inching closer to joining the NATO military alliance following Russias invasion of Ukraine. Finlands president and prime minister threw their weight behind an application yesterday and Swedens government is likely to do so in the coming days.
Gas Cap | Spains cabinet is set to approve a
cap on the price of natural gas used for power generation after weeks of talks with the EU. The cap could work as a case study for other countries keen to rein in electricity prices.
Covid Deaths | More than 2 million people have died from the coronavirus in Europe, according to the WHO. Last week, it estimated that there were more than 3 million direct and indirect deaths from Covid-19 in the region between 2020 and 2021  a higher number because it includes an estimate for unreported deaths and people with other health issues who couldnt get medical treatment because hospitals were overrun.
Coming soon from Bloomberg UKComing soon from Bloomberg UKComing soon from Bloomberg UKWrap up every weekday with The Readout, essential insight on the stories that matter.Wrap up every weekday with The Readout, essential insight on the stories that matter.Wrap up every weekday with The Readout, essential insight on the stories that matter.
Tech Rules | The EU lawmaker behind the blocs new gatekeeper rules for digital platforms
endorsed US congressional efforts to rein in the largest technology companies, saying regulators can be more effective by acting together. It will be a strong signal to the markets, but also to the citizens that we defend their interests together, Andreas Schwab, who led the negotiations for Europes Digital Markets Act in the European Parliament, told us in Washington yesterday.
Treason Indictment | Danish prosecutors will indict Claus Hjort Frederiksen, a former defense minister, for
leaking classified information to the media about cooperation with the US on tapping a cable for surveillance. Frederiksen denies doing anything that would harm the country.Chart of the Day
Wheat futures rose in Chicago after a
US Department of Agriculture report said production in Ukraine, one of the biggest growers, will drop by one-third compared with last season. Extreme weather has also led to a 14-year-high for spring wheat prices, posing a fresh threat to global supplies of the food staple less than three months after Russias invasion choked off Ukrainian exports. Meanwhile, G-7 foreign ministers vowed to break a Russian blockade of grain in Ukrainian ports.
Todays Agenda
All times CET.
G-7 foreign ministers meet in Weissenhaus, northern Germany
European Parliament President Roberta Metsola meets Estonian prime minister and president
Internal Market Commission Thierry Breton meets with Finnish ministers of defense and economic affairs in Helsinki
Commission Executive Vice President Frans Timmermans speaks with Ukrainian Prime Minister Denys Shmyhal by video link
Commission Vice President Vera Jourova visits Latvias parliament, meets with Latvian foreign minister in Riga
Budget Commissioner Johannes Hahn meets with Austrian president in Vienna
Like the Brussels Edition?
Dont keep it to yourself. Colleagues and friends can sign up here.
How are we doing? We want to hear what you think about this newsletter. Let our Brussels bureau chief know.
With assistance by Rodrigo Orihuela, and John Ainger