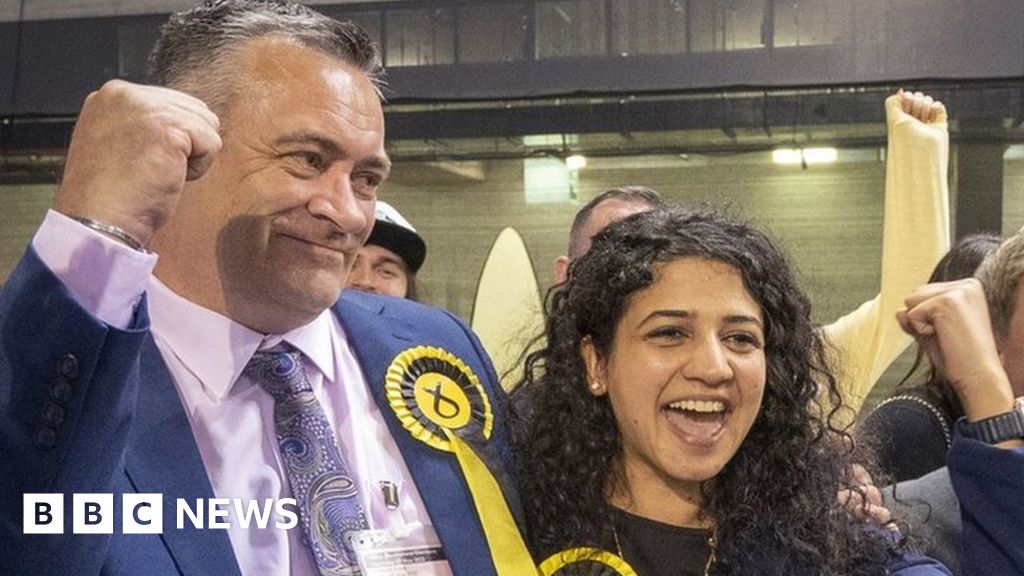 Image caption, Cllr Salih celebrates with fellow SNP councillor William Graham.
Roza Salih has become the first refugee to be elected to Glasgow City Council.
The 33-year-old has been elected for the SNP to represent the Greater Pollok ward.
Ms Salih has campaigned for the rights of refugees since she was a teenager and with school friends formed the activism group the Glasgow Girls.
They protested against the dawn raids by immigration officials in Drumchapel in 2005 and inspired a BBC musical drama.
The Glasgow Girls were formed by a group of pupils at Drumchapel High School who came together to protest at the detention of a friend.
From a school petition, the campaign grew and soon attracted national attention, highlighting wider concerns about the treatment of asylum seekers.
Roza Salih took to social media after her election on Friday to thank "the wonderful city I love so dearly".
First Minister Nicola Sturgeon shared her congratulations following the win: "Shedding a (very happy) tear at this result. From asylum seeker to SNP councillor."
Ms Salih studied at the University of Strathclyde, graduating in 2013 with an honours degree in law and politics and later worked with the Scottish Refugee Council and the Education Strategy Commission to establish scholarships for asylum seekers.
She also co-founded Scottish Solidarity with Kurdistan, visiting Kurdish regions in Turkey as a human rights activist.
Five years ago she was inducted into the Saltire Society's hall of fame of outstanding women of Scotland.