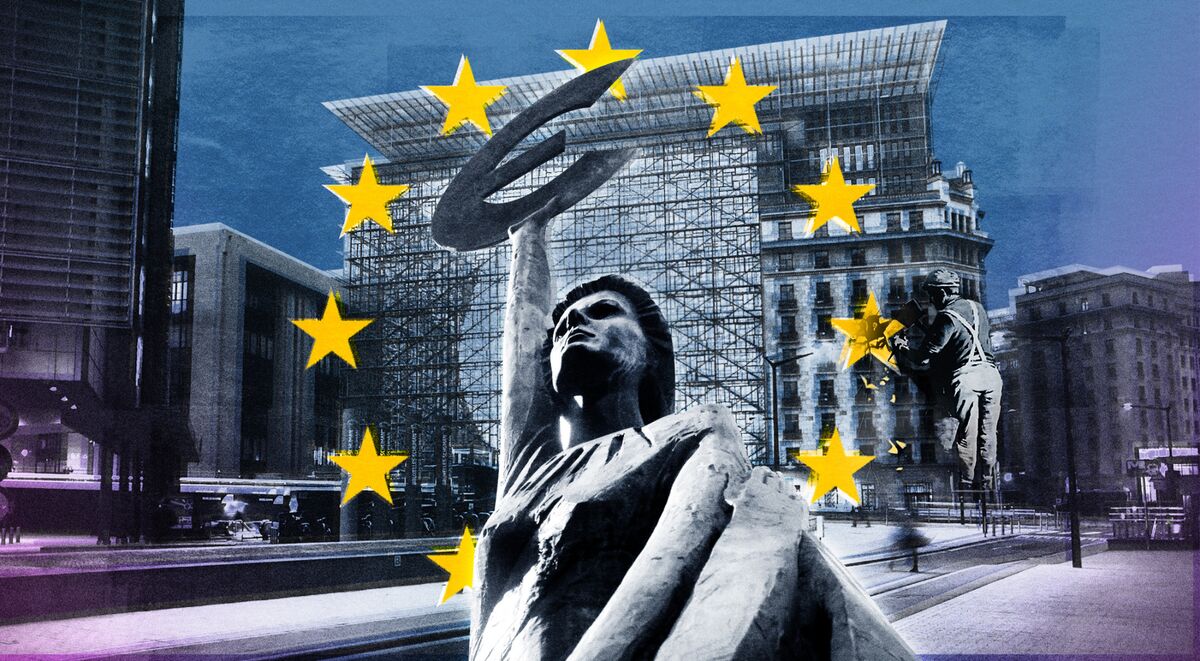 Welcome to the Brussels Edition, Bloombergs daily briefing on what matters most in the heart of the European Union.
The Commission will propose the joint procurement of Covid-19 treatments today, as it seeks to secure supplies of potentially critical drugs for when the acute phase of the pandemic has passed. According to a draft plan that weve seen, the blocs executive arm aims to have three new therapeutics available by October 2021 and possibly two more by year-end. It wants to avoid a patchwork of policies on the development and deployment of such therapeutics across the EU. The push, which would complement the vaccination strategy, highlights how Brussels expects the management of Covid to be a key priority in the medium term, even after a significant segment of the population is fully inoculated. It may also be a boon for pharmaceutical makers, which are investing in potential Covid treatments from antiviral pills to shots, betting that vaccines alone wont be enough to halt the spread of the disease.
Viktoria Dendrinou and 
John Ainger
Whats Happening
Jersey Tension | The U.K. has sent
two military patrol vessels to the British isle of Jersey ahead of a potential blockade by French fishermen, as a row with France over post-Brexit fishing rights deepened. The two vessels are being sent as a precautionary measure, Britain said. 
EU Buzzing | The EUs top court will give its verdict today on a fight by Bayer to topple a ban by the bloc on insecticides that regulators blame for
killing honeybees. The ruling comes just over two weeks before World Bee Day and will decide on EU restrictions imposed in 2013 on the use of three so-called neonicotinoids.
Judging Poland | An adviser to the EUs top court will give a non-binding opinion in yet another court clash over Polands sweeping judicial reforms. This time in a 2019 suit by the Commission against the nations disciplinary regime for judges. The EU court ordered Poland last year to immediately suspend the regime, but the government has so far ignored it, leading to a new Commission suit in March.
Loans Ebbing | European
loan demand has plummeted after last years record-breaking rush for cash as companies bounce back from the pandemic, according to data compiled by Bloomberg. Its not true across the board though, with emergency credit lines still a lifeline for airlines and leisure companies, which have seen planes grounded and venues shuttered.
Listen Up | Competition for tourists will be fierce this summer as Europe reopens to non-essential travel, Greek Tourism Minister Haris Theocharis tells us in this weeks
Brussels Edition podcast. The EU is looking to standardize vaccine rules for visitors, but Greece is pushing ahead with its own national plan to welcome tourists from May.
In Case You Missed It
China Pushback | The EU signaled that it
wont ratify an investment agreement with China as long as its officials are sanctioned in a clash over alleged human rights abuses. It also laid out its strategies to counter state-funded Chinese takeovers.
German Curfews | Chancellor Angela Merkels government can continue to impose nighttime curfews after Germanys highest court
rejected emergency bids to suspend the controversial lockdown law. While the preliminary decision is a relief, judges said the outcome of the controversial measures final review is open.
Inflation Rebuttal | ECB chief economist Philip Lane
played down mounting global inflation pressures, saying price gains wont stage a lasting comeback in the euro zone. He said that resurgence this year is largely a reaction to last years virus-induced shock and that the job market still has
considerable slack.
Polish Stability | Poland was one of the main worries about whether the EUs recovery fund would be ratified in time to unlock billions of euros of much-needed support. But after being
signed off this week, fears over a breakup in the governing coalition are abating, according to the deputy prime minister.
Ricardian Equivalence | A 19th century theory explains why consumers might be deterred from splashing out as the economy recovers. The argument goes that people assume theyll ultimately have to pay for the governments budget.
Heres more. 
Union Questioned | The U.K. is fraying as the country struggles to find its post-Brexit identity. Scotland, Northern Ireland and Wales are weighing the question of independence more intensely than ever. Heres the take from a rather unusual guest writer:
the British flag.
Chart of the Day
Vaccine Inequality
Rich nations are three years ahead in the vaccination race
Source: Bloomberg News, Bloomberg Economics, International Monetary Fund, World Bank classifications
Note: Reflects total doses administered; assumes 2-dose vaccine regime, herd immunity at 75% of population
Rich nations are
three years ahead of poorer ones in the vaccine race. At current rates, some of the most well-off countries will reach a target of inoculating 70% to 85% of their populations by August, but most developing nations will remain below the threshold through 2024 or later, according to research by Bloomberg Economics. That doesnt mean richer countries will be out of the woods: Billions of people in poorer nations provide a large pool for the spread and mutation of the virus. The pandemic wont be fully eradicated until vaccines have been
rolled out worldwide.
Todays Agenda
All times CET.
9 a.m. Commission President Ursula von der Leyen delivers a speech at the European University Institute 
9:30 a.m. The EUs top court will give a non-binding opinion in the EUs lawsuit against the Polish governments controversial disciplinary regime for judges 
9:30 a.m. The EUs top court will decide on a challenge by ABLV Bank against a decision by the European Central Bank that led to the Latvian lenders shuttering after accusations of money laundering
9:30 a.m. The EUs top court rules in a challenge by Bayer against EU decisions banning insecticides blamed for killing the bees 
9:30 a.m. The EUs top court gives a non-binding opinion in a case referred from the Netherlands over damages from the companies involved in the air-cargo cartel 
11 a.m. Eurostat releases retail trade reading for March
11:40 a.m. EU tech chief Margrethe Vestager participates in Q&A event at European University Institute
1 p.m. Press conference by EU Health Commissioner Kyriakides on the EUs strategy on Covid-19 therapeutics
8:45 p.m. IMF managing director Kristalina Georgieva participates in Q&A event at European University Institute annual conference
Meeting of EU defense ministers in Brussels
EU climate chief Frans Timmermans, German Chancellor Angela Merkel and others participate at the Petersberg Climate dialogue
EU industry chief Thierry Breton and energy chief Kadri Simson speak at the EU-US Future Forum of the Atlantic Council
ECB publishes economic bulletin
Like the Brussels Edition?
Dont keep it to yourself.Colleagues and friends can
sign up here.
For even more: Subscribe to Bloomberg.com for
unlimited access to trusted, data-driven journalism and gain expert analysis from exclusive subscriber-only newsletters.
How are we doing? We want to hear what you think about this newsletter. 
Let our Brussels bureau chief know.
With assistance by Stephanie Bodoni, and Zoe Schneeweiss