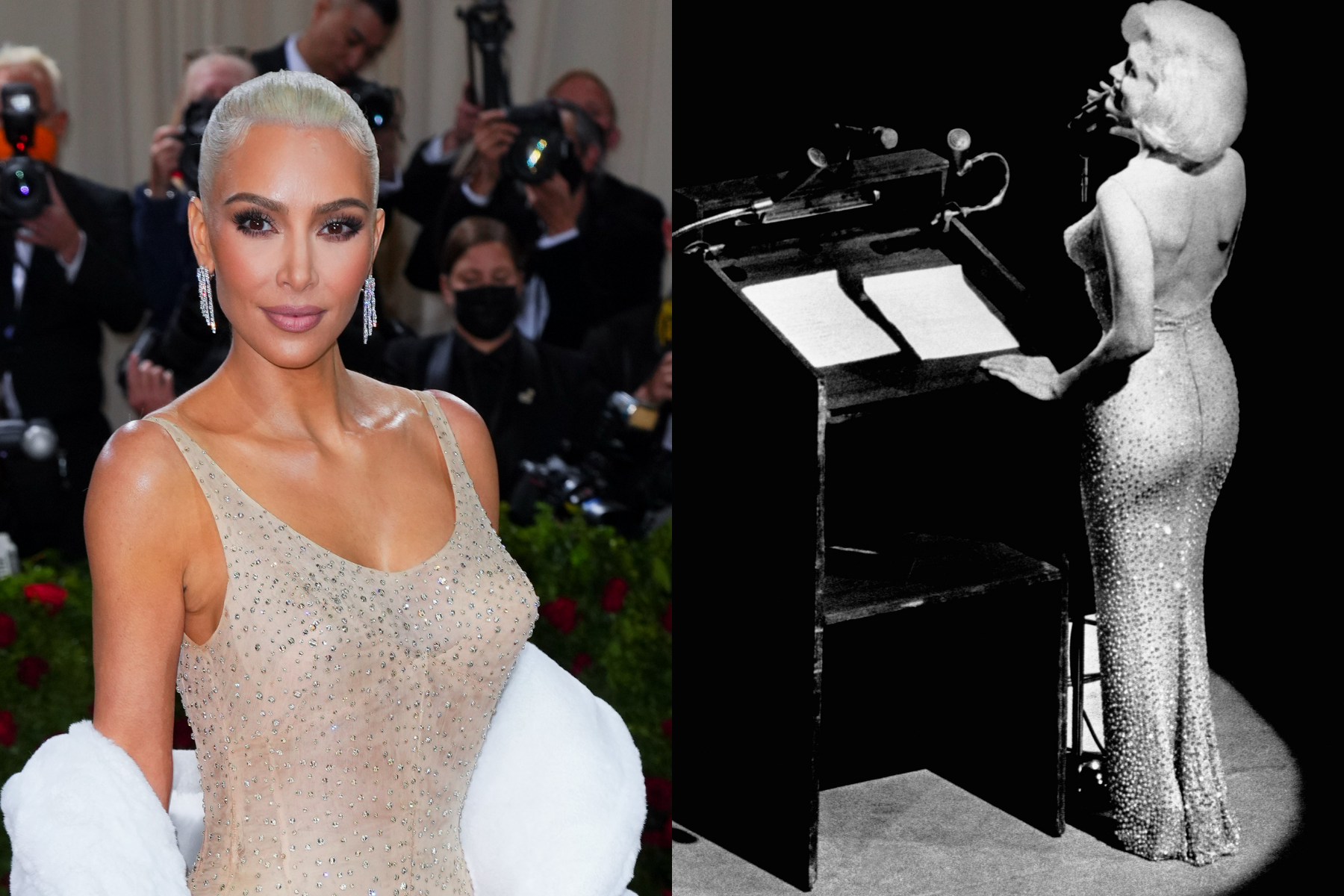 One look at last night's Met Gala is certainly going to be the most talked-about dress for weeks to come. That's Kim Kardashian donning the dress originally worn by Marilyn Monroe when she sang "Happy Birthday, Mr. President" to then-President John F. Kennedy Jr.
In a move that has truly broken the internet, the reality television star managed to get her hands on the $5 million dollar Jean-Louis dress famously worn by Monroe in 1962 to serenade the commander in chief—and her rumored paramour—months before she died.
But how on earth did Kardashian get to wear such an iconic piece of history?
Kim Kardashian and Pete Davidson arrive to the 2022 Met Gala Celebrating "In America: An Anthology of Fashion" at Metropolitan Museum of Art on May 02, 2022 in New York City. James Devaney/Getty Images
Internet sleuths on Reddit suspected something was up a week ago when Kardashian and her boyfriend Pete Davidson were spotted leaving the Ripley's Believe It Or Not Museum in Orlando, Florida, where the company's headquarters are located.
But how did the dress end up at Ripley's Believe It Or Not instead of a more conventional museum in the first place? The dress sold for a staggering $4.8 million at Julien's Auctions in 2016, and was later acquired by Ripley's Believe It Or Not Museum, according to Vogue.
On November 18, 2016, Ripley's was the winning bidder for the dress at Julien's Auctions event in Los Angeles, according to the company's website.
Edward Meyer, Ripley's VP of Exhibits and Archives, placed the winning bid.
The dress worn by Marilyn Monroe when she sang "Happy Birthday Mr. President" to US President John F. Kennedy in May 1962, is displayed in a glass enclosure at Julien's Auction House in Los Angeles, California on November 17, 2016, Frederic J. BROWN.Frederic J. BROWN/Getty Images
"I'm a big fan of auctions and I own several JFK pieces so I know the owner of Julien's," Kardashian, 41, told Vogue. "He was able to connect me [with Ripley's] and that's how the conversation started."
The dress has never been worn by anyone other than Monroe until now and prior to Sunday night's events had been stored in a darkened temperature-controlled vault.
For Kardashian to wear the garment, it was flown to her home from Orlando, via a private plane.
However, when she tried on the real dress for the first time, it didn't fit how she had expected it to.
"The dress was transported by guards and I had to wear gloves to try it on," Kardashian told the magazine. "I always thought she was extremely curvy. I imagined I might be smaller in some places where she was bigger and bigger in places where she was smaller. So when it didn't fit me I wanted to cry because it can't be altered at all."
Kim Kardashian at the 2022 Met Gala and Marilyn Monroe sings "Happy Birthday" to President John F. Kennedy at Madison Square Garden, for his 45th birthday in 1962.Getty Images
What ensued was months of Kardashian losing weight through a strict diet and exercise regime before the dress fit her perfectly (reportedly losing 16 pounds) for the final fitting before the Gala as no alterations could be made.
"I wanted to cry tears of joy when it went up," she said.
On the night, a conservationist from Ripley's helped her put on the dress in a small fitting room beside the Met Gala red carpet created especially for this purpose.
She wore the real dress for the red carpet and once she climbed the famous stairs, changed into a replica, which is also owned by Ripley's.
"I'm extremely respectful to the dress and what it means to American history. I would never want to sit in it or eat in it or have any risk of any damage to it and I won't be wearing the kind of body make-up I usually do," Kardashian explained.
"Everything had to be specifically timed and I had to practice walking up the stairs."
Newsweek has contacted representatives for Kardashian for comment.
The theme of the 2020 event, Gilded Glamour, was inspired by the Metropolitan Museum of Art's 2022 Costume Institute exhibit, In America: An Anthology of Fashion.