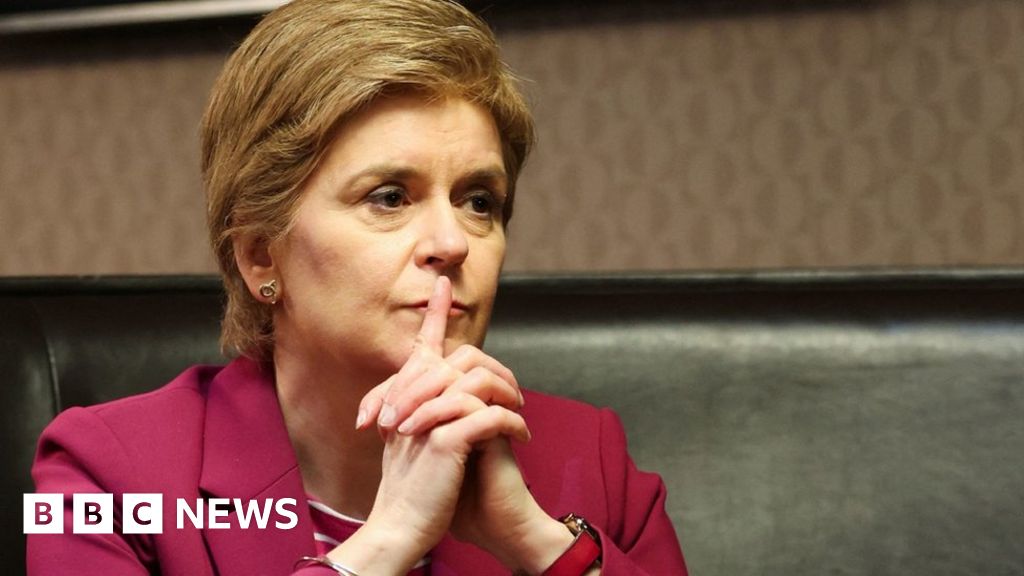 First Minister Nicola Sturgeon has said her government is "considering carefully" whether to publish parts of the legal advice it has received over a second independence referendum.
Last week the country's information commissioner ruled that the details should be disclosed by 10 June.
The SNP leader would not be drawn on how the government would respond.
She said departing from the convention that governments do not publish advice would be a "significant" step.
Ms Sturgeon was the latest party leader to be interviewed on BBC Radio's Good Morning Scotland programme ahead of the council elections on Thursday.
She said the Scottish government would "put in place the mechanisms" to enable an independence referendum to take place by the end of 2023, and that preparations were under way.
She said planning for an independence referendum was one of the things which had been put aside to focus on the Covid pandemic.
"But I won an election on the basis of offering people a choice – and it is a choice," she said.
"It's for people in Scotland to decide, and therefore that democratic mandate to prepare for that is one that is beyond any question."
The UK government has shown no sign that it would be willing to give the formal consent that ensured the legality of the 2014 referendum.
In January 2021, the Scotsman newspaper asked for legal advice received by the Scottish government to be published under freedom of information laws.
Image source, Getty Images
Image caption, Nicola Sturgeon said a referendum would have to be "entirely legal and constitutional"
The government refused, arguing that it would breach legal professional privilege.
Last week, following an appeal by the newspaper, the information commissioner said the "exceptional" public interest in seeing the advice outweighed the legal privilege.
Asked whether the advice would now be published, Ms Sturgeon said the government would respond to the ruling by 10 June.
"The reason we are considering this carefully is the long-standing convention, not just in Scotland, but across the UK and probably most other countries in the world, that routinely governments don't publish legal advice because we put a lot of value on the ability to get free and frank legal advice," she said.
"So if we are to depart from that convention, it's quite a significant thing, it goes against precedent and we want to consider that carefully.
"But we act in line with freedom of information law, and that law sets out the process that we are currently going through."
Ms Sturgeon said she had no interest in a referendum that was not entirely legal and constitutional.
"I only want a referendum that is capable of delivering independence, which means it has to be legal, it has to be constitutional and it has to lead to a majority of people in Scotland voting for independence," she said.
The SNP leader said her immediate focus was in fighting the local elections on Thursday, and that she was campaigning for as many SNP votes as possible.
Asked about local government funding, she said: "We have sought to prioritise funding going to front-line services.
"The Scottish government budget has been reduced this year, in real terms, by just over 5% but because of the decisions the Scottish government has taken, the total funding settlement for local councils this year is going up by around 6% in real terms.
"We will continue to do everything we can to maximise the resources going to front-line services.
"We want to work toward a new fiscal framework for local councils – a relationship between the Scottish government and Holyrood and local councils – that brings greater transparency to how the money is allocated."