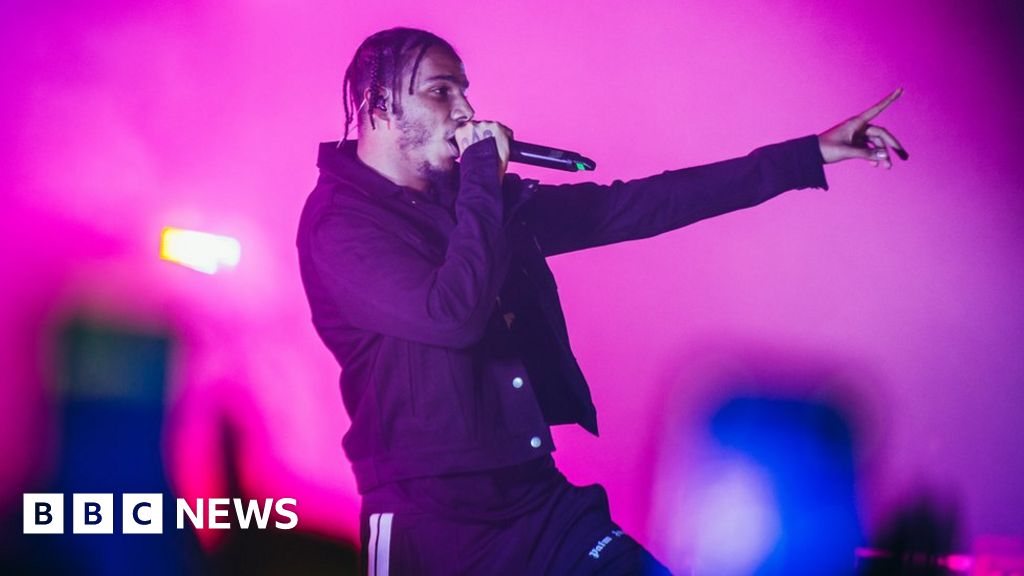 image copyrightGetty Images
image captionAJ Tracey says he didn't expect so many fans to turn up to the event in Manchester
Organisers of an AJ Tracey gig, which took place in Manchester on Sunday, have been fined £10,000 for breaching Covid rules.
The rapper says he didn't expect so many people to turn up at Platt Fields Park, in the south of the city.
AJ Tracey was forced to cancel a trip to Bristol after fans gathered to see him perform.
Greater Manchester Police has warned "not to flout the lifting of restrictions" as lockdown rules ease.
Current coronavirus restrictions in England mean only six people, from two different households, can gather outside.
In a video posted online, AJ Tracey thanked fans for coming out.
He'd planned to visit three cities and had already appeared in Birmingham.
"Big love Manny and Brum. Thank you for coming out," he told his followers..
"It's not gonna be safe for me to come to Bristol. I didn't expect that many people to turn up in Manny and genuinely it's just not ok for me to go ahead."
While thanking fans for their support, AJ Tracey said he'll come back and do shows when it's safe to do so.
Photos and videos on social media show crowds of people gathering in Platt Fields Park on Sunday.
AJ Tracey is currently promoting his new album, Flu Game.
On Saturday he told fans online he'd be keen to visit some cities, asking them where he should go.
The video was met with some criticism by those who for felt it was irresponsible for him to perform given current guidance.
In a statement, Greater Manchester Police say that at around 2.50pm on Sunday, they were called to reports of a large gathering at Platts Field Park.
They told Newsbeat, "enquiries established that a music event was being held" and the organiser of the gathering was given a Fixed Penalty Notice of £10,000.
Superintendent Caroline Hemingway said: "We are still very much in the midst of a public health crisis and it remains as important as ever to abide by the COVID-19 legislation."
Follow Newsbeat on Instagram, Facebook, Twitter and YouTube.
Listen to Newsbeat live at 12:45 and 17:45 weekdays – or listen back here.