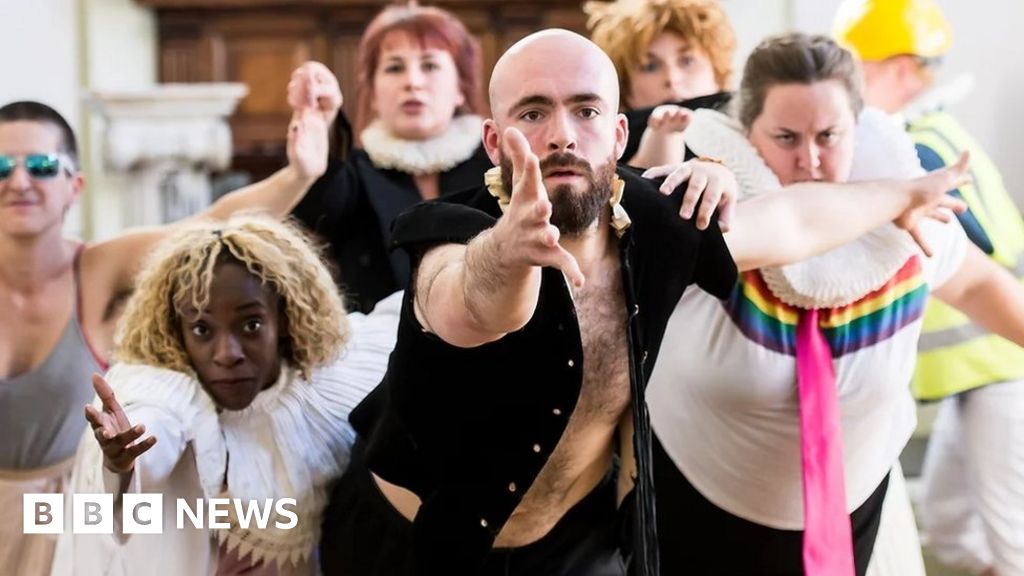 Image source, Lidia Crisafulli
Image caption, ThisEgg, the creators of the show, said they had received threats
A sex education theatre show aimed at children has been cancelled after the venue said it had received "unprecedented threats and abuse".
The Family Sex Show, featuring topics such as consent, pleasure and queerness, was due to be performed at Bristol's Tobacco Factory in May.
The creators of the show, who said they had also received threats, have now cancelled its whole tour.
More than 38,000 people signed a petition calling for it to be axed.
In a statement, the Tobacco Factory said: "Performances of The Family Sex Show by ThisEgg at Tobacco Factory Theatres have been cancelled.
"This is due to the unprecedented threats and abuse directed at our building and team."
It apologised to people who had booked tickets and said they would be offered refunds.
Image source, Lidia Crisafulli
Image caption, The show was made in consultation with The School of Sexuality Education
The show also explored topics such as non-sexual nudity and gender and was aimed at children as young as five.
It was due to be performed at The Egg theatre in Bath and at the Norfolk and Norwich Festival.
Its creators ThisEgg, who were advised by safeguarding and educational specialists, said they had received "violent and illegal threats" from "a small group of people with extremist views".
In a Twitter statement, it said: "These public performances would have offered safe and positive learning to children, young people and guardians about rights, bodies, sex and relationships".
They said audiences were given information about the content before booking "so they could make an informed decision" as to whether to watch it.
The opposition had "prevented families from opting to attend something that was transparent, consensual and legal," ThisEgg added.
Critics on Twitter responded by saying the show was unsuitable for children.
"I can't believe anyone thought this show would be appropriate for children," said one.
Another said it was "utterly abhorrent" that the show's creators had intended to perform it for children.
"I was horrified. Thank goodness it's cancelled," they added.
Image source, Lidia Crisafulli
Image caption, The show explores names and functions, boundaries, consent and relationships
They continued: "We believe that what has happened is reflective of structural and societal attitudes towards relationships and sex education as well as art, culture and who is allowed to create and what we are allowed to engage with in the UK."
"Removing work that celebrates freedom of expression from stages cannot be the answer."
The company said there would be performances for an invited audience at The Egg in Bath.
Follow BBC West on Facebook, Twitter and Instagram. Send your story ideas to: [email protected]
The BBC is not responsible for the content of external sites.