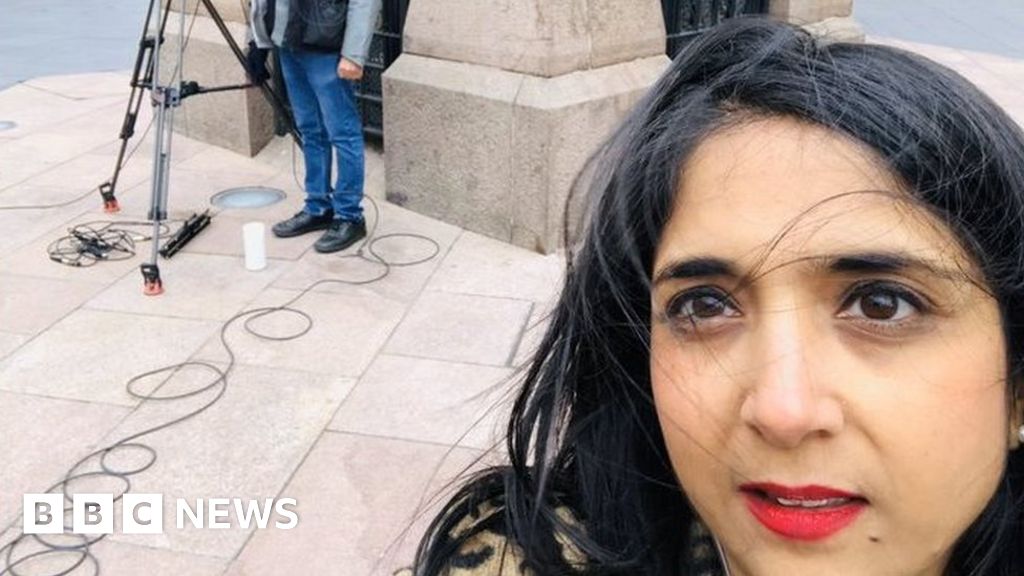 image captionBBC reporter Sima Kotecha had been preparing for a live broadcast
A man has admitted harassing BBC reporter Sima Kotecha as she prepared to broadcast on live television.
Russell Rawlingson, from Leicester, was originally charged with causing racially-aggravated harassment, alarm or distress, as Ms Kotecha believed his behaviour was "racist and abusive".
However, he pleaded guilty to a lesser non-racially aggravated version of the offence.
He is due to be sentenced on 11 May.
No details were given about what Rawlingson said to Ms Kotecha when he pleaded guilty at Leicester Crown Court.
The charge was put to him as follows: "You are charged with racially aggravated intentional harassment, alarm or distress.
"On 10 May 2020, with intent to cause harassment, alarm or distress, you used threatening, abusive or insulting words or behaviour towards Sima Kotecha."
When asked how he pleaded, Rawlingson said: "Guilty, but not to the racial."
Apologies to our guests who we had to send home without putting on air after myself and team were subjected to racist and abusive behaviour – sad obstruction of reporting of a national crisis. Yes Im furious
— Sima Kotecha (@sima_kotecha) May 10, 2020
The BBC is not responsible for the content of external sites.View original tweet on Twitter
The prosecution did not initially accept his plea to the lesser charge, which meant Rawlinson would have had to stand trial for the original offence, and Ms Kotecha would have had to give evidence in court.
However, the prosecution then said Ms Kotecha did not wish it to go to trial, and the plea to the lesser charge was therefore accepted.
Rawlingson, 51, of Glenfield Road, Leicester, also entered guilty pleas to offences relating to two other cases.
He admitted having a bladed article in a public place in June.
He also pleaded guilty to assaulting an emergency worker and another charge of using threatening, abusive or insulting words or behaviour with intent to cause fear or provoke violence in October.
Ms Kotecha had been due to interview people at Leicester's Clock Tower following a government statement on coronavirus lockdown restrictions but the segment was cancelled.
A BBC News spokesperson said: "It's completely unacceptable that our journalists should suffer abuse for doing their jobs.
"The BBC stands by our brave and talented correspondent Sima Kotecha, her colleagues, and her guest."
Follow BBC East Midlands on Facebook, Twitter, or Instagram. Send your story ideas to [email protected]
The BBC is not responsible for the content of external sites.