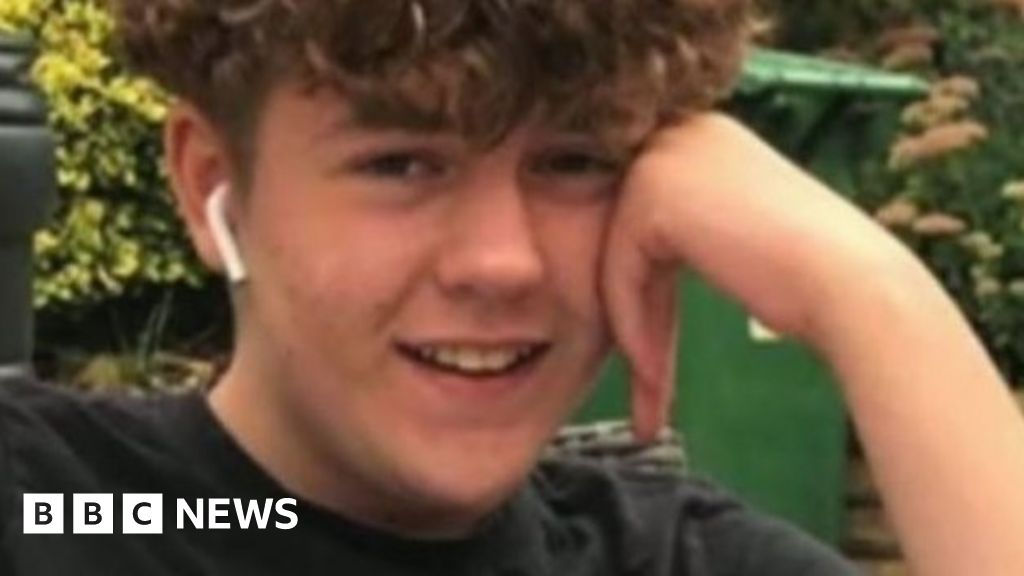 Image caption, Olly Stephens was stabbed to death in the Emmer Green area of Reading in January 2021
A large bench carved into the shape of a sofa has been placed on a field where a 13-year-old boy was stabbed to death.
Olly Stephens died at Bugs Bottom, near his home in the Emmer Green area of Reading, after being attacked with a knife on 3 January last year.
His teenage killers have since been brought to justice, but his parents said they wanted a permanent memorial to Olly to be placed at the site.
They said they hoped the 15ft-long bench would prove a fitting tribute.
Image caption, The bench design was inspired by Olly's love of his family sofa
Carved out of redwood and weighing more than 2.5 tonnes, it is inscribed with the words "stay and talk awhile".
Olly's mother and father, Amanda and Stuart Stephens, said they decided on the design because their family sofa had been their son's favourite place to entertain.
"You'd always hear him giggling and laughing, watching TV with popcorn and sweets," said Mr Stephens.
"What happened here was horrific beyond words but having the bench here will hopefully make people sit and look at the brighter side.
"We don't want this place to be remembered as something horrible."
Image caption, Stuart and Amanda Stephens told the BBC seeing the bench for the first time had been "bittersweet"
Mrs Stephens added that Olly's generation had become too preoccupied with social media and hoped the attraction of the bench would help encourage more youngsters to enjoy the outdoors.
"We like the idea of this being a safe place that children or anyone of any age can come – sit and talk, relax and just enjoy a bit of quiet time," she said.
Olly was killed at the site by two 14-year-old boys after being lured there by a 13-year-old girl.
It followed a row they had all been having on social media, their trial at Reading Crown Court last year heard.
The two boys were found guilty of Olly's murder. They were both sentenced to youth custody – one for 13 years and the other for 12 years.
The girl was sentenced to five years after admitting manslaughter.
None of those convicted can be identified for legal reasons.
Follow BBC South on Facebook, Twitter, or Instagram. Send your story ideas to [email protected]
The BBC is not responsible for the content of external sites.