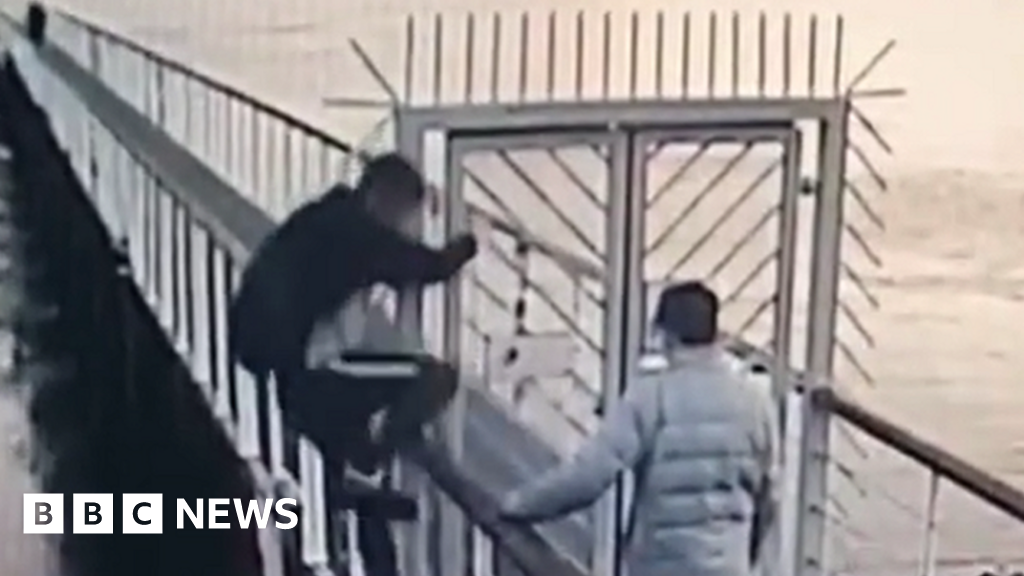 Image source, Broughty Ferry Lifeboat RNLI
Image caption, The intruders were captured on CCTV climbing around the station's security gate
Vandals who loosened the ropes on Broughty Ferry's all-weather lifeboat have been condemned by RNLI volunteers.
Three youths were captured on CCTV climbing around the lifeboat's security gate and tampering with the lifeboat.
The incident took place at about 19:42 on 2 April.
Broughty Ferry Lifeboat RNLI said it took about 30 minutes to make the lifeboat operational again following the incident.
The lifeboat station is regularly named the busiest in Scotland.
A spokesperson said: "The irony of it is that had any of the intruders fallen into the water one of the lifeboats may not have been unable to get to them on time due to this vandalism."
The vandalism was discovered during a routine check.
The davit, which is used to lower and remove equipment from the boat, had also been tampered with.
The spokesperson added: "Such acts of wanton vandalism not only delay an emergency response from the RNLI but also have the potential for lives being lost."
Police Scotland said it was aware of the footage and was investigating the incident.