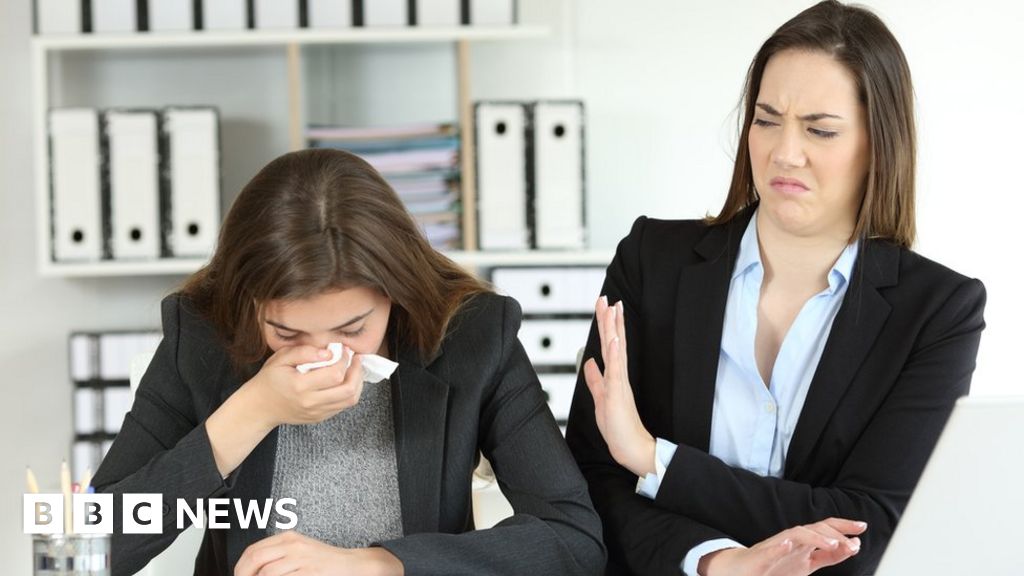 By Gavin FischerBBC News
Image source, Getty Images
Image caption, Before the pandemic, it was usual to go to work with a cough or feeling rough
Most of us have probably done it pre-pandemic, gone into work with a cough or sniffles – but unions want attitudes towards working with viruses to change.
Now we are learning to live with Covid and self-isolation is guidance and no longer law, employers are being asked to take a more "mature" approach about wanting unwell staff to work.
Not just Covid, but any contagious illnesses like colds and flu.
One union said it was "important" that firms learn lessons from the pandemic.
Most of the remaining Covid restrictions in the UK have ended while a few rules remain in Wales and Scotland.
Nearly 4.9 million people across the UK would test positive for Covid, according to the latest official stats, which is about 25,000 lower than last week's record high.
Due to the pandemic, people in certain occupations have the ability to work from home – with about 5.6 million people in the UK doing that during the height of the pandemic.
Now worker's union USDAW has explained why businesses will be better off not expecting all potential infectious staff, not just those with Covid, into work.
"I have concerns that there is going to be pressure on workers to come into work, even if they are feeling unwell," said Graham Perkins of the USDAW union which represents about 400,000 workers.
"I think the workers even now at these late stages of the pandemic, are already starting to feel those pressures, whether they are implicit or explicit, they are there.
Image source, Getty Images
Image caption, Has the Covid pandemic changed your view on going into work with coughs and sneezes
"It's really important that the learnings that we've taken from this pandemic are that we can work from home.
"Bosses really do need to be aware that illnesses can be spread amongst the workforce, and that does affect productivity – and there is a case to be made for working from home when possible."
Teachers, according to the largest education union, "feel that they can't leave their class because want to be there for the children who are learning".
"In the past in lots of sectors, people have come into work when they haven't been feeling very well," said Mary van den Heuvel of the National Education Union, which represents more than 500,000 teachers.
Image source, Getty Images
Image caption, Teachers feel responsibility to students especially those preparing for crucial exams
"But as we've seen in the past couple of years, Covid has really made it essential that people stay off work if they're poorly.
"So we would be encouraging schools to encourage their staff to stay at home, take a test, work from home where possible and self isolate."
In the UK, isolation advice varies depending if you live in England, Wales, Scotland or Northern Ireland.
The UK government's Living with Covid plan was designed to help businesses get employees back in the office in what Prime Minister Boris Johnson described as a "transition back to normality".
Yet Covid-related staff absences among airport and airline staff have played a part in the travel disruption holidaymakers have faced in the Easter getaway.
Although unions have said organisations should not want potentially contagious staff back in the workplace, they are aware many of their members would want to go back to work because they do not get paid absence.
"At the root of it is sick pay and whether the extent to which sick pay is causing people to return to work sooner than they might do ordinarily," said Lesley Richards, of HR firm the Chartered Institute of Personnel and Development (CIPD).
Image source, Getty Images
Image caption, Unions want employers to support workers to work from home when they are feeling under the weather
"We can't forget the economic angle to it as well where people's costs are rising and we need to think about whether the statutory sick pay system is sufficient and effective to enable people to take that time off if they need to and whether employers need be doing something around the occupational sick pay to top that up.
"This is a chance for organisations to take a more mature approach to people being sick, particularly with contagious diseases.
"Responsible employers will be trying to prevent contagion in the workplace due to the dual impact on people and productivity."
The CIPD boss in Wales also said there is also "a risk people will stop testing because it doesn't make a difference is there's no requirement to self-isolate".
Union bosses have warned their staff that if they do feel unwell, especially with Covid to "stay at home and don't spread this."
But Mr Perkins USDAW admitted: "I've seen it several times amongst my colleagues where people have decided not to self-isolate, decided not to LFT, simply because they're not going to get paid, because the rules of sick pay are so very strict at the moment.
Sorry, your browser cannot display this map
Coronavirus across the UK
Tap or click to see how many cases per 100,000 in the latest week
++–Reset
Fewer than 1010-4950-99100-249250-499500-9991,000-1,9992,000+
"I totally get that there is there is a need for looking at the needs of the business, the needs of the economy. But we also need to look after our workers because they're the people that are putting that effort into the economy."
The UK government said it has ended self-isolation payments now the law has been scrapped.
"It's up to employers to determine their sick pay policies and many employers choose to pay more than the minimum level," the government said in a statement.