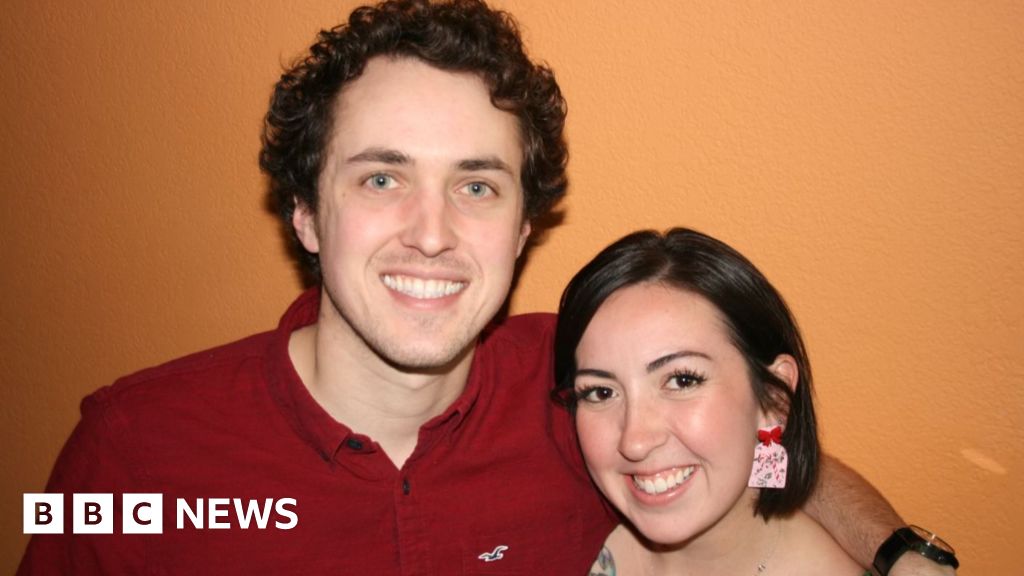 By Natalie ShermanBusiness reporter, New York
Image caption, Ethan Carpe says he's no longer house hunting after prices surged beyond his budget
As home prices in the US surge at record rates, the American Dream is moving out of reach.
Ethan Carpe put in more than two dozen offers on homes after starting his house hunt in Phoenix, Arizona in 2020. But as competition heated up, prices in the sprawling desert city jumped 14% in 2020 and then another 32% last year, finally pushing him out of the market.
"It was just absolute insanity," says the 29-year-old statistician, who was repeatedly beaten out by buyers offering cash.
"At this point, there's no plan to get back into the market unless something drastic happens," he adds. "If you're not in it right now, it's tough to get in."
Since 2019, home prices across the US have jumped nearly 30%, as supply hit record lows, according to the National Association of Realtors.
Meanwhile household incomes have barely budged.
The disconnect has created a rapidly spiralling crisis, as affordability issues, once a problem concentrated in big coastal centres such as New York and San Francisco, have spread throughout the country, touching mid-size cities, small towns – even rural counties.
"You're seeing greater and greater affordability pressures," says Alexander Hermann, senior research analyst at Harvard University's Joint Center for Housing Studies. "And the price growth is not just unprecedented nationally. We're also seeing unprecedented price growth in most markets across the country."
A typical single family house in the US now costs about $350,000 – more than five times the median household income – a new record.
And the rental market – where asking rates surged 14% last year – provides little relief.
In Phoenix, known for its sun and vast tracts of suburbia, the pressures are particularly acute.
Long a hot spot for retirees, the city of 1.6 million is a prime destination in America's so-called Sun Belt, which has boomed as people head south and south west in search of job opportunities and relatively lower costs.
It lies at the heart of Maricopa County, which last year – for at least the seventh year in a row – added more people than any other county in the country, most of them transplants from more expensive places, such as Los Angeles.
The influx has pushed up prices and strained supplies, making the area home to the fastest property price increases in the country.
"It's crazy and it doesn't seem to be getting any better any time soon," says property agent Butch Lieber, president-elect of the Phoenix Realtors business association.
Image source, Getty Images
Image caption, Home prices in Phoenix jumped more than 30% last year
Ethan, originally from California, first moved to the desert town after graduating from a nearby university, joining his brother in the area. He returned in 2019 after graduate school, drawn in part by its relative affordability.
He hoped to buy a three-bedroom, two-bath property for about $325,000.
But the market – up 6.5% in 2019 – was changing amid a frenzy of bidding wars and cash buyers, at least some of them investors planning to convert the homes to rentals.
Now homes like the ones Ethan was considering go for half a million dollars – making his savings insufficient, he says.
Ethan says he doesn't want to rent forever, but at the current pace of price increases "it's going to be tough". Rents are rising too – up more than 20% in Phoenix last year – making it difficult to stockpile more.
"It's just frustrating," says Ethan, whose landlord raised the monthly rent on the two-bedroom property he shares with his girlfriend by $400 – nearly 30% – to $1,750 last autumn. "You get a raise and it goes straight to the apartment company."
Analysts say the increasing house prices reflect severe supply shortages, rather than a bubble fuelled by risky lending like the one that precipitated the financial crisis of 2008.
But the situation is hardly unique to the US.
Since 2015, property prices have increased faster than incomes in most major economies, including Canada, Germany and the UK. The disconnect has worsened since the pandemic hit in 2020, when policymakers around the world slashed interest rates to stabilise the economy, unleashing unusually low borrowing costs.
Image source, Getty Images
"We're in kind of a unique time where housing prices are rising disconnected from household income and part of that is because of the incredible amount of money, of finance involved in housing," said Suzanne Lanyi Charles, professor of city and regional planning at Cornell University.
As the pressures divide the US into a country of housing haves and have nots, they are raising questions about how long such increases can be sustained.
At roughly 65.5%, homeownership in the US remains more than three percentage points lower than its peak before the financial crisis – and lower still for younger people and people of colour.
Meanwhile, big investors accounted for one in five purchases at the end of last year, according to Redfin. In Phoenix, primary home buyers made up just 64% of the market, Mr Lieber says.
"One wonders if one is creating an America that is permanently separate groups: homeowners doing very well, getting the wealth accumulation, while the first time buyers are simply left out and the American Dream is unattainable," says Lawrence Yun, chief economist for the National Association of Realtors.
"Will this fuel social discontent? Right now we are essentially approaching that situation unless we dramatically increase the supply."
The situation is drawing growing political attention, including calls for more investment in affordable housing and stricter rules for landlords.
The market is also responding. Construction has increased and last month America's central bank raised interest rates for the first time since 2018, a move that should help curb price appreciation by cooling demand.
But for now, experts say demand so far outstrips supply they expect prices to remain high. And the increased cost will only make it harder for first time buyers and those with moderate or low incomes to get into the market.
"This is something that's going to take a decade or more to really see real progress on," says Mr Hermann.