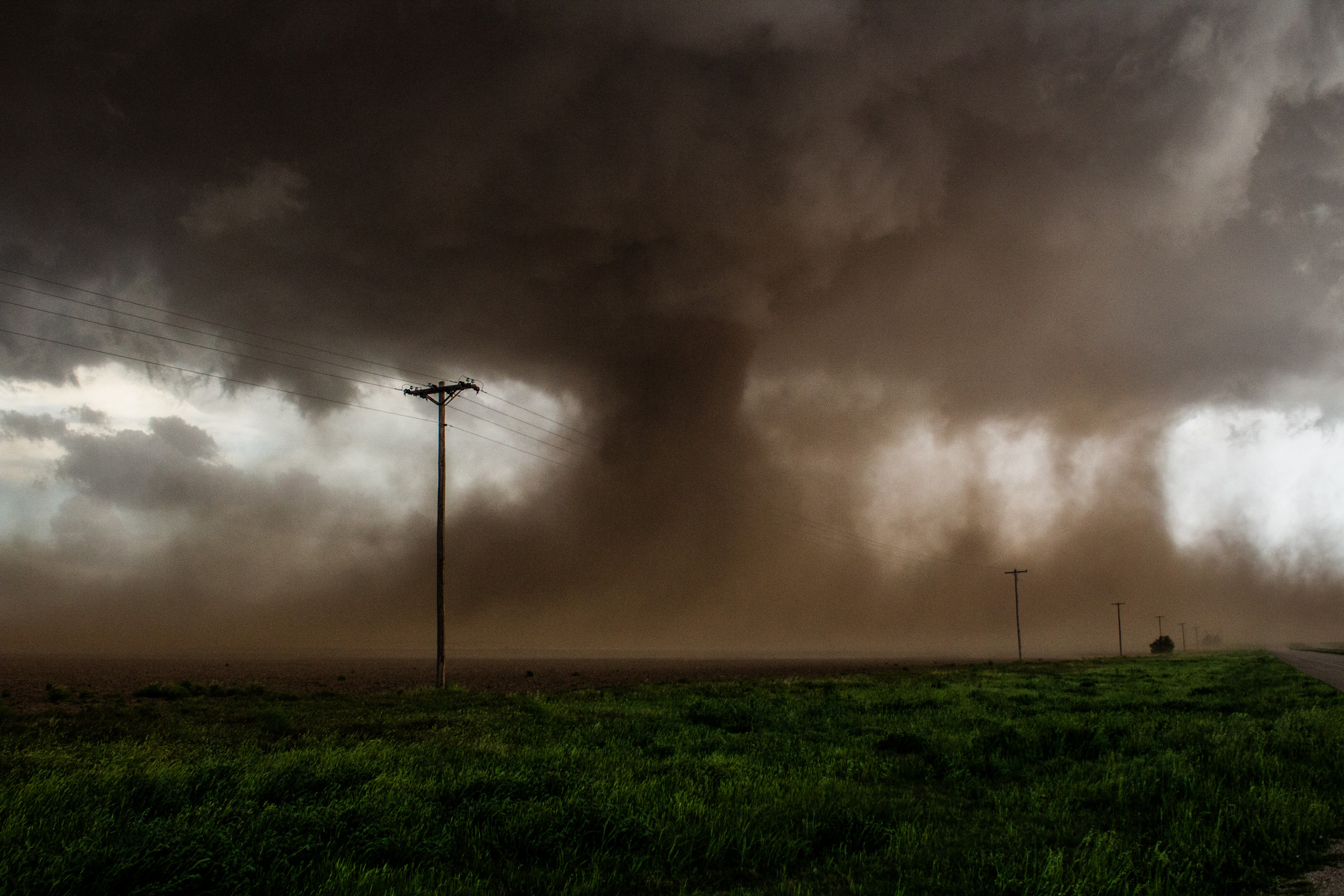 Tornadoes and severe thunderstorms struck across a large area of the South on Tuesday. This photo shows a twister touching down in Tahoka, Texas, on May 5, 2019. Jordan Carruthers/Getty
Dramatic videos shared online appear to show tornadoes touching down in South Carolina and Georgia.
Twister videos shot in the two states were shared to social media as severe weather battered the region on Tuesday afternoon. By Tuesday night, there had been at least 33 reports of tornadoes stretching from Mississippi to South Carolina, according to the National Weather Service.
A video posted to Facebook by Brannon Deal and later shared to Twitter by user @ChadBlue83 shows a large tornado touching down from a distance in South Carolina.
"What you're seeing is a tornado in Allendale, South Carolina," a narrator says in Deal's 32-second video. "We've watched it build around us … Lord help the ones that are in the path of that tornado right now."
Cory Smith, a meteorologist for South Carolina CBS affiliate WLTX, tweeted photos of an overturned car in a Walmart parking lot a short time later, commenting that the photos show possible "tornado damage near Manning from earlier this evening." Manning is about 90 miles northeast of Allendale.
Also on Tuesday afternoon, Twitter user @myahcowart shared a video that showed what appeared to be a very close encounter with a twister in Ellabell, Georgia, alongside the comment "not my stepdad standing in the middle of a tornado in ellabell???"
The video appears to show the twister approaching a house as a narrator says, "not good" and "crazy." The tornado eventually appears to strike the house directly, tearing off a portion of the roof.
Bill Cox, coroner for Georgia's Bryan County, confirmed that at least one person in Pembroke—roughly eight miles west of Ellabell—had been killed as a result of the storm, according to Fox affiliate WTGS.
"We will continue to do everything we can to support all impacted by today's severe weather and the emergency personnel who are responding to the needs and damage on the ground," Georgia Governor Brian Kemptweeted in response to a tornado video from Andrew Gorton, a meteorologist for CBS affiliate WTOC.
We will continue to do everything we can to support all impacted by todays severe weather and the emergency personnel who are responding to the needs and damage on the ground. https://t.co/aVBgaChRxf
— Governor Brian P. Kemp (@GovKemp) April 6, 2022
The storms came as parts of Texas were recovering from flooding and power outages caused by severe thunderstorms. Viral videos of the storms in Texas, showing overturned vehicles including a semi-truck, were shared to social media on Monday.
On Tuesday, severe weather including tornadoes, thunderstorms and flash flooding blanketed a large portion of the Southeast, potentially affecting millions of people who live in the path of the storms.
In addition to the twisters reported in Georgia and South Carolina, the National Weather Service office in Jackson, Mississippi, confirmed that four tornadoes rated EF-1 had touched down in the state on Tuesday morning. "Quiet and mild conditions" were expected in the evening.
The South has recently suffered repeated bouts of severe weather. Last week, a tornado touched down in Florida's Panhandle, killing two people and injuring several others. Twisters were also reported in Arkansas, Alabama, Louisiana and Mississippi.
An unprecedented wave of tornadoes struck six Southern states in December, resulting in nearly 100 deaths, hundreds more injuries and billions of dollars in property damage.
Newsweek reached out to the National Weather Service for comment.