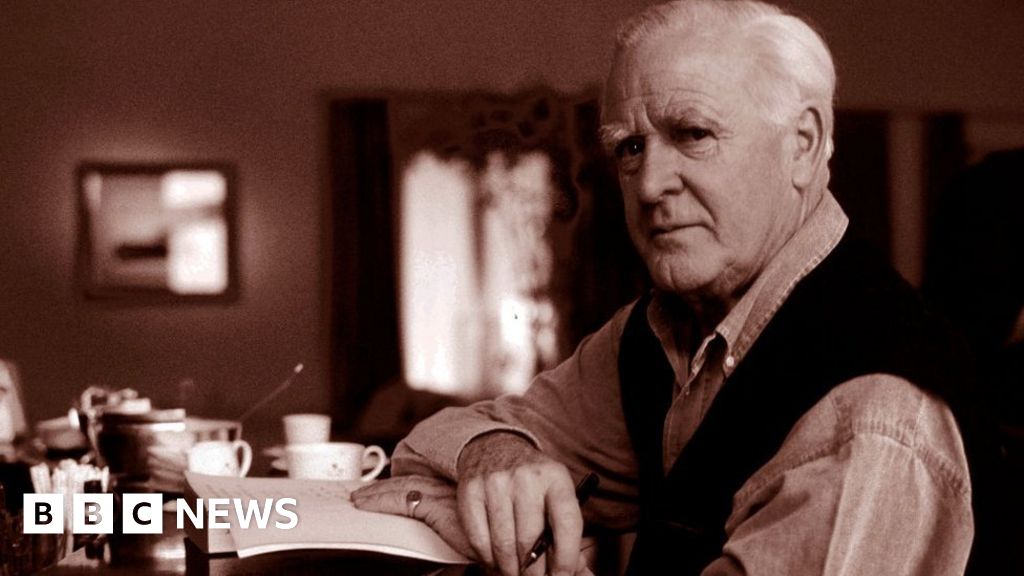 By Alan HaslamBBC News NI
image captionJohn Le Carré was "English to the core" but was disillusioned after Brexit, his son says
He served as a British diplomat and an MI5 secret agent, but espionage writer John le Carré died an Irishman, his youngest son has said.
Nicholas Cornwell said his father, best known for his intricately plotted Cold War thrillers, gained Irish citizenship before his death in December.
Mr Cornwell told the BBC Le Carré was "furious" and disillusioned after Brexit.
Towards the end of his life he began to research his Irish roots.
The author of Tinker, Tailor, Soldier, Spy and The Spy Who Came in From the Cold discovered he was entitled to an Irish passport through his grandmother, Olive Wolfe, who was born in County Cork.
His application for citizenship was successful.
image copyrightGetty Images
image captionJohn Le Carré's Irish connection became hugely important to him
In a new BBC Radio 4 documentary, A Writer and His County, Mr Cornwell said he gave his father an Irish flag for his last birthday.
"One of the last photographs I have of him is him sitting wrapped in an Irish flag, grinning his head off," he said.
"He died an Irishman."
Mr Cornwell said his father's Irish connection became hugely important to him.
"When the archivist who was helping him to research his roots in Skibbereen said 'welcome home', it was vastly moving for him, a huge emotional shift, an awareness of history and self which had genuinely eluded him his whole life," he said.
Le Carré, who was born David Cornwell in 1931, entered a career in undercover intelligence after studying at Oxford.
He joined the Foreign Office, initially based at the British Embassy in Bonn, where he worked in the intelligence records department, a role which gave an insight into the workings of the secret service.
His first novel, Call For The Dead, was published in 1961.
The need for a pseudonym arose as Foreign Office officials were not allowed to publish books under their own name.
His career as a spy came to an end in 1964 after his name was one of many given to the Soviet Union by a double agent, an incident which inspired a plot line in Tinker, Tailor, Soldier, Spy.
Describing himself as "English to the core", Le Carré deplored what he saw as the aggressive nationalistic sentiment behind Brexit.
Before his death he told CBS News' 60 Minutes: "My England would be the one that recognises its place in the EU.
"The jingoistic England that is trying to march us out of the EU, that is an England I don't want to know."
A Writer and His Country is broadcast on BBC Radio 4 on Saturday evening.