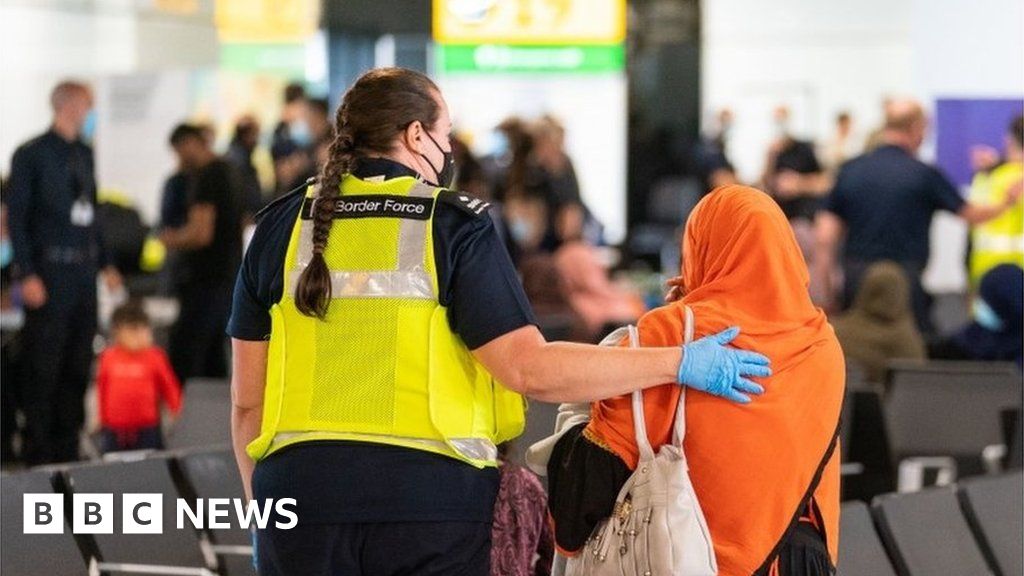 Image source, Dominic Lipinski/PA Wire
Some Afghan refugees in London have been rejecting offers of permanent homes, according to council documents.
The Westminster Council report said the Home Office was having "significant issues" rehousing refugees staying at a central London hotel, with 24 offers having been turned down by families.
Some families fear being split up or losing out on job opportunities, according to refugee charities.
The Home Office said it was working to find them "appropriate" accommodation.
Council documents, obtained by the Local Democracy Reporting Service, show that since October 2021, 45 out of 179 families have been moved out of the hotel.
Nevertheless "24 accommodation offers have been rejected by families, representing potentially another 100+ people who could have moved to their own homes," the scrutiny report said.
Image source, Getty Images
Image caption, The Home Office said 37,000 asylum seekers and Afghan refugees were living in UK hotels in February
Nasima Karima, who works at the British embassy in Kabul but also lives in London, believes there are various reasons why refugees would reject offers.
Ms Karima, who is in the process of becoming a British citizen, said: "Most people are used to this place, they are familiar with London.
"It's easy to get a job and people have built relationships with other people here."
She added that families feared being split up.
"The accommodation is not enough for families of seven or eight people," she said.
"Getting sent out of London, in places like Scotland, people are struggling because they do not know anyone.
"There are lots of NGO [non-governmental organisations] charities in London, but if we move to other areas we do not know who will help us."
Image source, Getty Images
Image caption, The Taliban took over the Afghan capital, Kabul, last August
So far a joint effort led by the Home Office alongside Westminster City Council has moved 260 refugees, including 134 children, to 15 hotels across the UK.
In total Westminster will need to find homes for 600 Afghan refugees. Currently only one family has been housed in the borough, while a second family is expected to move into a new home next week.
The Home Office is set to layout a formal policy to deal with refugees rejecting offers of homes soon.
A spokesperson said: "The use of hotels to house those resettled from Afghanistan is a short-term solution and we are working with local authorities to find appropriate long-term accommodation for them.
"Councils have been given integration funding to support those starting a new life in the UK, with £20,520 per person provided over three years to meet the costs.
"Local authorities will also receive additional funding for children entering education, to cover English language provision, and to cover healthcare."
The Home Office did not answer when questioned about why accommodation offers were being rejected.