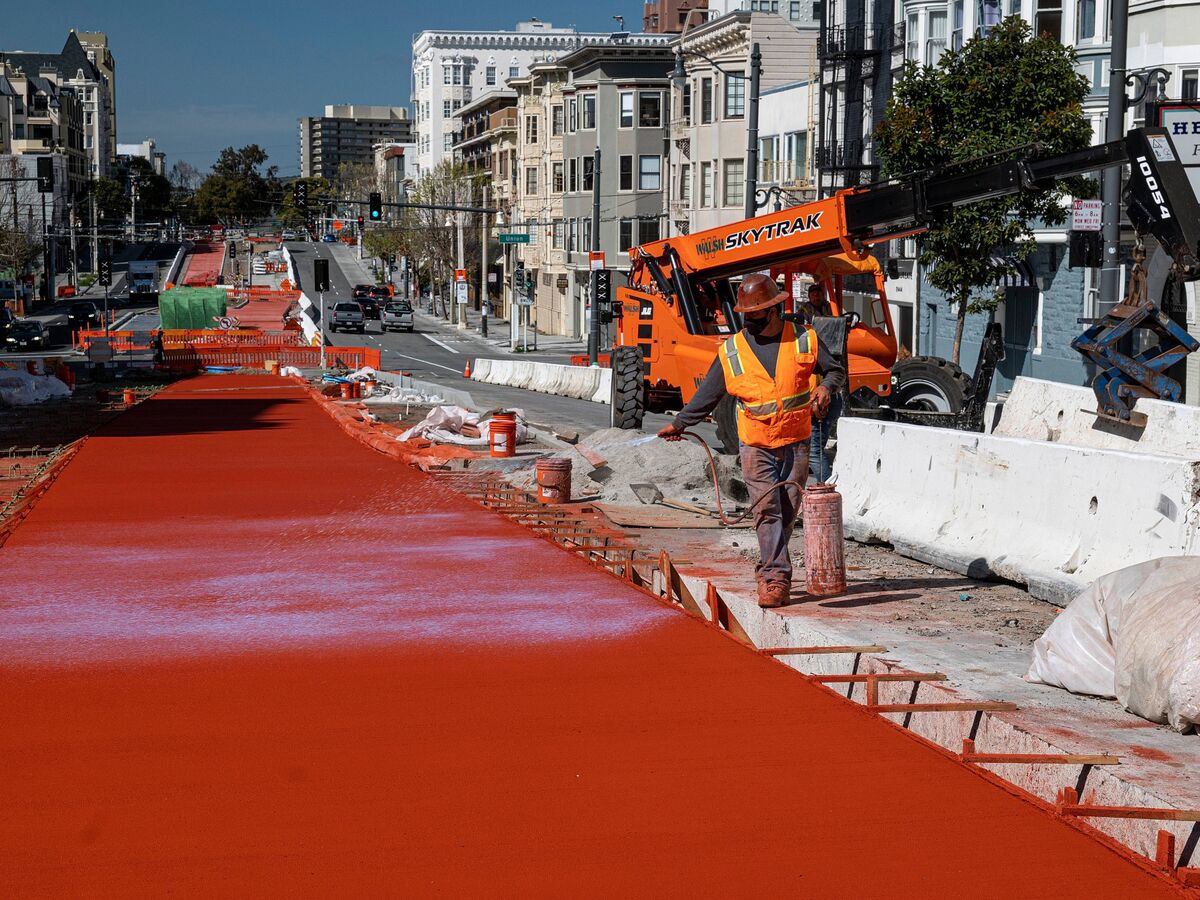 U.S. President Joe Biden just rolled out his own version of FDRs New Deal: a $2.25 trillion infrastructure package. Unveiled on Wednesday, the American Job Plan is being billed as the most sweeping economic investment since the original U.S. space program. In part, its aimed at propping up the countrys historically underfunded and largely disintegrating infrastructure. The White House plans to fund the bill by taking back some of the tax cuts Republicans gave corporations and the rich four years ago. Much like his Covid-19 rescue bill, the plan faces a narrow path through Congress. Garnering Republican support in either the House or Senate, both of which Democrats control by tiny margins, will be difficult. Even corralling moderate and progressive Democrats will be a challenge. From electric vehicle support to clean water, heres what else is in the massive proposal. Margaret Sutherlin
Bloomberg is tracking the progress of coronavirus vaccines while mapping the pandemic globally and across America. 
Here are todays top stories  
A Baltimore, Maryland, plant run by Emergent BioSolutions was making two different coronavirus vaccines when its workers mixed up the ingredients, ruining 15 million doses of Johnson & Johnsons single-shot drug, the New York Times reported. The mixup doesnt affect J&J doses currently being administered in the U.S. Those were made in the Netherlands. Meanwhile, just as officials warned it would, the more contagious U.K. variant is the top virus strain in five regions in the U.S., and responsible for 26% of all new infections, the Centers for Disease Control and Prevention said. Pfizer reported that in an early trial of children and teens, its vaccine with BioNTech showed a 100% efficacy rate. Europe continues to struggle to contain its latest surge. France and Italy extended restrictions. Germany limited use of the AstraZeneca again, and a new study shows most of the severe side effects of the shot were in the U.K. Heres the latest on the pandemic. 
Well that didnt take long. The Securities and Exchange Commission opened a preliminary investigation into Bill Hwang over the margin call calamity thats still roiling Wall Street. One of Credit Suisses biggest shareholders said losses from the Archegos Capital crisis should lead to sweeping changes. Unlike others (such as Credit Suisse), Deutsche Bank revealed it dodged a $4 billion bullet in one huge deal, helping it emerge unscathed from the debacle. Heres your markets wrap.
Dozens of Black executives called on companies to take action against right-wing efforts to restrict access to voting via legislation that will disproportionately affect minorities. The open letter comes a week after Georgia passed a law labeled by opponents (including Biden) as the former Confederate states return to its Jim Crow roots. Before and after that laws passage, most major corporations took no public position on the bill. Microsoft released a statement condemning the restrictions and Atlanta-based Delta also signaled a change in tone. But thats about it.
Georgia is the first of many red states trying to roll back voting access.
Emotional testimony continued Wednesday in the trial of Minneapolis cop Derek Chauvin, accused of murdering George Floyd last spring. The convenience store cashier who set in motion the events that led to four Minneapolis police employees restraining and then asphyxiating Floyd told jurors he watched the killing with disbeliefand guilt. 
The Pentagon plans to end Trump-era policies that largely banned transgender people from serving in the military, issuing new rules that offer wider access to medical care and assistance with gender transition. 
It was supposed to be a triumph for the post-Brexit City of London, a deal that would show the world how British markets could lure hot new companies. Instead, the stock-market debut of Amazon-backed delivery service Deliveroo flopped Wednesday, a sharp blow to the Citys latest ambitions. The company slumped 31%.
No matter where you are around the world, youve probably heard the buzz about Netflixs Lupin. The crime show, shot entirely in French, became the most-watched debut of any non-English-language series in Netflixs history. As the company looks to build a truly global audience, its giving a whole lot of business to an unsung part of Hollywood: the voiceover artist. 
What youll need to know tomorrow 
In a win for Silicon Valley, Biden will let the H1-B visa ban expire.
New York becomes the second-largest market for legal weed. 
Microsofts new U.S. Army contract is worth a whopping $22 billion. 
Bloomberg Opinion: The next Covid wave is coming for economies. 
Why Stockholms 1930s public housing is in high demand. 
Invasive species have cost the global economy $1.3 trillion. 
In the streaming wars, Comcast may pull content from competitors. 
What youll want to read in Bloomberg Checkout
Traditional Easter and Passover lamb-centered meals mark peak season for the often overlooked protein. But one year ago, the arrival of the pandemic sent the U.S. lamb industry into a tailspin. Then, something very unexpected happened in American kitchens. 
Like getting the Evening Briefing? Subscribe to Bloomberg.com for unlimited access to trusted, data-driven journalism and gain expert analysis from exclusive subscriber-only newsletters.
Arm yourself with the latest developments from the world of global trade and shippingsign up to get Bloombergs Supply Lines newsletter in your inbox daily.
Download the Bloomberg app: Its available for iOS and Android.
Before its here, its on the Bloomberg Terminal. Find out more about how the Terminal delivers information and analysis that financial professionals cant find anywhere else. Learn more.