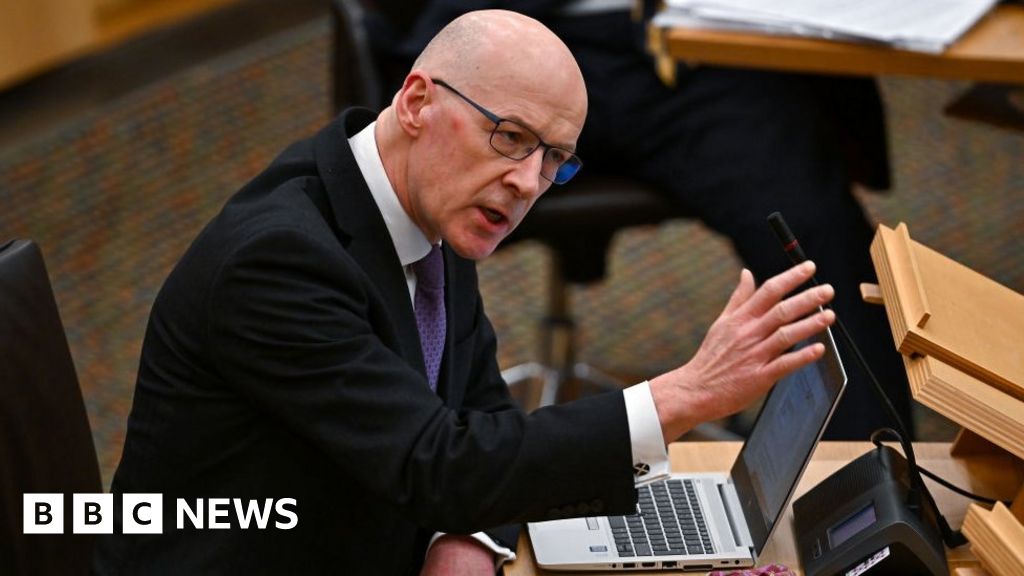 Image source, Getty Images
Two members of the Scottish government cabinet – including Deputy First Minister John Swinney – are isolating after testing positive for Covid-19.
Mr Swinney and Justice Secretary Keith Brown both announced they had the virus on Wednesday morning.
Case numbers have hit a record high, with one in 11 Scots estimated to have the virus in the week to 20 March.
First Minister Nicola Sturgeon is due to update MSPs on the latest data and plans for tackling the virus later.
She is expected to confirm whether the country's final restrictions – the mandatory wearing of masks in enclosed public areas – are to be lifted as planned on 4 April.
The cabinet discussed the plans in a virtual meeting on Tuesday, ahead of Ms Sturgeon's announcement at Holyrood.
But on Wednesday morning Mr Swinney tweeted that "after two years of avoiding Covid-19 I tested positive this morning".
Mr Swinney – who is also minister for Covid recovery – said he would "try to engage with Scottish Parliament business if I feel better than I do just now".
Be safe John, and hopefully youll be better soon. Like you Ive avoided it for two years until I had a positive test this morning. Thank goodness for Zoom!
— Keith Brown (@KeithBrownSNP) March 30, 2022
The BBC is not responsible for the content of external sites.View original tweet on Twitter
Fellow minister Keith Brown then replied to Mr Swinney's tweet to add that "like you I've avoided it for two years until I had a positive test this morning".
Infections in Scotland have been at record levels, with the faster-spreading BA.2 sub-variant of Omicron behind 90% of new cases.
Hospital occupancy has also hit record levels, but ministers have pointed to the low number of people in intensive care as evidence that the vaccine programme is preventing people from becoming seriously ill.
Ms Sturgeon is due to update MSPs on the planned easing of restrictions at 14:00.